This weekend the Formula 1 World Championship heads to Valencia, Spain, off the back of one of the most spectacular Grand Prix races of all time.
While they probably won't admit it, even the Antiques Roadshow regulars must have enjoyed watching Jenson Button's fantastic last-to-first result in Montreal! And for me, the resurgence of McLaren in Canada is one of the big stories leading into this weekend's European Grand Prix.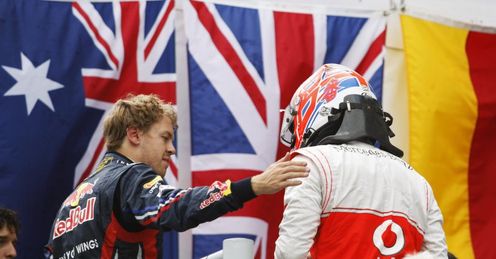 McLaren is the only team to have beaten Red Bull's Sebastian Vettel this season and team boss Martin Whitmarsh and driver Jenson Button have both been quick to talk up the psychological impact of the team's victory last time out. Not that the reigning World Champion will be losing too much sleep (just yet), with a 60 point lead over Button, his nearest rival in the championship standings.
There's no doubting that this is a key race for McLaren as the season starts to approach the mid-way point. Jenson won last time out with, for me, the best race of his career, so it'll be interesting to see if he can maintain that momentum and push on and really challenge the Red Bulls.
Tony Jardine
Quotes of the week
McLaren's recent upgrades to the car have given the team renewed confidence, and the team has set itself a clear objective for every race, from Valencia through to the end of the season - to finish on that top step of the podium. "[Jenson's fantastic result in Canada] was a great fillip for the entire organisation and shows that our tireless efforts to bring constant upgrades to the track are really paying off", said Whitmarsh after Montreal. "For Valencia and beyond, our aim is clear - we want to win."
But Whitmarsh remains cautious about the challenge they face in Red Bull. "I think we go into the weekend feeling encouraged and motivated by our performance, but still realistic that Red Bull remains the pacesetter - particularly in qualifying," he said.
Who can catch Vettel?
There's no doubting that this is a key race for McLaren as the season starts to approach the mid-way point. Jenson won last time out with, for me, the best race of his career, so it'll be interesting to see if he can maintain that momentum and push on and really challenge the Red Bulls.
But that's the key question - 'who can catch Vettel'? At the moment it's seemingly only McLaren, and the Woking team have every reason to be positive going to another street circuit, where downforce - a technical area where Red Bull has dominated - isn't so critical. Can McLaren keep up their form and close the gap at the top before we head to the high speed circuits at Silverstone and Spa, where downforce will have more of an impact?
Button certainly seems to think so: "I wouldn't say that winning in Montreal has given me extra motivation, because I was already totally committed, but I think it will help to sharpen the focus and conviction of everyone in the team," he suggested this week. "We've proved we can challenge and beat Sebastian, and we know we can fight for this world championship."
It will also be interesting to see if this year's regulations can spice up a circuit that has traditionally been difficult to overtake on. The introduction of DRS, KERS and deteriorating tyres has really mixed things up this season, so let's hope that continues in Valencia and the drivers can actually get some passing done on a circuit that has previously shouted, 'thou shall not pass'.
There is also a risk of safety cars at Valencia which, as we saw in Canada, can add to the drama. That was certainly the case in 2010, when there was controversy surrounding Lewis Hamilton when he exited the Pit Lane, right alongside the safety car. After a moment's hesitation, Lewis nipped out in front of it, much to the annoyance of Alonso, who got stuck behind the safety car and immediately called for his engineers to 'protest McLaren'. Lewis was later penalised for the overtaking manoeuvre.
Despite his drive-through penalty, Hamilton took second in last year's race, ahead of Button who finished third. Vettel secured a comfortable victory, but it was his team-mate, Mark Webber, who stole the headlines when he was fortunate to walk away from a spectacular accident that saw his car launched into the air over the back of Heikki Kovalainen's Lotus, striking an advertising hoarding and rolling over, before skidding at high speed into the barrier.
This time out, Lewis will be looking for redemption: "For me, Valencia will be a weekend of consolidation, after two disappointing results in Monaco and Canada," Hamilton has said. "Those two races were particularly frustrating for me because we showed we had the pace to win both of them, yet I only came away with eight points.
"We've arguably had the fastest race car in the last three races, and that's really encouraging because I know that, when it's put to best use, I should be able to finish at the front."
Defending Hamilton
Bernie Ecclestone is the latest person to come out in support of Hamilton, after the driver's aggressive driving style has been questioned by some in the sport. "People have been wrong to rubbish Lewis," Ecclestone told The Independent newspaper. "What we want is people racing, and all the people who watch it want that."
I've always said that I don't want Lewis to change his style. I don't want him to lose that exciting aggression which makes him such a unique and special driving talent. He has clearly been frustrated with one or two recent performances in Qualifying, notably in Monte Carlo and Canada. He started those races further down the grid than he and the team would like, and seems to be over-compensating and over-driving to try and make up for it as early as possible in the race. He's a fiercely competitive driver and has struggled to keep some of his frustrations in check, but his aggression; ability to spot a gap; readiness to take a couple of risks, is what makes him so special and, when he gets it right, has us on the edge of our seats.
Valencia is also a second home Grand Prix for Fernando Alonso, and with Ferrari getting better and better I see no reason why the Spaniard won't be up there challenging at this weekend's GP. "At the last two races, we showed we were clearly capable of winning and, especially in Monaco, we came pretty close, although I believe that even in Canada I could have fought for it all the way to the end, given what we had seen in qualifying," Alonso wrote on Ferrari's website. "Now we go to a track with reasonably similar characteristics to Montreal and there is no obvious reason why we should not be competitive here too."
We also saw the resurgence of Mercedes and Michael Schumacher in Canada, who finished fourth - his best finish for the Brackley based team. Mercedes-Benz motorsport boss Norbert Haug, believes Schumacher still has what it takes to compete at the highest level: "This is what happens in sport - you can turn things around quickly. Our team is composed, it stays together and everyone is helping each other. This [Canada] was Michael at his best. It shows that he can do it, and that if we give him the right car he will deliver."
I'm not sure we'll get a repeat of Montreal, but Valencia promises to be another intriguing race. McLaren have proven that they can beat Vettel and it will be down to them to take the challenge to Red Bull in Spain. But such is the dominance of Red Bull - they have to be favourites, once again. Ferrari and Alonso are good for an outside bet, especially in front of Fernando's home crowd, and having run in second for 25 laps in Canada, Sauber's Kobayashi could be a great bet for a top six finish.
It's a big weekend for McLaren, who will be desperate to reign in Spain.
Post to your View!
Be the first to post a comment on this story