Controlling a game of rugby must be one of the toughest jobs going. A combination of so many intricate laws and a game which has become so fast and so physical must mean that without eyes in the back of their heads, referees face an almost impossible job.
It is very rare to hear a referee praised by both teams following a match and inevitably it is them who are often singled out by coaches as being the main reason behind a loss. The big issue I believe is accountability and the repercussions or the lack of it.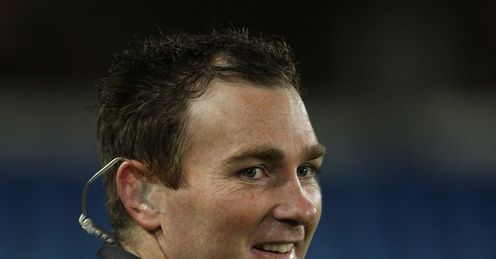 People say you shouldn't blame the referee and should look at your own deficiencies before criticising others, but when a decision is made in a game which can lead to a team getting relegated or missing out on Europe, it can be pretty frustrating.
As a player, I walk off the pitch knowing how well or badly I have played. I go into the club on a Monday morning following a poor game with trepidation as to how far the coaches are going to go with their criticism. Referees certainly have the same levels of analysis and reviews as players but still seem to get selected each week regardless of how they have performed.
Rugby is such a subjective game and the way it is refereed now has a huge influence on the outcome. I think that this year's World Cup will be won by the team who reacts best to the officials as much as by the team who plays the best rugby.
Dave Walder
Quotes of the week
Rugby is such a subjective game and the way it is refereed now has a huge influence on the outcome. I think that this year's World Cup will be won by the team who reacts best to the officials as much as by the team who plays the best rugby. So many games come down to a kick here or a kick there and it is the man in the middle who has the ultimate say.
Not enough is done to encourage former players to take up refereeing and the only example I can think of is Glen Jackson who is currently being fast tracked by the NZRFU. Having had 10 years' top level experience including in the Premiership, he will have a feel for the game and how it is played in both hemispheres.
One of the most contentious areas this season has been the scrum and as far as I know, there are no former front row players giving input as to how it should be controlled which is a bit short-sighted of the IRB. The more exposure officials can have to different styles of rugby played at the highest standards, the more universal and accurate their decision making can become.
All top referees presumably have the ambition to go to a World Cup and represent their country and competition within each union is tough. It seems referees feel that in order to stand out they need to wear white boots or develop a new way of signalling a decision (ala Billy Bowden in cricket).
Alternatively, another way of achieving this is to have an effect on the game they are in charge of as opposed to simply being in control of it. The old mantra of not even noticing a referee's performance has gone and has been replaced with forums and discussions about how much a decision here or there has cost a team.
Unions can definitely help by not regularly meddling with the laws of the game and on match day, referees' assistants could also help by not necessarily playing a more important role but certainly a more effective one.
Comments (10)
Richard Spence says...
Just find it bewildering that a game of such magnitude would be place in the hands of an official who has a French father. Surely the IRB could see the problems and controversy this could and has caused?
Posted 14:18 15th October 2011
Phil Barnes says...
I think the individual who has written this on the referee's does not know what we have to do on the pitch. When it comes to international games it is what the IRB who are fault as they say to the referee's this what needs to be stopped and what to be touched a little and what to ignore. This is not the Referee's fault as a coach to referee's, it gives me grief that this happens.
Posted 17:32 6th August 2011
Michael Nutting says...
I have played Rugby for over 50 years and still do, As a player i was brought up to respect the laws of the game and the decision made by the referee, be it in my oponion right or wrong and this has to apply to both teams. I accept things have changed a lot and the game has become more professional nevertheless insted of teams or spectators shouting of at the decisions taken at the time accept them and let the game flow, because if this disagreement is allowed to progress we may end up as bad as football and this would be a great shame. so come on all you rugby players give the ref a go (Australian Expression) and enjoy the game.
Posted 09:37 16th June 2011
Martin Chapman says...
Dave, Front row referee in the making ex Wales international Chris Horstman. had to retire early due to injury qualified two seasons ago but have no clue as to his status to date.
Posted 08:12 12th June 2011
William Sheldrake says...
I am now a very old former player and referee, and am way out of date in administering the laws. However two points may be relevant. The first has been covered admirably by Rob Mann. Keeping pace, not just with frequent law changes but also with dictats about interpretation make refereeing a highly specialised business. As a player you aren't required to learn the laws, except how to get round them: your aim is to win matches. This means that your mind-set has to undergo a fairly drastic change after years spent as a player. The second has to do with fitness and speed. I played at No 8, and was reasonably quick around the field. But as a referee, if you can't keep pace with the game you shouldn't be out there, and this is asking a lot of someone who may be taking up the whistle when well into his 30s. However I do agree absolutely that referees must have a sympathy with the nuances of the game, not just of its laws, and be able to allow a match to develop for the benefit of the players and any spectators, in such a way that, within the laws, the better team should probably win.
Posted 16:53 11th June 2011
Ref Blog.co.uk says...
let's get you signed up then Dave!!
Posted 22:26 10th June 2011
Tom Hanna says...
Dave, Johnny Lacey from Ireland played Heineken Cup for Munster and is the top try scorer in the All Ireland Leagues history. He began reffing with only 5 years ago and was fastracked up the ranks so that he is now on the IRB TJ panel. He is a great example of how understanding the game can assist you to become a good referee. He will be reffing in the Junior World championships in the next month after having had a good performance in last years same competition. The IRFU has a constant drive for recruiting refs and there are more and more that are unattached to clubs, the supports are good and constant, bi weekly meetings for even the lowest level of referee in some areas. Perhaps the Irish structure has a lot to do with why there are 3 on the elite panel of IRB refs, that was 4 until Alan Lewis's recent retirement!
Posted 18:03 1st June 2011
Brian O'grady says...
Dave, Didn't Rupert Moon become a ref too? Great idea however I am not sure i can see Jason leonard setting the scrum several times just to get a breather!
Posted 17:08 25th May 2011
Rob Mann says...
I have to agree on many levels with what Dave Walder is saying here. As a referee myself I can vouch for the fact that the constant law changes make it almost impossible to referee important areas of the game effectively, but surely a big part of that is the fact that a lot of referees have not played in those specific positions. A lot more needs to be done to support up and coming referees and the RFU needs to encourage ex-players to help with this by applying fast-track options for them like they have done in the Southern Hemisphere. There is way too much inconsistency amongst referees across the game at the moment and unless this is addressed soon, then we are going to find ourselves in more of a football situation where the referee becomes the centre of attention for their decisions rather than the players for playing some outstanding rugby.
Posted 15:49 25th May 2011
Shirley Youngs says...
Dave, I really don't think the RFu do enough to encourage people to referee. I have been trying to get on a course for ages - I contatced the RFU several times and no one got back to me. Finally I joined a club and they have helped me.
Posted 14:23 25th May 2011