I'm in a hard base of training at the moment so I haven't had that much time to do much but I am just preparing now to go away for winter training.
I'm going away to South Africa on the December 20th so I'm in countdown mode because it's getting cold now! I'm just counting down until I get in the sun, I'm there for five weeks and come back on the 25th of January.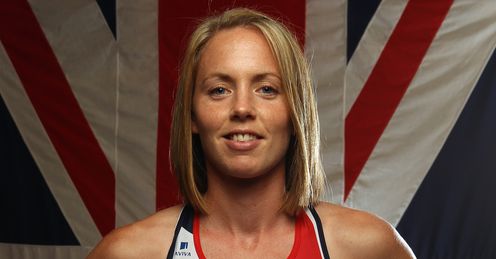 It's going to be a bit of a weird Christmas, it's the first time I've been away from the family or out of the country so that'll be a bit strange, there's actually not many athletes out there over Christmas - one of my training partners and a good friend comes out New Year's Eve so we'll have some company then.
There'll be a couple of hours so hopefully we'll get something sorted for Christmas.
I'm doing an indoor season next year so I'll hopefully get some speed into my legs and come back straight into the indoor season. We'll be training hard but we do have one day off a week so we'll have Sunday's off or something, we're only 45 minutes from Cape Town so we'll try and get out on our days off and see some of the country.
I'm not sure what I'll be doing Christmas Day, I might be bored and go and train! But I suppose we should try and do some kind of Christmas, I think it'll only be a few of us athletes over there but hopefully we'll make it a bit Christmassy.
My mum bought me a little cardboard Christmas tree to take with me! Because I'll not be able to have a tree here now and that's my favourite part of Christmas - so I'll be sat with my little cardboard tree!
Eyes on London
It'll be nice to get away for a bit- everything over here is now all literally geared towards London so any time I speak to any media it's all about London, actually anytime I speak to anyone just in general life it's all about London! It's exciting but it's getting a bit full on.
It spurs me on rather than makes me panic, if it does you're probably in the wrong game!
London has also been in the spotlight for getting the 2017 World Athletics Championships. I think it'll be good for the legacy after the Olympics, it's important to keep the stadium for athletics there and it's really important to have a big national stadium that we can use for athletics.
I won't be there, I'll be retired by then, but it'll be good to go down and watch it in London. It's a long time to go, it's another five years and I don't think I can go on that long, I'll be 35 by then and there's not many 400m runners around who are 35!
But it will be nice to have that event for people who can't make it to 2012 - so that next generation that come through can have that experience of having another massive home championships because it does help and it makes everyone in the country get behind you and it spurs all the athletes on to perform better I think.
Athletics does struggle sometimes to get massive crowds but when it's in the Olympics it's the blue riband event of the Games so people take notice a bit more, so after that we'll get a lot more fans in for the World Championships.
Olympic ban
Being an athlete it's hard not to take notice of the ongoing row about the BOA's Olympic ban on drugs cheats. I would be behind keeping it as it is - everyone in Britain and British sport knows that that's the rule, people say it's not fair because it's not in line with other countries but it's not a new rule, we all know if you take drugs and get caught you'll get banned and won't be able to go to the Olympics any more.
If I thought my place had been taken by someone who had been banned before then I wouldn't like that, so I think it's important to keep it as it is, instead of us changing to follow other countries I think other countries should change and follow us and have our rule.
You don't really think about it by the time the Olympics come around and you're in the village situation, you don't want to get caught up in all that as you're focused on yourself. But it is horrible when you hear about someone who has been taking drugs but it's just not a nice topic to be talking about around a competition.
You think of those athletes that win silver but the winner later gets banned - they take away the chance of experiencing celebrating the gold medal - it's horrible to think about people taking those experiences away from someone else, but you've just got to do your best and not try and think about it.
It should be the same across the board, but the same way as us.
The message is simple anyway - don't take drugs!
Anyway, that's enough of the hard-hitting issues, I'm off to shop for summer clothes and figure out how I'm going to decorate my cardboard Christmas tree!