Having got back from the World Championships and reflected on what happened, I can now see that coming so close to the final and a relay medal will only help spur me on to London 2012.
Daegu was lovely, the people were really nice and friendly and I enjoyed the experience of the competition itself. Obviously I was upset and gutted that I wasn't part of the final, especially being so close - it was just 0.01 of a second I missed out by in the end.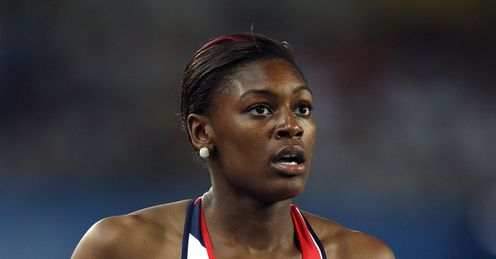 I was ranked ninth before the championships so from a performance point of view, I guess the outcome proved where I stand in comparison with the other hurdlers. However, I felt in good form, I'd beaten most of those who made the final and I felt that if I made it, I had a fast time in me.
Unfortunately it wasn't to be but crucially, I know where I went wrong and am already planning my training sessions to correct any faults I may have. Arguably, I feel even more driven, more determined and more motivated to improve so rather than scrape into finals, I want to qualify comfortably and show what I'm capable of.
Horrible
It was a horrible feeling waiting and then seeing I'd just missed out on the final, I don't want to be in that position again - not at all. In the relay we were ranked fourth, so something would have had to have happened for us to finish third and grab a medal. It was another disappointment but we'll get stronger as a collective and aim for a better performance next year.
Overall though it was good to get another big competition under my belt; I've now competed at two Worlds and one European Championships so it's all relevant experience which can only help.
I'm starting to get more familiar with the other athletes now and running in the Diamond League has been massively beneficial - I'm not fazed by who I'm running against anymore.
I'm straight back into training now which is aimed towards peaking at the right time and being able to put together a series of great races in a short space of time.
Through my experiences I've learnt that I need to take every race like it's a final and go out there hard - I know that if I put all the right elements of my race together, Ill avoid the disappointments of Daegu.