After the disappointment of Daegu I was given some time off and flew to Dubai with a friend for a much needed holiday. It was fantastic as we relaxed on the beach and did lots of shopping! We also went on a desert safari which was great. They call it a safari but the only animals we saw were a few camels! We were driven into the desert in these massive 4x4's and had a brilliant time racing around the dunes 'dune bashing' which sounds dangerous but it's not, we were made to feel extremely safe because the drivers were excellent. Afterwards we headed into a camp and rode some camels, watched the stars come out and were treated to some belly dancing!
I was straight back into winter training pretty much as soon as I landed which I'll admit was a bit of a shock to the system! The desert seemed a long way off during my first session, even more so now the days and nights are getting shorter and colder. This period of training is vital to how I will perform next season so I just have to knuckle down and get on with it!
Pumping iron
I've gradually learnt to enjoy weight sessions and now is the time where you can feel the benefit of putting that extra work in. So whilst I used to dread them in the past I now realise how a proper weight training programme is important for my performance. Its far more enjoyable being in a warm gym lifting weights than being on long endurance runs - as a sprinter, those sessions really do hurt and are my least favourite!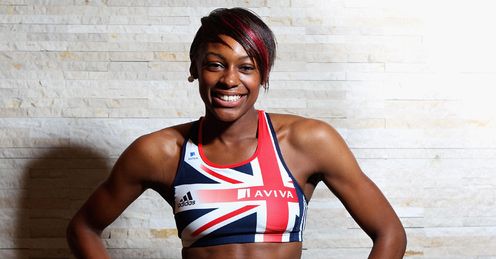 I'm fortunate in that Nike have just dropped off a big box of winter gear for me so I'm all kitted out in time for the recent drop in temperature! I've now got all the latest trainers, leggings, hats and gloves which does make those long winter runs a bit easier to handle. Of course no sooner does my new kit arrives then so do all my friends and family - I give them all my old stuff and take the remainder down for all the kids who train at my track in Mile End.
As far as Diet is concerned at this time of the year, it's all about loading up on carbs and protein to aid my recovery. I'm lucky in that I've got a fast metabolism so I don't have to be too strict, I just need to make sure I eat healthy but I also like to treat myself every once in a while! Ginger cake and custard is my treat of choice - I absolutely love it!
In January I am off to South Africa for a training camp which I'm really excited about as it's the first time I've had the opportunity to do so. In previous years it's always coincided with my university degree so rather than being put through my paces in a warmer climate, I was sat in a sports hall taking my exams! Now I'm a full time athlete I'm off for three weeks and cannot wait. We're going to Stellenbosch where I hear they have some good wines which should keep my coach happy because he loves his wine!
Since graduating I have a lot more free time to catch up with friends, but this is still dependent on whether I have double sessions or not - my coach likes to keep me on my toes by not telling me until the last minute! This works well for me as it keeps me focused all the time. Having said that, my new Sky plus is working overtime at the moment! I am really enjoying America's next top model and The Only Way is Essex in particular!
Anyway, time to head off into the cold for a run and dream of ginger cake and custard to pull me through.