I'm out in here in South Africa for some warm weather training, it's going really well, the training's going well and the weather's really nice.
It's especially nice seeing as back home it's really freezing! But out here I can work on the technical elements of my event and get the speed in, which is a lot easier to do when it's warm.
It's the first time I've ever been away for warm weather training, what I'm getting from it is great - you get the right rest, you eat well, you get your training done and you act like a professional athlete!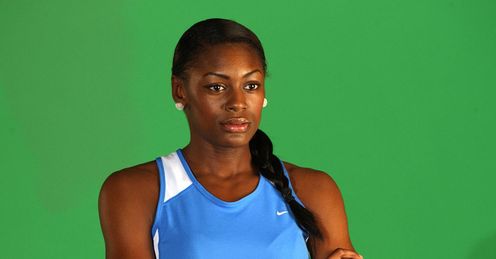 This is the first year I'm experiencing being a professional athlete, being around experienced people means I'm learning as we're all doing the same thing.
The heat is really good for us as athletes well, a lot of things you cut down like your warm down you don't need as much out here, when I get back I'll be wrapped up and I'll have my big coat on again.
Home sweet home
It's been two weeks and we've got another week - that makes it three weeks away which is just right I think because I'm missing home!
Away from training I've been to Cape Town, went to Table Mountain and saw the World Cup stadium, we went to Victoria Wharf by the harbour and had food there and we also went to the beach - all in one day actually!
You finish training and you're always really tired so I think this was on a rest day a few of us went out to look around.
Christine Ohuruogu is my roomie out here and there's a few of us about. Harry Aikines-Aryeetey is out here, Chris Tomlinson's here, we've also got Dwayne Chambers and Marlon Devonish - it's team GBs out here!
Christine's a very good roomie. We've just been dancing along and playing music, we've got something in common we both like house music and old school garage which we never knew that we both liked so that's good to have that in common.
Relax
It helps if you have a few friends around to help you relax and the more you enjoy your training the more you get out of it. There are other athletes from other countries out here as well and it's good to see everyone all here training for one goal, going for one thing, and it's interesting to see everyone working really hard.
Training changes, but it's normally twice in a day. Sometimes it could be weights in the more then a running session in the evening, or it all could be all in the morning. But I'm up earlier than I would be in England and I'm out training, probably because the weather's so nice out here.
I've got the indoor season when I get back to the UK, I'm competing in the 400m at the Birmingham event first, I think it's a week before the trials for the World Indoors.
I don't think a good indoor season is that important this year, everybody's different and not everybody does it, some people have bodies that are just not suited to indoors. But I do think it gives you confidence if you do well indoors - in previous years I've not even done an indoor season but I'm going to do one this time just to break up training really.
I've then got another warm weather camp coming up at the beginning of April in LA. We're going there for a month to train and again it's all added preparation for this year, seeing as I'm not at university anymore I'm able to do it and go at it full-time.
I know a lot of athletes have been there before, and for me it's all about adding experience for me ahead of this big year coming up.