We're just outside Tokyo at the moment at Tokai University, which is one of the strong judo universities in Japan. It's a great place to come and base yourself for training when you're in Japan. I'm fighting at the Grand Slam in Tokyo at the weekend so we'll go to the official hotel before then.
The tournament is one I've done well at in the past. I got a bronze last year and won it the year before and also I got a medal at the World Championships in Tokyo last year, so it's been a happy hunting ground for me over the last few years.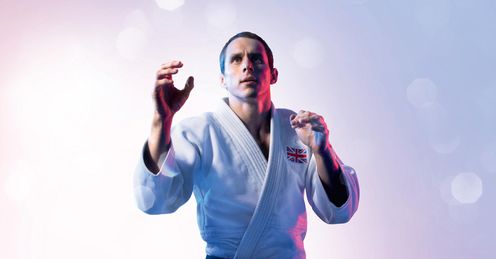 But just fighting in Japan is exciting, the sport is bigger here in than it is in most of the world and certainly than in Britain. The crowd are more knowledgeable and they know who you are. Some of the top guys are big superstars over here.
It's a little taste of how it could be back home, as the Olympic Games will obviously heighten the focus on us a little bit which is great for us and our profile - but it's something we need to build upon. It's great having attention for six months in the run-in to the Olympics but if we don't do anything about that it'll soon disappear afterwards.
It's judo's job but it's also our job as athletes to use that focus to give the best image we can of our sport and try and get more people involved, because it's a fantastic sport but one which probably doesn't get the attention it deserves in Britain.
Test event
The Grand Slam events are the biggest in judo outside of the Olympics and World Championships, and just looking at the competitor list for this weekend most of the guys here in my category will be making up the top 32 involved in the Olympics next year.
It means that even if my category was involved in the test event in London I wouldn't have been able to make it, and to be honest it wouldn't have made any difference to me because I don't think I need to see the venue before next year.
There's something good about walking into a brand new venue for the first time which sets your senses on edge. If you've been there before it can sometimes dull that anticipation of that big event which is in front of you, so for me the fact I've never competed at the ExCel before will hopefully be a positive.
There are positives and negatives to everything - you could feel positive from knowing the place and being familiar and relaxed, but I just feel that tingle of it being in a new venue will work for me.
Normally in the Olympics everything is different. When we went to Beijing although we'd been there for a look around it was still like walking into something completely new, and it's that experience which I feel gets me ready for something special.
Asian delights
This is a three week trip out in Asia, we're in Japan this weekend then we're competing again in China before we come home for Christmas. It's a combination of two world class events to compete in combined with a little volume of training as well.
Tokai is just under an hour outside of Tokyo so we're just on the outskirts, but when we transfer into the centre we'll have the chance to have a little wander around before we fight. But I've been coming to Japan every year for the last 12 or 13 years so it's a city I'm very familiar with.
The next few days will just be spent relaxing, enjoying a little bit of the sights and sounds of Tokyo and losing the last little bit of weight for me. Unfortunately I'm a big fan of the Japanese cuisine and this week is not the week to test it all out.
I've got to be down to my fighting weight and as you get older it gets harder and harder. I've been making 81 kilos for not far off 15 years now and it doesn't get any easier, I can tell you that.
I am a big fan of Japanese food, they do all sorts of delicious stuff. There's plenty of nice food kicking about here but I've not been able to sample as much as I'd like to, but maybe there'll be a chance to have an nice bite or two after I fight.
Dry Hogmanay
We get back from the trip about the 20th of December, then it's pretty much back into training almost all the way through Christmas. We go to Kendal on the 27th for four days then back up to Edinburgh on the 30th. Some of the team are going to Austria but I don't think I'll be going as I could be fighting in the Masters tournament in Kazakhstan at the beginning of January which is an event for just the top 16 in the world.
It'll be nice to be home for Christmas and have a few days that are a bit more relaxed, but training goes on and if there's ever a year not to have too much time off over Christmas it's this year. I may well have one drink on Christmas Day with my dinner but after that there'll be no alcohol for a good while.
It's tough because Hogmanay is a big thing in Scotland and Edinburgh always has big New Year celebrations, but I've been dealing with that my whole life as we quite often have big tournaments at the start of the year and it's one of those things. As a sportsman that you have to make sacrifices.
It is things like when all your friends and family are celebrating something like Hogmanay that you kind of have to take a sideline a little bit or go along but not have any alcohol - which is frowned upon in Scotland!
But I've got plenty of time to enjoy myself after London hopefully I will have something to celebrate!
Cheers!