I walked past a bookmakers on my walk to the Millennium Stadium from my hotel on Saturday morning.
The World Cup odds were being advertised on the street. New Zealand were 8/11 favourites (put eleven pounds on them and receive 19 back for a profit of eight pounds if they win the event), Australia were 4-1, South Africa 6-1 and leading the European contingent were England at 8-1. As for Wales, I got to Ireland at 25-1 and kept walking.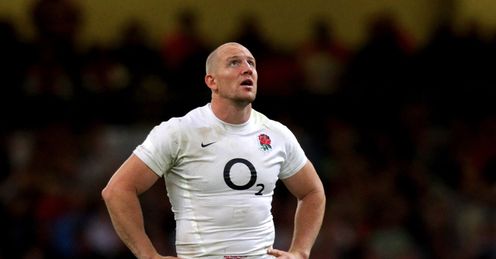 Good luck to any England supporters who dropped in pre-match and placed an optimistic 10 pounds on Martin Johnson's team. In my mind they were 20-1 to win the competition (each-way betting ensures they are absurdly overrated in the market) before kick-off. They are now looking like a 33-1 shot.
On the evidence of Saturday, Wales have more chance of winning the competition. Yes, England should have won the match three times over by half time but it was the nature of their display that left observers of a previously rosy disposition so concerned.
England have run out of time to make their offensive game world class so they must accept the limitations of trying to stop others playing and squeeze matches through a pack that was deeply impressive at both set pieces.
Stuart Barnes
Quotes of the week
Post- match a few optimistic fans talked up the return of Ben Youngs and Chris Ashton but the scrum half has dipped every bit as much as Toby Flood since their brilliant displays in Cardiff in February. And we saw how Flood performed. Ashton has been troubled by ankle injuries through the summer. Will he be as sharp and will there be any holes for him to breach?
England's fresh ideas of last campaign were based (in attack) on the inside pass, with Flood releasing his back three into gaps between the fly half and the lumbering tight forwards. The injured Welsh fly half, Stephen Jones described the ploy as 'releasing big numbers on little numbers'. Few nations were prepared for England's excellence in this department.
But having been playing this game since last autumn, surprise, surprise, opponents are ready and waiting. Still Flood almost mechanically passed the ball back into space as England floundered.
Three quarters of the territory and three quarters of the possession in the first half and no tries. That is pathetic; the sorry state of an attack game that has nothing fresh to offer and has returned to the pod system where static players wait to take a ball one out from a breakdown before aimlessly dropping to the ground and committing no defenders left England looking bereft.
Squeeze
The net result is that Jonny Wilkinson is going to regain the fly half slot. England have run out of time to make their offensive game world class so they must accept the limitations of trying to stop others playing and squeeze matches through a pack that was deeply impressive at both set pieces.
Wilkinson is no Dan Carter as an all-round player but he kicks his goals, drops as well and makes his tackles. England lacked the feel for turning pressure into points in Cardiff; that is what Wilkinson does best.
The dreams of an England team mixing and matching their options up front and behind has (or should have) gone and it is back to the one-dimensional game plan for the World Cup.
The management is caught between the devil and the deep blue South Pacific. They have had ample time to broaden England's range and seemingly failed. They will have to go a long way - to the final - if the stark tedium of their style is to be forgiven.
If they attempt to play their way through the miasma before our eyes with personnel who, frankly, have clearly lacked attacking ability since Martin Johnson first selected them, and go out of the competition early, then the management has to be radically changed from the top down.
Heat
Warren Gatland is not used to the other Head Coach feeling the heat more than him, what with Wales' record being so poor in the last few years. They are not out of the woods.
Any other team who grabs control of a game like England did will not let them off the hook. The tight five delivered their back line shifting foundations on which to play. It is an indictment of England as well as a credit to Wales that they won this match with a losing hand.
The win stinks of a Pyrrhic victory until you remember that Wales have two props who - at their best - are world-class operators. If Gatland gambles and holds them back until New Zealand to ensure their readiness for South Africa, Wales have the personnel to shock South Africa. On decent footing the back line is a threat, especially if the plan that has emerged from nowhere continues to succeed as it did on Saturday.
Rhys Priestland was fighting for a full back berth before the match at Twickenham; after two composed performances as a fly half he is not only on the plane but scrapping for the fly half shirt.
He reads the game with the level-headed composure of his team mate, Stephen Jones but comes with extra speed and danger as a runner. He also kicks extremely well from hand and ground. Most of Wales would prefer James Hook, undoubtedly the most gifted player in Wales, to take the fabled ten shirt but he works well from full back.
His reading of the game means he is rarely found in the wrong place and while he would receive more possession standing at ten, it's the extra split second and half a metre that counts more for the quality he can stamp on the game than the quantity of his involvement.
Preistland's confident and aggressive game has altered the hand Gatland is playing. He might just have been proved one of those lucky generals with poor Jones's injury the moment Wales rediscovered their back line balance.
The way Hook carved through the England defence for the try from fly half on a multi-phase attack illustrated that wearing 15 is not tantamount to exile for Hook.
Hamstrung
Another fascinating aspect of Wales' day was the selection of Gavin Henson at 12. The team has been hamstrung by Jamie Roberts in the inside centre berth. Big and strong he may be but the complete absence of a passing game has damaged Wales' ability to mix and match their game.
Henson is more of a classic distributor. He did well for the half hour he was on the field but it is more the selection of type rather than any of the celebrity hype that is so interesting. Wales seem to be changing their game going into the World Cup while England are stuck with their old model which all the world has had a good look at.
Instead of working out ways to win, as Johnson phrased it before the start of these World Cup warm-up games, his team managed to lose a game that was nigh impossible to lose given possession, territory and the fact Wales played 20 minutes with 14 men.
England - with Moody injured and nowhere near proving form - are in a parlous state while Wales, if the two props do recover (all bets off if neither is fit for action) with an outstanding open side and new captain in the shape of the impressive Sam Warburton.
With the tireless Dan Lydiate alongside him, Wales have a decent shape on the flanks and a freshness that gives hope where despair reigned when the Principality watched Samoa win in Australia.
These are still early days; remember how bad England were against USA and then South Africa in their first pool games in 2007. They made the final via the pack and boot of Wilkinson.
Those features are still in place but right now England are a long way from a World Cup final with a shortage of time to fix what has looked a mess since Scotland scared them at Twickenham and Ireland hammered them in Dublin.
England lack direction, Wales a front five... the latter could prove the easier fix. Avoid the 8-1 friends, avoid it like the plague.
Stuart answers your emails...
Got a question for Stuart? Email him at skysportsclub@bskyb.com or use the feedback form below...
Centre points
Dear Stuart. Why are England talking of Matt Banahan as a utility back? Whatever you may think of him as a wing (for me he seeks contact far too readily, and until he picks his running lines late off the shoulders of the 10 or 12 when coming from the blindside, whether as a decoy or receiving the ball, he will continue to be ineffectual against top opposition), surely he cannot be considered as an international centre? His distribution is simply not of a centre's standard, nor is his reading of the game. On Saturday Delon Armitage on 77 minutes during a rare piece of England counter showed at least he can identify space and time a pass, which surely is a prerequisite for anyone wishing to play outside centre. When did the idea of Armitage at 13 suddenly disappear? Best wishes, Robert, Richmond
STUART SAYS: There were not many thinking of Armitage as a 13. It was something that this column vociferously campaigned for, but in his infinite wisdom I think Martin Johnson long ago opted not to read these opinions!! If Martin did, he would doubtless be infuriated by the constant demand for a centre who could pick running lines, distribute and identify space.
I understand your concerns over the validity of Banahan as a wing/centre, but if we are going to denigrate him for a lack of basic skills, it is impossible not to add the name Mike Tindall. Nor is Shontayne Hape exactly a bundle of creativity.
You are concerned that Banahan seeks contact at every opportunity, perhaps this is exactly what England like about him. When playing in the blue, black and white of Bath Steve Meehan and Ian McGeechan both had him offloading and picking exactly the sort of angles off a 10 that you bemoaned the absence of at the weekend. Maybe your grouch should not be with the big bath winger/centre, but the manner in which England coach him.
Flood warning
Stuart, I think I remember Will Greenwood saying in years gone by that Flood was more a centre than a fly half. Given the performances in the first Wales game, and the general lack of incision over the last year or so any chance of an England midfield comprising him and Manu outside Johnny? Regards, Bertie Foster-Ward
STUART SAYS: If Toby Flood isn't playing well enough to be 10 there is no reason to think he should play at 12. Wilkinson and Flood in tandem would not work because of an absence of pace and power in offence. For the same reason, Robbie Deans has discarded the significantly more gifted Matt Giteau as a 12 because Quade Cooper - a gifted, but lightweight 10 - needs somebody to penetrate the gain line and thunder in the tackle. Wilkinson does not have feet anywhere near as quick as Cooper and is not a threat as a runner, which means he desperately needs an abrasive 12 outside him.
Given the two former Falcons in tandem, the drift towards a lateral game would be almost inevitable if England play with the ball in hand. As it is, their back play is so abysmal they may as well pick a couple of flankers and just kick the ball in the air and chase when in possession and tackle like demons when they don't have the ball. With only three weeks until Argentina, the time for experiment has all but evaporated and it is with sadness that one reports England can only make a success of the next World Cup by reverting to the 10-man rugby that saw them to the final in 2007. In four years we have gone absolutely nowhere. Think what you will.
Comments (20)
Kevin Mitchell says...
England will get nowhere relying on a penalty here and a drop goal there by a forward pack only approach. All the big three will give up few penalty chances and the goal line defense will make Wales look like preschoolers. Look at the AB's this year they have hit fast,defended from 1 to 15 like loose forward and have taken pride in scoring tries and defending their own try line.
Posted 21:34 17th August 2011
Chris Smith says...
Isn't it about this time pre world cup that we can expect Mike Catt the make a miraculous return out of know where and save the day. He has done it the last two times, why not again?
Posted 18:00 16th August 2011
Gary Smith says...
1. The return of Youngs is crucial to any chance we might have. It is not possible to win quick ball AND get it away from the breakdown with pace when Care is playing. 2. I can not remember the last time we scored a try through the backs when the ball has passed through Tindall's hands. He is undoubtedly a good defender but has become a liability in attack. Surely it is better to have an OC with a better balance. 3. Cueto and Tindall are both quite slow for modern backs. 4. Armitage is a classy player so surely he should be out on the pitch somewhere even if Foden is at FB. 5. Flutey is returning and is ring-rusty, but at least he has shown in the past that he has what it takes. He should be given the chance against Ireland to get some game time. 6. Backs for me would be: Youngs, Flood/Wilkinson, Flutey, Tuilagi, Ashton, Armitage, Foden. 7. Most international coaches would be able to do something with that back line. Did I get anything wrong?
Posted 13:02 16th August 2011
Gee Peeo says...
Stuart, you sound like you've only just found out that England are boring and can't break a team down. Save a couple of blips, they've been like that for the 30 years I've been watching them mate.
Posted 10:22 16th August 2011
Stephen Metcalfe says...
Going back to Wilkinson may seem like a step backwards but at least all the other 14 players know what their 10 will do, do you not think as with Flood they seem to be rabbits in the headlights. He has the uncanny knack of keeping the scoreboard ticking and had he played at Millenium stadium England could well have gone in 6-15 up? The centres are Englands biggest malaise and the only person to put a hand up and say I want a starting shirt is Tuilagi, if the others are the best England have to offer then we are in a perilous state, Who would you choose? oh for a Greenwood, or a Guscott. I always thought Flood was a centre converted to a 10? remember the dim and distant past at Newcastle - 10 Wilkinson, 12 Flood, 13 Tait. Can England also please stop this static rugby where a group of 3 or 4 forwards just collect the ball off 9 and drop to the floor I always thought the idea was to play it (rugby) on the front foot? Maybe i was brought up in a different era but its not a hard game to play. Quick ball with players running on to the ball with depth and pace and running at space not trying to do the macho and run over their opposition. At the minute England are a bigger version of Leicester where biggest is always the winner?? Thoughts
Posted 08:15 16th August 2011
Ken Joe says...
Hi Stuart, Your assessment of England based on a warm up with players who have not played in 3 months is over pessimistic. It is akin to writing off South Africa's world cup chances based on their shocking warm ups - no-one wants to play SA not even a confident Wales! Yes England lacked creativity (not a new problem which was cured previously). Let us see how they perform against Ireland and in their first game against Argentina. I suspect that Hape will be replaced by Flutey in tandem with Tindall and with Tuilagi on the bench. Against Ireland, England will not turn down kickable penalties. England's biggest mistaking was not taking points on offer against Wales (poor captaincy by Tindall unless under instruction) and thereby amping up the pressure on themselves - purely self inflicted and a lesson learned. If England had kicked the 3 or so penalties they would have been 6-9 points ahead at half time and this soul searching would have been avoided. Wales have a razor sharp back line with a retreating pack and limited squad depth. England have a tough pack, good squad depth and a backline that needs tweeking but scored the most tries in the 6N (13) - I know where I would rather be!
Posted 06:46 16th August 2011
Alex Smith says...
Dear Stuart, I think your claim that England have gone absolutely nowhere is a bit of a strong statement to make. Lets not throw the baby out with the bathwater. I agree that Hape and Tindall are real problems in this England backline, however, as you will know, England stated after the game that it was their intention to practice the moves they performed in training ahead of the world cup. Although I think that such a strategy is an insult for the English fans who traveled to Cardiff to see England win and the players should have showed a bit of maturity and taken the goals on offer when plan A obviously wasn't working. Let's not judge this England side based on one performance. If they are annihilated by Ireland, then I will start to get a bit more concerned, however regardless of the result of the next 80 mins England play, there is alot to be positive about in this England side, just look at the players which Johnson has blooded: Tom Croft, Courtney Lawes, Ben Foden, Chris Ashton and Ben Youngs, these players have serious talent. England showed a lot of tactical naivety this weekend, with the exception of Foden, they had no speedsters, therefore Flood's inside ball was too easily markable and they shouldn't have insisted of sending Hape and Banahan down that channel time after time. They have alot to work on, but they have the playing squad to fix it.
Posted 01:22 16th August 2011
Dave Short says...
I thionk we can all agree that the Tindal /Hape center pairing has been a disaster. I have to agree the time has come to move Manu to 12 and play Armatage at 13 both have pace can defend and most important are in form .M.Tindal should now only be a bench player (if he gose) atm id be very tempted to leave him behind leader or not as his form for the last year hasnt been good . I would rather take a chance by taking C.sharples myself or if Moody needs time H.fourie but he has to sharpen up like the whole pack when it comes to the breakdown
Posted 21:58 15th August 2011
Joe Kenny says...
there is no way england are better odds than ireland to win the rugby world cup did you not see the irish take them apart in the 6 nations. as usual england are so overhyped,great pack useless backs. How mike tyndall is built up is ridiculous the guy cant pass sure hes not bad on a crash ball but the not going to break defenses.They are so one dimensional you cant help but feel its gotta be a coaching problem,find a backs coach that can actually utilise foden,ashton,flood and youngs they have undouted talent.
Posted 18:24 15th August 2011
Fraser Ross says...
I think you're being overly harsh on your compatriots there Stuart. I woudn't write off England just because of a warm up game. In fact, as a Scot, I'm quite worried that this setback will make them a wounded animal, but we will see. What do you make of Scotlands chances of topping the pool?
Posted 18:20 15th August 2011
Daniel Hartshorne says...
Stuart, Cannot believe how poor Englands midfield currently is. Hape and Tindall have surely played Manu and Fluety into starting places. Where are the runners on shoulders? where are the off loads that Banahan and Hape are supposedly famed for? Without a game line breaker who will run through a tackle, free his arms and off load England will have no chance. I would even go as far as saying find a place for Charlie Sharples and his direct pace that if he can get in behind deffences he will cause problems.....Although i suppose Saturday could be the biggest bluff ever and England will shock us with sparkling back play...but then again......
Posted 16:41 15th August 2011
Nick Hughes says...
Stuart In his post match interview Martin Johnson talks once again about errors, errors, and yet more errors, but as Manager he is guilty of the cardinal sin of not seeing the wood from the trees...this England side (with the game against Australia last autumn being the only notable exception) is completely lacking balance, and more importantly anyone in the midfield with any craft, guile and creativity. It is not that these players do not exist in England, it is just that they were cast aside by this myopic management team who believes that bench press prowess and simple weights and measures is the way to select a test rugby XV - Geraghty, Barkley, Tait and further out-wide Strettle and Simpson-Daniel have all been overlooked in favour of Tindall, Hape, Banahan and Tuilagi. Johnson had the opportunity 4 years ago to blend all the talents available to meld them into a cohesive and balanced three-quarter line of power, speed and guile. He seems only to recognise the former attrribute and the results of this flawed selection system were plain to see on Saturday and in Dublin last March ¿ but what has a lock forward ever known about three-quarter play?...and I don¿t remember Brian Smith as a player who understood attacking back play either¿ Nick Hughes
Posted 16:34 15th August 2011
Rhys Williams says...
Stuart I don't think you have given teh Welsh defence any credit for the amazing display they showed. It is easy to say England lacked ideas, but when you are faced with such professional, organised and break through wall defence that England faced on Saturday I think you can see why the ideas left them. yes this wlesh side is not the welsh side of 2005 grand slam success, but we are still dangerous in attack when we have the ball, but we are now a team that is ready for whatever the world can throw at us. We have discovered some backbone to go with teh flair the wlesh backs have had for a number of years and its good too see. Of course they will not trouble New Zealand who just seem to be on a different planet playing like they are. But I don't think this welsh side will be humiliated by Fiji like they were 4 years ago, and South Africa should not take us lightley either after what Scotland did to them.
Posted 16:20 15th August 2011
Tim Smith says...
Stuart, I am so frustrated with the managment of England, tuilagi gets one game and is prbably not going to get another chance before the world cup. Why do we have such poor centers in the squad, tindall,hapee,flutey and banahan are all one dimensional and the frustrating part is we havent given anyone else a chance!! why cant we play foden Armitage and ashton in the same team and increase our options a little !!! Also am i the only person who is appalled that Sean Edwards one of Englands best coaches is coaching wales all because of the stupidity and shortsightedness off the RFU!!! lets get this world cup over with and get the right man for the job, preferably someone who has actually coached before!
Posted 16:06 15th August 2011
Nicky Gray says...
The fact that our best chance of success is by reverting to 10 man rugby proves that England has made no progress in the last four years. That fault lies squarely at the RFU, Martin Johnson and his coaching staff. As an England fan, I obviously want us to do well at the World Cup. However, I fear that if England scrapes their way to a semi final than the RFU will hand these guys a four year contract. After the World Cup, England needs an experienced manager; someone with a track record of success, a forward thinking coach. If that means selecting a foreign coach then we should. Personally, I would like us to go for Ewen McKenzie before the Australians sign him. Stuart, which coach would you like to see in charge of England after the World Cup?
Posted 15:50 15th August 2011
R T says...
Frankly, anyone who considered England contenders before Saturday's game were deluded. A mixed showing in the 6N does not mean we are world beaters. The defeat may even prove to be a blessing if the England camp can chieve the siege mentality that served us so well in RWC07. What it ought to do is explode a few myths.. namely that Flood is anything other than a journeyman, that Banahan has no place on an international rugby field, that Tuilagi already looks our best bet at centre, that Armitage should be tried at 13 and that we have no quality in the backrow. Scrum and lineout are steady but we cannot protect the ball properly and are desperate for a world class7...... like Warburton.... and even if fit, NOT Moody! It should also show Johnson to be wanting as a coach. Our major successes over the last 2 years - Ashton, Lawes, Foden were all picked through gritted teeth off the back of a concerted media campaign - come on Johnson, as things stand we are also rans, so give the talent a chance. That said, expect us to go further in this RWC than any of the other home nations... if the draw pans out (and it usually does), we have France in the quarters and Aus in the semis, two teams we know we can beat. So a final slot is a possibility. Hope springs eternal and Hape.... does not.
Posted 15:06 15th August 2011
J Stevens says...
How can Martin Johnson be described as risk averse? He is taking at least 10% of his squad players who haven't proved their fitness and another 10% who haven't proved their form. These aren't the risks I would take and I am now of the opinion that 33-1 is generous. The frustrating thing is there are genuine options in all the problem positions and from clubs who finished at the top end of the Premiership, took part in the Heineken Cup and have played for the England Saxons earlier in the summer.
Posted 13:58 15th August 2011
Peter Jones says...
If only Martin Johnson had stuck with Shane Geraghty when he was at the top of his game. The English attack would be spoilt for attacking options. This is the flair we are missing. I believe anyway that kicking should be shared, look at Australia with O'Connor and Cooper mixing the kicking responisibilites up. If only Geraghty was left to play his own game when he last played for England rather than having his hands tied! Oh what if! be nice to see england develop the attacking flair of the southern hemisphere...we ain't going to do this with the current pick of backs. So a structured game it is for the corld cup then...johnny kicks...the forwards push...the backs defend......and that's about it!
Posted 13:50 15th August 2011
Sean Johnson says...
Gone nowhere? You forget that this year England won the 6 Nations for the first time since 2003 and absolutely dismantled Australia last November. I think Stuart, it is time to get over your obsession with berating Jonny Wilkinson. It's old news, incorrect and everyone is a bit bored of it now. You are right, Wilkinson is no Carter. Wilkinson has bottle, and a World Cup winners medal. I'm not sure if you saw the Super 15 final, but both Cooper and Carter were terrible.
Posted 13:45 15th August 2011
Mark Courage says...
Dear Stuart, After that porous attacking showing we served up on Saturday, what were your feelings about England's lack of apparent ability in midfield, but more particularly the breakdown. It appears we don't have a fetcher of any note in the country, and this is feeding through to the national team, as we are getting turned over at every breakdown and seem to determined to either be, not fit enough to make any ruck, or, we don't have a backrow which can turn over ball consistently and as a result, we have next to no control on the game. Also, I would like to know your feeling about the centre's debate, and the reasons why Hape and Tindall are consistently picked? It just appears to me, they aren't even selected for their clubs (Olly Barkley, Henry Trinder respectively ahead), and personally I'd feel much happier with Owen Farrell and Manu Tuilagi at centre. What are your feelings on this bizzarre (infuriating) selection? Many thanks Mark
Posted 13:41 15th August 2011