In case you haven't heard the news, Dan Carter is out of the World Cup. Four games of rugby were overshadowed by the news of the great fly-half's groin injury. It is the injury the country has dreaded for four years - or so we claimed in the media.
Working from 10am Sunday to 1am Monday, I can't pretend I had any contact with the affable Kiwi public whatsoever, but if they were not in a state of mourning when they heard the news they most certainly were by the time we had filled the airwaves.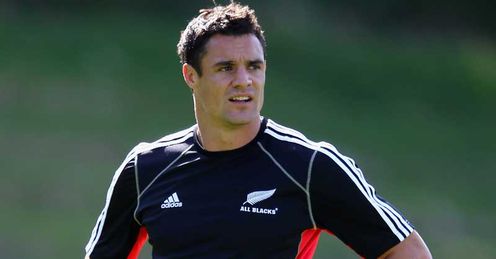 It started with the UK based Sky where the England victory against Scotland was relegated to the parochial bun fight it actually was; so that was for the good.
Then we grieved, just about no other word would do. Graham Henry asked for sensitivity and I had to change tack. I was speaking the same funereal tones as the rest of the studio but something snapped.
I am sure Carter, a modest level headed man, will agree. He is a typical New Zealander, modest, humble, devoid of any traces of arrogance. He is a special player but his absence is a fact of rugby life like all the others.
Stuart Barnes
Quotes of the week
Yes, it is awful for Carter and not great news for the rugby purists that have travelled all this way to see the World Cup dominated by the great names. But Carter will recover and New Zealand has to get on and try to win the World Cup without their playmaker.
The tone in which we were talking relegated all the other injuries to the sidelines. Juan Martin Fernandez Lobbe - an injury even more debilitating for the Pumas than Carter's for New Zealand - is relegated to unimportance as is the blow of Frans Steyn's and Aurelien Rougerie's departures.
Of course, Carter, the golden boy of world rugby is the headline news, I thought, but then I realised that the significance is being set and determined by us and I don't think that Carter's injury is any more worthy of sorrow than Lobbe's.
I am sure Carter, a modest, level-headed man, will agree. He is a typical New Zealander, modest, humble, devoid of any traces of arrogance. He is a special player but his absence is a fact of rugby life like all the others.
Just because we set the headlines it does not mean that the received wisdom should be followed. So take a contrarian stance and feel a bit for Colin Slade.
Suddenly the All Blacks reserve fly half is the centre of a nation's rugby attention. Failure to win a competition for which they have long been favourites will almost certainly centre on unfair comparisons between the two men.
Henry asked for all of us to support him which is, frankly, not the job of the media but the New Zealand public should get behind him and the best way to do that is by not mentioning the Prince who has been deprived of his chance to ascend to the throne.
The final eight
So to the rugby and the quarter finals; the Hemispheres have split with Europe guaranteed a finalist. That likelihood became a fact when Ireland overwhelmed Italy to make the strong probability of an Ireland v Wales semi-final into a certainty.
Momentum is just about my least favourite sporting word; it's such a cliché but whatever we think it means, well that's what Ireland and Wales are fuelling their campaign with. The Irish front row faced down the somewhat overhyped Italian pack and delivered a platform for their back row to drive Italy into the ground with a remorseless display of hard running.
It remains very European in the way that contact is constantly taken but when the opposition is just about levelled the efficiency with which Declan Kidney's men put them away was impressive. They look good, very good and will have to be. The Wales team they face are playing better rugby than either of the Welsh Grand Slam teams of the last decade.
Warren Gatland has done a masterful preparation job. The Polish camp has given them condition superior to any I have EVER seen from a Wales team but that's the obvious part of what he has done. The slow development of the team, the losses that had a nation screaming for blood while he plotted this future, was the masterstroke.
Like all generals he has been lucky. The bad luck, the rotten luck that deprived Matthew Rees of a World Cup allowed the manager to install a 22 year old as captain and the appointment of Sam Warburton has been inspired and inspiring.
The youth of the skipper, George North, Scott Williams, Dan Lydiate and Toby Falatau has brought through a team without the psychological hang ups of Welsh rugby history where the Southern Hemisphere was a place to be feared. And how ironic that Rhys Priestland's missed drop goal against South Africa has worked out so well.
Favourites
Ireland will be a fearsomely hard quarter final but victory in that match sets them up for a crack at either England or France. Now form lines alone cannot be trusted but at this moment the winner of the Celtic clash must be seen as favourites to make the final. They are playing a brand and pace of rugby beyond the grasp of either of the European giants.
France might find eighty minutes of something (although this appears a cliché, such is their state of disarray) but were they to beat England the odds on this shambolic looking team doing it again appear remote.
Wales would not fear them although Ireland would need to put their awful record against France behind them and this fact undoubtedly would have some impact. But this World Cup seems to be played in a world of its own; given this maybe Ireland can forget history and play their game. If they do that they should beat France or England.
So too Wales whose propensity to concede penalties was the only blot on their landscape. A high tide is running red. They are ruthless in their finishing, powerful in their contact work and with Adam Jones and Gethin Jenkins back fit, solid in laying their foundations at the scrum.
Few people mention Luke Charteris but he has undergone a profound transformation to line out ace and hard hitting lock with a high tackle rate and a huge heart. He went to Poland a streaky rugby player and has come back like a Welsh superhero.
Wales and Ireland has ignited the tournament from the perspective of my eyes. Europe is being treated with rare affection in New Zealand. England has the nation's respect but no love whatsoever and who's to blame the natives? Martin Johnson's team has won its' all its pool games but this pool was the weakest of the quartet by a distance.
Endurance
The Scotland match was a triumph for endurance and fortitude but there is a lack of speed and accuracy in every facet of the game. Perhaps England is timing its run to perfection and Johnson will be proved a master strategist. Perhaps not; Jonny Wilkinson's injury might be the bad luck for the fly half and the good luck for Johnson that our lucky generals require. Having seen his percent game fall apart and his confidence pummelled by his ball problems,
Toby Flood should be a certainty for recall. England has to remove the blinkers and get its back three into the game which Flood is more adept at doing.
Defeat in the quarter final and Johnson should resign. His record over the years is poor in terms of performance and percentage victories. A semi-final is the least an England team should achieve with their depth of resources, both playing and financial. France are there for the taking and taken they must be. I expect England to win. And then a semi-final where on form they will be underdogs; which brings me back to the missed Priestland kick.
Had the Welsh fly half (another selection triumph for Wales) won Wales the match they would be facing Australia in the quarter final and then New Zealand in the semi-final. Ireland and England/France is the route to take. As I sit here writing it makes me wonder whether the rugby Gods are on the side of Wales.
South Africa against Australia will be epic. Europe will hope they batter themselves senseless. South Africa will merely hope to batter the speed and skill out of an Australian side still capable of beating any side in the world although perhaps too callow to do it three weeks running.
Argentina is delighted to have made the quarter-finals. The loss of Lobbe was huge but they have overcome it in a gritty if uninspired manner. Lucas Amorosino and Juan Jose Imhoff have produced some superb individual moments but the All Blacks will run them off their feet.
Some strange things have happened so far in this tournament (huge respect to Tonga for downing feeble France) but if Argentina beat New Zealand at Eden Park I predict the world will stop spinning - with or without you know who. It is about the only confident prediction I have left in the locker.
It promises to be the sort of weekend that occurs just once every four years with Wales versus Ireland and the heavyweight clash of two of the Tri Nations. Auckland is the geographical heart of this World Cup but Wellington is definitely the place to be if you love your rugby next week.
Comments (15)
Michael Ocarroll says...
Hi Stuart Great blog again I think your right if New zealand cant win the world cup without dan carter then they dont deserve it One man doesnot win a worldcup My heart goes out to him and the game is worse without him. although wales are playing some good rugby most of it has been against poor opposition namibia and fiji wouldnt know what defence was if it hit them in the face. Also the SA and wales game south africa were not great that day and most teams would have punished them I think the welsh team will be a huge force in the future but just lack a bit off experience when it comes to winning a game. South africa played poorly and still won they are getting stronger and stronger as the tournament progresses I suspect they will beat austrailia so a NZ SA semi final Wales however had to dig deep to see off samoa and i feelthey are coming up against a team that has a miserly defence Irelands first choice XV has conceded one try ( the russia game was the B taem) in their pool and against a team who have the best attack in the competition conceded none The Irish team is building momentum andcombined with the experience of winning four heineken cups out of the last six these players know how to win. What is also important is that the backrow is also starting to hit form. Write this team off at your peril when this team hits momentum thay are hard to stop. Warburton has been a revelation for wales but the back row combo of ireland will edge it i think . Sean O brien may not be a natural 7 but ferris and heaslip have been sharing the donkey work particularly heaslip and they are all go to guys to break the gainline and with drisco and darcy hittin form there are a number of players who can give ireland momentum It will be a close game and prob decided on kicks with ireland edging it 19 -16 England will destroy France by 20points so Ireland England semi final
Posted 19:08 6th October 2011
Amrit Dedyal says...
Why does everyone in the media including Stuart pile on England? The media forget that England in the last 2 world cups has made 2 finals and won one of them! Come on why do we have to take this attitude? Just like in the last world cup England does start slow but they could be building to a big boom at the right time, is that not possible? I think if England get past France then they can take on either Ireland or Wales (neither who have ever made a final, lol) who may or most likely choke! So come on back your country! Have some faith in this group of players.
Posted 14:11 4th October 2011
Rhys Williams says...
'what I would give for any of them to have had an English Granny' - Warburton does! So does George North, thanks for the generosity England, much appreciated!
Posted 13:47 4th October 2011
Stephen Dexter says...
Hi Stuart, I find one of your comments a bit strange..... Johnson sacked if England don't make the semi-finals? I think we should give the guy a chance and still feel that England are going in the right direction. I would say that I completely agree with your analysis of Wales, I think they are playing cracking rugby. Therefore lets consider the record of Johnson and Gatland for their respective countries: Johnson - 57% games won over 37 tests Gatland - 44% games won over 32 tests Please discuss.
Posted 09:50 4th October 2011
R T says...
@larry Butler. I agree the Irish are playing out of their skins at the moment but so are Wales. As an Englishman I have to admit both would be favourites to beat England. I just feel Wales have gone about their business quietly and efficiently and have some real quality in their back line. Front rows are well matched but Ireland will get no change out of Jenkins and Jones. Second row Ireland probably have the physical edge. Back row is very interesting, O'brien is a class act no doubt and Ferris is a force of nature, Heaslip is a solid performer too, Warburton is one of the few genuine 7s in the tournament and his battle with O'Brien (probably happier at 6?) could be decisive. Really looking forward to that one. Lydiate is also turning into a quality performer but Ferris probably edges it and Heaslip has the experience over Falateau. In the back line though I think Wales have more game breakers. My QF line up, NZ v SA and Eng v Wales, with a SA v Wales final.
Posted 08:09 4th October 2011
Gareth Selway says...
great blog stuart, the best ive seen from you, congrats on that !, i wanted to reply to R.T's post though, and can also agree with him on nearly everything except , i think england have loads of centres, why o why do they keep picking tindall ?? he's well past his sell by date and never was a world class center anyway , he would'nt get into any other home nations squads ,let alone the team.,.....otherwise a great post too, good luck against france, and i mean that, .......only becouse i know wales (or ireland) will smash england if they meet.
Posted 01:04 4th October 2011
Rich Kingston says...
Bye Dan. It shouldn't upset the All Blacks but it will. They are so good elsewhere that it shouldn't matter, but they will get all bunged up on the psychology, and lose focus. The pressure will be too much and will be expolited by the other southern hemisphere team, especially if it's Australia, imagine how Cooper will target Slade and the panic, if SA, Broussow and Burger will try and knock him out. I fancy France to do England then beat the celts, probably Ireland. Wales are flat track bullies and Ireland don't really believe they can beat SA or NZ. As for England I will offer this, EVERYONE says forwards win matches, backs decide by how many. Has there ever been a tougher forward examination than they have just had. No fling the ball Islanders, no real minnow, just forward dominated opposition. The scots barely scored a try and we praise them, they were crap. Step back and look at their achievement, two losses and edged past Romania, that's awful!!! be honest about other teams too.
Posted 23:26 3rd October 2011
T D says...
I would have a fairly different first 15 to you RT. 1. Corbisiero 2. Hartley 3. Cole 4. Lawes 5. Palmer 6. Croft. 7. Wood 8. Haskell 9. Youngs 10. Flood 12. Tindall 13. Manu 11. Cueto 14. Ashton 15. Foden Corbisiero has dominated every scrum he's been in so far, and the tired legs may be a slight factor, but he is definitely the guy I'd have at 1. Moody and Easter have both been poor so far in this world cup and with the form Tom Wood was in I never really understood why he was dropepd. Haskell might be a bit of a makeshift, not out and out 8, but he adds so much dynamism to our pack. I also think that the Palmer/Lawes combination worked very weel for us in the six nations and should be used. One word on Sam Warburton, Unbelievable.
Posted 22:11 3rd October 2011
Kevin Mitchell says...
Hi Stewart. That was a bit tongue in cheek because you media have banged on for years that the AB's cannot win without Carter / McCaw and always choke. So perhaps you should look inwards to see why Kiwi's have acted this way. After all on the choke front how many times have England choked in the 6N and GS and every November the AB's put records on the line playing Ireland never lost in over 100yrs,Scotland the same Wales 55yrs so who keeps talking it up.That is pressure and history but no choking so perhaps being a little more careful in word choices would be nice.
Posted 21:09 3rd October 2011
Jonny Barnet says...
i just don't think you can be surprised by the fact the carter is getting more attention then lobbe, after all its the worlds best player. imagine how the english media would act if golden boy becks had been ruled out of a world cup? surely he would have received much more attention then had malouda been injured for france.
Posted 21:07 3rd October 2011
Craig Bateman says...
Hi Stuart, I'm a proud AB supporter and devastated for Dan Carter. To go through the horror of the earthquakes and then suffer such a serious injury must be heart breakingl. I'm hoping that his loss will be an added incentive (i doubt any is needed! 24 years...long time...) for his mates to show they are the most experienced AB squad in history and should go and play their hearts out. For the record, Ireland VS New Zealand in the final... Black over Green by less than 5. Happy days.
Posted 20:57 3rd October 2011
James Gurd says...
@RT Matt Stevens keeps getting played out of position. Brian Moore's view that there is no such thing as a utility front rower, they are all specialist positions, is bang on. Yes you can change people if injuries rule out the specialists but why play someone out of their best position when there is a specialist like Corbisero available? And Dan Cole, there's a man with zero intelligence - unable to adapt to referees and continuously giving away stupid pens. Rather like a certain Mr Vickery. Perhaps they're related. Agree re Wilko - he once was irreplaceable, now he's a broken shadow and his game is far too limited. If we play him we stand no chance of breaking down defences. Flood isn't world class but he's the best we've got in the squad and deserves his chance. Youngs needs to step up again - no denying his talent but he was woeful against Scotland, his worst game for England by far. I still think the biggest problem with this team is the management. No matter how imperious Johnson was as a player, he has been found out time and time again as a manager. I have no idea why he persists in playing Armitage out on the wing when Cueto is a specialist wing with a great track record. Yet to see Armitage play a great game as a wing. And Tindall looks out of sorts - I think we need to have Hape and Tuilagi, or be even bolder and go for Armitage and Tuilagi. That way we can accommodate Cueto as well as Armitage and have pace across the backs. The rugby purist in me wants Wales to reach the final - they have such a positive, expansive game and their skill level at times is wonderful (I'm also really impressed with the Irish). England on the other hand are sluggish, uninspiring and pretty thick with decision making. That said, I expect England to stifle every opposition and get to the final with the most boring spectacle neutral fans could ever imagine. ps I'm an England fan, emotionally scarred one that is
Posted 20:37 3rd October 2011
Conor F says...
Hi Stuart - Good blog and I enjoy your punditry, written and on TV. But you've done a masterly job of sitting on the fence here in that your analysis is spot on but you haven't made the tough calls... Commit yourself now: who will win between SA & Aus, and who will win the battle of the Celts? Be prepared for either 6 million Irish or 5 million Welsh on your case if you get it wrong!
Posted 17:03 3rd October 2011
Larry Butler says...
@RT I dont agree I think the Irish are in the form of their life and peaking at the right time. Fancy Ireland to beat Wales and actually make finals with NZ.
Posted 15:43 3rd October 2011
R T says...
For once I agree with all the above. I fancy wales to turn over Ireland, regardless the winner will be too strong for England as I do expect us to beat the French, not because France have been so mediocre, if anything that is a worry, but because (it's an old cliche) we hold their Indian sign - they don't like playing us. For us to beat Wales or Ireland would involve us unearthing a 7 and a 12 before then.... My 15 going forward: Corbisiero, Thompson, Cole, Deacon, Palmer, Haskell, Moody, Easter, Youngs, Flood, Tindall, Tuilagi, Cueto (Armitage when available), Ashton and Foden. Stevens has blown it thru indiscipline and Murray working him over. Lawes of whom I am a big fan doesn't have the form of Palmer and Deacon along with Easter is the only one of the pack prepared to do the grunt work. Easter gives us control in the scrum, has good hands, great awareness and single handedly gives us a rolling maul which has seemed to have disappeared from our repertoire. Croft gives us a lineout option but seems incapable of giving us the dog that we need, admittedly it is difficult to show that when you are permanently on the wing. Wilko injured or not has to go. No distance on his kicks, STILL crabbing sideways, suspect pass off his left hand and game management skills that are nonexistant. Flood has his faults but can release the only genuinely classy operators we have, 13, 14,15. We nearly blew it against the Scots because we got dragged into their game... again... We do not have the pack to play 10 man, so lets give it to our potential game breakers and give what little quick or turnover ball straight to them. Come on England give it a lash and you never know what may happen. As a neutral can't wait for Warburton and Lydiate v O'Brien and Ferris, what I would give for any of them to have had an English Granny.
Posted 11:03 3rd October 2011