History repeats itself as New Zealand meets France as they did back in 1987; same teams but extremely different circumstances. Twenty four years ago Serge Blanco dived into the corner for a late try to beat Australia. It remains, to this day, one of those indelible World Cup memories.
In bitter contrast, this French team has made a final without the merest hint of French 'gloire'. But that is not to say the passage to the final will not claim a place in rugby world cup history.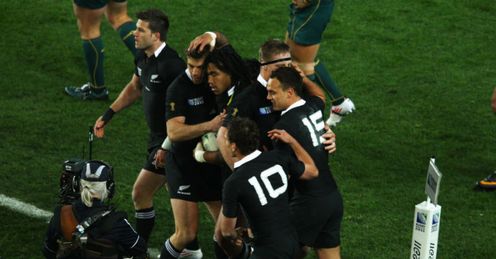 Their semi-final victory will be recalled for the controversial decision of referee Alain Rolland to make a rash decision to send Welsh captain Sam Warburton off after 18 minutes and thereby handing the initiate to a French team that was almost too nervously hopeless to take it with both hands.
Wales, with 14 men for an hour, should have won. They lost because France succeeded with three from three attempts and Wales just one from five. In particular Stephen Jones' miss of Mike Phillips conversion from the 15-metre line was the sort of error that costs teams tournament. Hard on Wales and Jones but these are the bitter realities of international sport.
This is no time for neutrality. The sport needs a New Zealand victory. Forget the Francophile leanings and the great wines of Burgundy and Bordeaux. The game needs to see that the flair of Israel Dagg and Corey Jane and the willingness to play rugby with ambition and not self-imposed limitations, is the winning way.
Stuart Barnes
Quotes of the week
As for Alain Rolland I will state that there have been many 'tip tackles' worse than Warburton's and none have received a red card. The dual national Irish/French referee set a precedent for draconian standards after 44 games of far more lenient refereeing.
The speed with which he made the decision was decisive but dangerously so and the net result has been to influence the outcome of this tournament in a way a referee never should. Why he had to be so quick to send Warburton off we'll never know.
But this much I do know; if Warburton's tackle really merited a straight red card the game has problems dealing with the balance between hysterical fear of political correctness in trying to soften the image and walking a proper line between what is and is not permissible.
In rugby league Warburton would almost certainly have been yellow carded and put on report. A committee would have met after the match and adjudicated over the incident. A clear red card is one thing but this sort of incident quite another. An error has to be made on the side of caution because once rashly made it cannot be changed.
Bumbling
In principle this is not a dissimilar argument to the death penalty. The risk of one innocent man going to his death is too great (apart from obvious humanitarian debating points) and Mr Rolland did his bit - inadvertently - to kill Welsh hopes. That they still almost made the final is testament to their courage and resolve and France's incompetent bumbling.
There is something about those dour Italian football teams that have scrambled their way to World Cup football finals - and sometimes they have gone on to victory.
The day after the final, next Monday, is Labour Day in New Zealand and a bank holiday. It will be national mourning if they lose the competition after performing with such conviction to dismantle their great rivals, Australia.
Having already crushed France 37-17 (with France playing their best rugby of the tournament to date) it seems only a cocktail of Kiwi complacency and French inspiration can alter what appears more and more as an inevitable New Zealand destiny.
This All Black team is a level-headed bunch while the muse has deserted France. They look like nothing but the England team of 2007 which fought back from the humiliation of a 36-0 beating against South Africa at pool stage to face them and make a better fist of it in the final.
This is different. New Zealand are performing with far more balance, variety and panache than a South African team which relied on the boot of Percy Montgomery, a great defence, the tactical brilliance of Fourie Du Preez and the best line out in the world. Hmmm, maybe it's not quite the formality it seems on paper...
Squeezing
France also possess a shrewd tactical game when Dimitri Yachvili is on song. They have some of the best kicking percentages in this tournament with Morgan Parra deadly accurate, while they undoubtedly have the liner-out of the competition to date. They will surely look to the touch lines and a squeezing series of drives to sap New Zealand who are so superior in every other department.
This is no time for neutrality. The sport needs a New Zealand victory. Forget the Francophile leanings and the great wines of Burgundy and Bordeaux. The game needs to see that the flair of Israel Dagg and Corey Jane and the willingness to play rugby with ambition and not self-imposed limitations, is the winning way.
New Zealand have worked hard on their defence which was immense against Australia but it is their capacity to ignite the imagination with the chutzpah of their attacking game which has to be the defining memory of a tournament that will be remembered for the greatest shock in the history of the World Cup should France turn around a 20 point deficit from the pool stages.
Last weekend I exhorted Brits to support Wales this weekend the cry is for all rugby fans to back the All Blacks for the love of the game. I love taking contrarian views but as I do the rounds in Auckland this weekend I will be wearing a black shirt.
Bad luck Wales, you deserved a final berth, good luck New Zealand, you deserve the William Webb Ellis trophy.
Comments (9)
Peter Aird says...
France had no chance to win the RWC and today's result was a travesty. The Referee was blind to NZ infringements and the linesmen are useless, they never make calls. Rugby needs better, more definitive rules or better referees - probably both. Today was an appalling injustice. France were far the better team but their momentum was repeatedely interrupted by decisions which should have gone the other way
Posted 12:58 23rd October 2011
Keith Phillips says...
I have made a lot of money of this world cup. I have to thank Barnes for that though. Whoever he picks to win a game, I back the other team. He' has been wrong on several occasions picking a winner LOL. But one thing that is really getting me worried is that Barnes has picked the All Blacks to win the W.E. cup. Oh how I wish he had predicted France to beat the All Blacks. As for the sending of, Yes it was a very dangerous tackle without intent to harm the player. But nevertheless I believe personally the ref got it right sending the Welsh skipper of.
Posted 22:44 21st October 2011
Ben Wilde says...
As an Englishman living in NZ and seeing the First world cup at 17years of age, it seems to me Stu that Rugby does indeed need the All Blacks to win. Why because this tournament and for many a year they have looked to play "complete" Rugby much like the Dutch did in 1974 Football World cup, entertaining for lovers of the game. As far as arrogance of New Zealand supporters there is some of that around, but no more than an Englishman for his beloved Football team in the Euros and Fifa World Cup. Take it all with a pince of salt and enjoy the game for it is - sport - not war. In the end its sport. Kiwis will mourn for many a week if they look, but the All Blacks are a humble bunch and know the French will turn up for the first time in the tournament. Go the All Blacks, but if the French play and win with exciting Rugby then good on them too.
Posted 21:44 20th October 2011
Conor Manning says...
Stuart dont throw the baby out with the bathwater. On June 8th, 2009, a memo was sent to referees, citing commissioners, judicial officers and non-legal judicial committee members the world over from Paddy O'Brien, the IRB referee manager, and Tim Gresson, the IRB judicial panel chairman, on the subject of dangerous tackles. The memo clearly brackets both driving a player into the ground or dropping him to the ground in the same category, and specifically stated: The lifted player is dropped to the ground from a height with no regard to the player's safety. A red card should be issued for this type of tackle. It added: Referees and citing commissioners should not make their decisions based on what they consider was the intention of the offending player. Furthermore, the memo included a recent decision of the judicial officer Jannie Lubbe SC, in which he over-ruled the decision of the match-day referee, Stuart Dickinson, and touchjudge, Jonathan Kaplan, to issue the Bulls Tewis de Bruyn with a yellow card for tip-tackling Odwa Ndungane and dropping him to the ground in a Super 14 game against the Cheetahs. Ndungane was not seriously injured and would later score a try. But despite hearing evidence from both officials, who stood by their decision, Lubbe deemed it a red-card offence worthy of a mid-range offence and a six-week suspension, reducing de Bruyn's ban to three weeks in recognition of his disciplinary record and remorse. As the identical suspension to Warburton underlines, along with four previous suspensions for tip-tackles in this tournament, not to mention O'Brien repeating the aforementioned edict before and during the tournament, Alain Rolland really was a hostage to fortune.
Posted 17:01 18th October 2011
James Mccullough says...
How can you ask people to support NZ? I was in NZ for the group stages of the RWC and they were so arrogant about their side. They truely believed there win was a foregone conclusion and they were beating the Aussies in the Final. Also, if France play with the guile and flair we know they can, how is that a bad advert for Rugby?
Posted 00:20 18th October 2011
Sam Owen says...
Come on Stuart, he dropped the guy on his head! He lifted him above the horizontal and dropped him. The referee had no choice but to send him off. Granted, he wasn't injured, but that was by luck more than anything else. If Clerc was stretchered off with a spinal injury, would we be having this argument? Whenever you put someone in a situation where they could be seriously injured like Warturton did, then I'm sorry but you get what you deserve...which in this case was a red card. However I agree with you on everything else. Thoroughly enjoy your commentary on SkySports NZ.
Posted 22:05 17th October 2011
James King says...
stuart why dont u try and be a referee if its so easy? easy to call when you have slow motion replays.Stupid tackle in the first place warburton should never have put rolland in a position to make the call
Posted 19:53 17th October 2011
David Paxton says...
'Rash' So if he had breathed deep and counted to ten, chatted to the touch judges and then gave a red card, it would have been ok? Or are you presupposing that taking longer on the decision would have resulted in a different outcome? If he says he would have made the same decision then we should reward his decisiveness. Report system? Why should the team offended against not enjoy the result of the punishment. Why should the team next week do so? Are you really suggesting nobody should be allowed to be sent off ever? At least adopt the US method where you have to replace the player. Otherwise, why at the start of a final would you not spear tackle the opposition's star player, or break his jaw, in order to put him out the game knowing that you won't be punished until after the tournament? "As for Alain Rolland I will state that there have been many 'tip tackles' worse than Warburton's and none have received a red card." This is an argument against other refs not following IRB guidelines, not against Alain Rolland.
Posted 18:15 17th October 2011
Peter Desmond says...
What does Rolland being Irish got to do with him reffing Wales in the Semi final? 99% of Irish people supported the Welsh in the semi final as they were the better team on the day. The fact that he is half French makes it a poor call to have him incharge of the game not that he is Irish. As for the red card, each dump tackle that has happend in the World cup has got a yellow card followed by a ban meaning that they should have been red. The refs have been told cope on and hand out red cards. Rolland should be praised to have the bottle to hand out the red card. Best of luck to the French, its a pitty that the Welsh wont get to represent our hemisphere in the final, BUT as we all no dont write off the french.
Posted 16:07 17th October 2011