So New Zealand ended their twenty four year wait and their second World Cup. France again the victims but this time closer than those long years ago. That 1987 team was a vintage World champion team. Despite the absence of South Africa it is difficult to dispute the status of that side as the outstanding champions over seven competitions.
This All Black team was billed as a possible rival but by the hour mark they resembled more the teams that have been branded chokers. France had them on the ropes as the All Blacks scrum and (especially) line out creaked. Thierry Dusautoir and his inspired back row colleagues eclipsed the illustrious Kiwi trio as the home side hung on until the seventy eight minute when they re-established control of the ball and with it the match.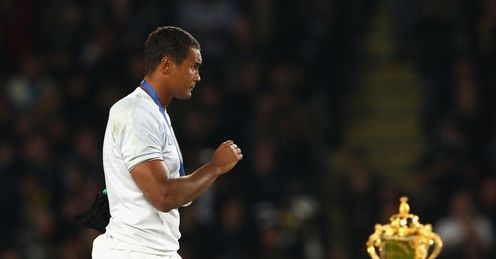 At full time the scenes were delirious, whether in Eden Park itself or any one of the many public zones supporters had gathered to watch the coronation that turned into anything but that. Many commentators believed Craig Joubert favoured the home side. I am not of that persuasion but I do believe that had the final been played in a neutral country, France would have prevailed and left a proud rugby nation once again in tatters.
Many commentators believed Craig Joubert favoured the home side. I am not of that persuasion but I do believe that had the final been played in a neutral country, France would have prevailed and left a proud rugby nation once again in tatters
Stuart Barnes
Quotes of the week
How did France, hammered by New Zealand and beaten by Tonga in the pool stages, turn the game around to such an extent that this was an even contest? We may never know the exact relationship between players and coaches as with the England team of 2007 but this did not look like a team coached by the players.
France were cleverly organised and hit the All Blacks at their weak spots like the line out (although ironically the difference between the teams was eventually to be a crafted line out move to send Tony Woodcock in for a try.) The underdogs bit in the tackle and harried New Zealand out of their stride at the breakdown. Deprived of the surging front foot ball Jerome Kaino has delivered most of this competition the All Blacks tactics in a big game were again questionable.
Without any great use of decoys they went wide early and allowed France to drift them towards the safety of touch. The back line collapsed as a unit with the disintegration of poor Piri Weepu. He handled the pressure of bearing Dan Carter's tactical responsibility so well against Australia but the pressure of the final was too much for him.
His goal kicking was awful and slowly the rest of his game was stripped bare until he fly hacked a ball into the arms of the impressive French reserve fly half, Francois Trinh Duc, whose break culminated in a try for Dusatoir.
Henry showed all his experience as a coach in substituting Weepu around the fifty minute mark before the situation further deteriorated. He did not get it right asking the scrum half to bear the entire Carter load of tactician, goal, touch, tactical and restart kicker. The weight of expectation buried him alive and left him looking a relieved man at full time. But before Weepu takes too much of a hammering for his game remember the way he rose to the pressure of the semi final was an integral part of New Zealand reaching the final. Winning World Cups is a squad effort about much more than eighty minutes.
I thought New Zealand could lose to the Wallabies the previous week because of the problems that befell the Carter-less half backs in the final. Had Weepu not done such a manful job in that semi who knows whether the Wallabies might not have gone two points better than France and knocked New Zealand out.
These are the hypotheses. What is fact is that New Zealand spent at least four years plotting this desperately tight and tense triumph. Maybe it was that detail that got them over the final line whereas four years ago they fell tantalisingly short.
Looking ahead to 2015
There are lessons here for teams like England whose short term obsession with winning the next game to the cost of any development haunted Martin Johnson's tenure. When in doubt he reverted to the old familiar instead of allowing younger players a run at establishing themselves as test players. Men like Steffon Armitage spring to mind.
What else can England learn about this competition ahead of the 2015 tournament? Well, pricing is critical. The fact that a number of the early pool games were far from full as everyone rushes to pat everyone else's back and say 'well done'.
Prices should be based upon the quality of match, the rugby culture and the economic conditions of the region. Tickets in North West England should be considerably lower than those in the affluent regions of London.
The RFU should also work closely with the regional tourist boards. The New Zealand boards have been the unwritten stars of the last seven or so weeks. I have not heard anything but praise from managers, players (or at least the majority of them) and the throng of tourists who have mingled with the locals to produce the friendliest tournament of those in which I have been included.
Not so rosy
It has been a great place to spend the last seven weeks. The friendliness of strangers has been heart warming, the wines and coastline of Nelson stunning; the new stadium of Dunedin a welcome addition to outstanding rugby stadia and a final that was thrilling although not excellent.
The truth is that the format of the Cup is struggling. The gaps between the haves and the have not's is narrowing but not quickly enough. There are too many mismatches and not enough memorable games. The rugby itself is becoming too much a matter of collateral damage and not enough of wit and invention. There is nothing to panic about, the game ebbs and flows but don't believe the propagandist who tells you rugby union has never been better. This was a great tournament off the field, it was not so on it.
Comments (7)
Tony Buckley says...
We do not want this game going anywhere near the direction that league is. This game caters for every sort of player, fast, small, pacey, fat, slow, tall, agily. That is why this game is so unique. The srcum, lineout every part of it makes it a great sport. Not like the stupid league were the put lads into a scrum and they do nothing, why have it there?? Both sports are great and different and leave it that we have two codes of rugby to enjoy and watch. Alain Rolland got the call right with Warburton, he called it by the letter of the law and he was a very brave ref to do so, hats off to him. Warburton didnt help the player down end of. Jouber gave any 50/50 to New Zealand and he wouldnt make any calls that he should have infavour of France and he didnt want New Zealand to lose. I do fell that New Zealand were the better team in the whole tournament and deserved to win it, Well done.
Posted 08:32 27th October 2011
Matthew Rangiwahia says...
I agree with everyone the french were outstading but for all there possesion they never threated the ab's. The only French try coming from a Weepu mistake. I think this was a game the ab's were trying not to lose rather than try and win. They also did it with there 4th fly half who hadn't played rugby for over 2 months.
Posted 02:08 27th October 2011
George Staples says...
Whilst I much prefer the mobility pace and power displayed in rugby league, I do watch and enjoy the All Blacks and French approach to rugby union. Surely any forward thinking coach should be looking for ways to spread the ball wide and let the so called men of speed use their pace to take the gamer forward. Surely the majority of union fans can see that England's push and grunt is not the answer. Select mobile forwards, not these gym bound hulks who can't adapt. If not England's demise is not yet finished. Gee
Posted 17:55 24th October 2011
Neil Rafferty says...
Hi Stuart, I agree with many of your comments, but Joubert failed to referee the breakdown all match which suited perfectly the All Blacks style. Towards the end of the match on the ABs 10 metre line Kaino was off his feet and told to release and actually threw the ball forward on the ground for another AB to come in off side and pick it up! Joubert thought that was fine? Btw - you couldn't get those clever Sky technical guys that do the cricket coverage to ask "hawkeye" about Donald's "winning" kick? It looked wide to me? Seriously, I have looked at it several times. Lastly, when you have had to endure ITV's efforts at covering rugby you appreciate fully how well Sky do.
Posted 17:51 24th October 2011
Damien Drocourt says...
Just let me remind you!!! are you so surprise. Please for a time in you life of reporter get respect and remind your last article. "I think France are the worst World Cup finalists we have seen since the inception of this tournament. They do have a lineout game and even if New Zealand only get scraps of ball, they will destroy France with the pace of their game. Everything points to a New Zealand win and I will be surprised if they don't win by a 20 points plus margin." It is true that All black is the best team of the year, however on this final game FRANCE overwhelmed this all black. Thanks to EDEN PARK and Jouberts.
Posted 12:17 24th October 2011
Paul Newman says...
Hi Stuart, the next few weeks will be a time for review. I hope the commentators do the same. They got it dreadfully wrong about France whilst it was always clear that upto the final Les Bleus strategy was to do just enough. They didn't want to beat NZ in the pool game and they didn't need to beat Tonga. They showed they had it in them to beat England in the first half and almost got it seriously wrong against Wales. I thought the TV commentators on the tackle that got Warburton sent off behaved like supporters (and being a Tigers fan I recognise one eyed support!) and not professional expert commentators. England need refreshing that is certain but so does rugby commentary and analysis.
Posted 11:07 24th October 2011
Ken Joseph says...
Irrespective of who becomes RFU CEO and Performance Director, Martyn Thomas has the unmistakable and urgent responsibility to appoint what I assume will be a new England coaching team within the next two months. This must be Graham Henry (at any cost!) as Head and Attack Coach, Shaun Edwards as Defence Coach, Graham Rowntree as Forwards/Scrum Coach. Between this core team they can agree any other coaching staff. A team of this calibre could not be challenged by the new RFU Board members.
Posted 10:09 24th October 2011