Every sports team over the passage of time will have to stand and be judged by the number of games that it has won or lost and with the World Cup less than four weeks away nobody will be more aware of that fact than England's coaching team.
But after a lacklustre 19-9 loss to Wales on Saturday it is further back in time that we must look to find the real opportunities missed.
Every pundit who can find somebody to listen has been bemoaning the absence of creativity around England's play for some time and pinpointing certain individuals' lack of spark and rightly so, as other than glimpses of optimism, particularly in autumn's victory over Australia and their thumping of Italy in the Six Nations, there has been little for the purist to cheer.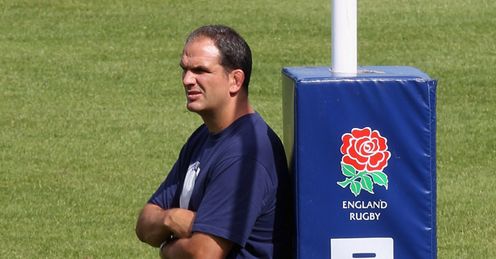 Now some may say England's first Six Nations title for eight years is a tangible return but there lies the problem. England's mindset has purely been about winning the next game.
'What's wrong in that?' I can hear many shout, but it is no secret that any athlete or team that has had to carry the pressure of winning from week to week will find that the opportunity for significant development is sacrificed.
It's too late to ask players to play out of position under the glaring spotlight of a World Cup and World-class opposition but it's not too late to refine and clarify the things that we are already good at.
Dean Ryan
Quotes of the week
Dean joins the team
Dean Ryan will be writing exclusively for skyports.com throughout the World Cup and giving his best bets and teams to follow for Sky Bet.
It is important in any team's cycle that there is a point in time where an aspirational game plan is prioritised. Something that everybody involved is striving to achieve.
This needs to be clearly set out and communicated by the coaching team. It shouldn't be something that is easily within reach in the short term but something that will involve players and coaches having to challenge one another to achieve over the long term.
England to win the World Cup - 10/1 with Sky Bet
Everybody will have to push the boundaries of their own skill levels to breaking point before they fully understand what their capabilities really are. Combinations should be changed and comfort zones obliterated before arriving at a deeper understanding of the nation's talents.
That may sound very rosy and there are graveyards full of coaches who preached about the wonderful visionary rugby they were going to create but were left unable to establish enough ticks in the win box. I would include myself at certain times during my career on that list.
But that in a nutshell is every coach's challenge. How do they keep their team moving towards that aspirational game in the sky and at the same time keep enough ticks in the win box to keep the wolves at bay?
When we look at the last 18 months it's hard to see where this spike in England's creativity has been with Martin Johnson choosing to create a winning environment generating confidence and stability as England's best route to the World Cup.
It is now too late for England to drastically reform their approach to the game and we shouldn't be surprised to see a return to a more limited game plan utilising the power of the forwards with the likes of Deacon, who had a noticeable return to the international arena alongside the growing talent of Courtney Lawes.
We are also more likely to see the return of a certain Johnny Wilkinson to guide and cajole the English power train.
If this is the case then we must quickly clarify this internally, as there is still much to improve on even within a more direct approach.
England's strengths
England's line out was clearly on top on Saturday with Lawes majestic at the back, but with this utilisation of people in different places within the line out we must ensure the need for others, particularly Easter who was asked to stand at two to ensure the priority of that first clear out in midfield is commanded in a manner that his boss would recognise. No game plan can sustain the amount of turnovers coughed up by England on Saturday.
With the commanding English scrum establishing a destructive platform we must also take every opportunity for points on offer. Turning down kicks at goal in favour of structured strike plays gave up any sign of thanks to the front row club, and were meat and drink to the outstanding Warburton and co.
Wales to reach the World Cup semi-finals - 7/2 with Sky Bet
The beauty of coaching has always been that you get to set up your team in the manner that you believe in and nobody has the right to say which way is right or wrong, only to highlight their own thoughts on the potential pitfalls of going down a certain pathway.
Stuck in the middle
But what is a serious problem is when a team gets caught between two stools.
Its too late now to throw new players into the fray hoping they might spark the creativity craved. It's too late to ask players to play out of position under the glaring spotlight of a World Cup and world-class opposition but it's not too late to refine and clarify the things that we are already good at.
Remember every sports team will always be remembered by what they won and lost, not how they went about doing it!
Comments (6)
Rugby Supporter says...
And which law would that be then? does it include popping up almost immediately. I agree the Welsh scrum was poor but at the RWC if Hartley pops up as the all powerful English pack are driving the Blacks' pack back over their try line and are rightly penalised you may like to reconsider.
Posted 22:43 18th August 2011
Richard Evans says...
Please post ... Creativity... certainly missing on Sat V Wales and to be honest has been missing for a while. Why does Martin continue playing MB at center? he is a strong guy and can jump, but he is NOT international class, MT had a very good opportunity on Sat to score, but he is to slow and hardly ever gets over the gain line... yes we need to test all players in the squad, but these 2 shouldn't be there, whats up with some of the outstanding players that forced their way into the premiership 1st team squads last season and played for the Saxons.. Come on Martin... ditch the has beens and let take a gamble..
Posted 16:52 18th August 2011
Dave Short says...
Englands scrum wasnt illegal the law is clear as long as you engage st8 and the 1st push is st8 if /when the opposing pack starts backwards you can turn / push them any whitch way you want too.Live with it the Welsh scrum is a shambles a bit like australias is /used too be
Posted 20:57 17th August 2011
Rugby Supporter says...
During the Wales England game you were waxing lyrical about the excellent England scrummaging,you failed to mention that the England tight head was boring in on the Welsh hooker, i've retired a few years ago but isn't this illegal? Nice to see Thompson joining "pop up" Hartley in getting out of the scrum by standing up, again, i stand to be corrected but, illegal? will they suffer when the s/h refs start penalising these offences at RWC.
Posted 17:14 17th August 2011
Philip Goldman says...
I agree Dean - England play far too creative. The centres lay very flat as they do, leaving three options- crash on 12 crash on 13 or blind side or full back coming deep. Now, in the modern game, it's almost essential to create a platform in a very pragmatic way before you can unleash creative plays off the 2nd phase. Going back to the incident, England ran their 2 decoys, and then at the last minute commited Tindall to the crash in the 12 channel. However, due to the back row having to cover three or four possible options and being unsure as to the call, only Fourie went with Tindall, Wales competed brilliantly 3 on 2 and slowed the ball down hugely, leaving England with painfully slow ruck ball and having to set set via Cole. I think the paradox is they need to try and be less creative from that first phase and do the simple thing first, before trying to get back to the plays they used in the 6N's.
Posted 14:33 17th August 2011
Ken Joe says...
Dean, good analysis. The only thing I would add is that SA and NZ also have significant power upfront (remember the match against SA in the autumn?). Where England have come unstuck in the past is believing the hype that they have an edge upfront which does not exist. When their forwards are neutralised, what are England left with? A misfiring backline! England must find their midfield edge. Flood has lost the form he showed at the start of the 6N. The only logical step is Wilko for Flood and Flutey for Hape with Tindall at OC (Tuilagi on the bench for impact and Youngs or Care at 9 - Youngs first pick if he finds form quickly as he is the real deal). This will minimise changes and avoid unsettling the back line. Whatever changes England make in the midfield (and they should make at least one!) they should stick with through the Ireland and Argentina game to let it bed in for the knock out stages.
Posted 12:47 17th August 2011