England return to the comforts of Twickenham this weekend after two valuable wins on the road in Edinburgh and Rome, but there is much to fear from the visiting Welsh seeking an early Triple Crown.
It is hard to see where Stuart Lancaster's men will be able to obtain parity and they will have to rely heavily on a vocal Twickenham crowd, their obvious togetherness and Welsh history of stumbling at Twickenham.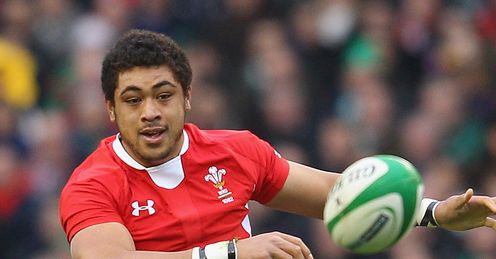 Close up analysis illustrates the key areas of concern.
Scrums: This is an area where England have excelled with Alex Corbishiero coming of age with his performance in Rome; they will want to set up a stable platform. Wales have two experienced Lions at their disposal in Gethin Jenkins and Adam Jones - who are both masters in front row dark arts.
Toby Faletau at eight has it all, the ability to combine raw power with soft hands makes him one to watch as he continues his impressive improvement. He also has the ability to grab a game by the scruff of the neck and turn it in his teams favour, any watchers of Newport this year will know exactly what I mean.
Dean Ryan
Quotes of the week
Verdict: Expect England to have the edge in the push but the experienced Welsh duo have the edge in the when and how.
Line-outs: Both sides have had their issues with Wales deprived of both Alun Wyn-Jones and Bradley Davies in their early games. Ian Evans and Ryan Jones made a good fist of the basics but were left wanting when asked to find some of the subtleties of unlocking the Jim Hamilton Richie Gray defensive combination.
England have similar issues with Tom Palmer struggling to get the first 40 minutes under control. Seemingly deprived of the option to increase tempo - always a useful line-out weapon - he has struggled to find the early openings.
Verdict: Expect the return of Wyn-Jones to create some much needed stability and take away England's opportunity to cause problems here. I wouldn't be surprised to see Geoff Parling start for England; he's a much more all-rounded line-out man well-schooled at Leicester. Contrary to popular opinion this will make it almost impossible to see the return of Courtney Lawes to the bench as the possibility of both Lawes and Mauritz Botha ending up in the row together leaves England with no caller.
If Parling starts it should be a great head-to-head between him and Wyn-Jones!
Back Row: The key battleground in any game and I'm sorry but England can't hold a torch to this outstanding Welsh trio. Much is made of combinations, in striking the right balance in the makeup of your breakaways and Wales have it spot on. Dan Lydiate is the workhorse, the silent man at six, who goes about making the basics of the game his priority. He is a useful line-out operator but it is his appetite for work that sets him apart. Toby Faletau at eight has it all; the ability to combine raw power with soft hands makes him one to watch as he continues his impressive improvement. He also has the ability to grab a game by the scruff of the neck and turn it in his team's favour. Any watchers of Newport this year will know exactly what I mean. Finally Sam Warburton, Wales' new poster boy, who captures everything that this Welsh team want to be known for. His ability to slow ball at the break down will test England's pre-match sound bites of playing at a higher tempo.
England are still struggling to get this area right and Nick Easter's performance for Quins last weekend was a gentle reminder to Lancaster of what a good old-fashioned No 8 can bring to the party. I expect Ben Morgan to get a run here after an impressive turn off the bench. Chris Robshaw will be left to concentrate on his duties at open side and he will need all his impressive willingness to work to quell Warburton. The final slot I believe will still fall to Tom Croft but questions are being asked of where his Lions form has gone. For me it's an easy answer. We can't ask Croft to be the dominant line-out figure at the front in both defence and attack and still expect him to hit his straps around the far side in the open spaces. Take a look, for example, at England's defensive line-out stats. We don't pinch many so why tie our open space runners down at the front trying?
Verdict: Sadly no contest!!

Half-Backs: There is no hiding from the fact that Wales' rise in form has coincided with the arrival of Rhys Priestland. Prior to this Wales played to a rigid structure that gave them solidity in attack but also was fairly predictable. This was best illustrated with Welsh forwards pounding all the way to the 5m line to allow the back line to reload. Ok in theory, but it also allowed defending teams the same opportunity. Now Priestland's view of things is slightly different and has a tendency to ask for the ball before everybody is in place, forcing Wales to play with a bit less organisation but also against a more disrupted defence. The results are obvious.
Mike Phillips at scrum-half has been an absolute rock and whatever his club problems in Bayonne may be they only seem to have created a more mature player. In games in the past it was always the target of opposition sides to push numbers into the breakdown creating slow ball which would put Phillips' decision-making under the spotlight. More often than not he couldn't resist the physical invite and he would pick the slow ball to come and challenge your fringes. The result is Wales with slow ball and their scum-half on the floor. But recently he seems to be striking the right balance and his role in the last 10 minutes away in Dublin was an illustration of his maturity.
England's combination has not been a comfortable one with Ben Youngs desperately trying to play himself into some sort of form. His problems illustrate how few players we possess in understanding decision-making at half-back in this country and we often see a rise in tempo being the answer to solving the problem. Well it's not, and it is very difficult to see a quick tap-and-go game for 80 minutes as the foundation of any game plan. A number of times people have misinterpreted a scrum-half's ability to come off the bench and raise the tempo when England are behind as a reason to give him the starting shirt. Now I think Lee Dickson will get his opportunity this weekend to start but let's not make the assumption that a fast tap is the answer to England's problems.
If England can strike the right note at No 9 then we might just get a glimpse of what Charlie Hodgson is capable of. He's not everybody's cup of tea to take England forward but nobody can deny that on the front foot he possesses one of the finest flat passing games around.
Verdict: Closer that you think. With nothing to lose we may just see more width to England's attack.
Centres: A clash of the Titans. Well, it might just be if England opt for Manu Tuilagi. Owen Farrell has shown a steely resolve in his goal-kicking which, if Hodgson is to start, will guarantee his berth. That leaves the decision of whether Lancaster begins with Tuilagi at the expense of the impressive Bradley Barritt to provide much needed line breaking ability, or does he stay with the more composed defensive qualities of Barritt. There was no doubting in Leicester's win against Saracens at the weekend that Tuilagi troubles defensive lines but at the same time he looked short of a gallop after so long out and often followed powerful bursts with spells getting his breath back on the edges. Selection in this area will give us an understanding of whether Lancaster is going for broke or containment at the beginning.
Wales duo in Jamie Roberts and Jonathan Davies are proof that size really does matter! Scotland's inability to stop this pairing from getting over the gain line gave them no chance of dealing with Wales' second wave. Expect Roberts in particular to target the area around Hodgson to get Wales onto the front foot.
Verdict: Again, I'm sorry but I can't see how England get parity in this area even if the selection of Tuilagi evens things up for a while. Wales' conditioning in Poland has given them the ability to keep coming and coming.
Back three: On paper this looks like a "good little 'un versus a good big 'un!" Wales have in George North and Alex Cuthbert wingers in the Jonah Lomu style. Underestimate their ability to provide subtlety at your peril as North illustrated in the slight-of-hand pass to Davies after disposing of McFadden on another bullocking run. Back that up with Leigh Halfpenny's metronomic boot and this looks like a combination that could be together for many years.
England with Ben Foden, Chris Ashton and David Strettle have some of England's most elusive runners who have struggled to impose themselves so far. England will have to strike a much better risk v reward balance if we are to see this trio at their best.
Verdict: Classic cat and mouse and will depend on whether England can create a broken field game to keep things moving.
Predictions:
England v Wales - Away win
Scotland v France - Away win
Ireland v Italy - Home win
Comments (12)
Peach Davies says...
I don't think you are giving wales the credit they deserve,if you can't see its a world class side you've got your eyes well closed.England are in the position Wales were in in the 90s and early 2000s average in all areas,no leadership and rubbish coaching staff.Henry,henson and ruddock Built a platform that has been worked on since and now its paying the rewards.A bit of respect i think.PS sort your coaching staff out.
Posted 22:02 23rd February 2012
Terry T says...
got to say i cant quiet believe all this hype about Wales, sure they had a fair world cup but certainly never ran away with either game against the Scots and Irish. I think there is a lot of talent in this YOUNG Welsh team. But dont start building them up as something they are not.
Posted 13:26 23rd February 2012
Andrew Thomas says...
good analysis of the game i agree wales should be favourites if this was in Cardiff i would back Wales to win by 10 to 15 points. the fact is we will see how good this Welsh team really is on Saturday, to go to Twickenham and win is a hard task no matter what state the English team are in. If Wales loose is it another false dawn or if they Win this could be a start of the next golden age of rugby for Wales.
Posted 11:25 23rd February 2012
Ed Le-brun says...
A very interesting, balanced and astute analysis from someone who clearly studies the game. Just a shame Dean Ryan doesn't want to throw his hat into the ring for the England job. Why is this? If you are a strong coach/manager you can impose your structure on the RFU rather than say that they lack a coherant direction. Surely this isn't the only reason Dean Ryan chose not to apply and judging by his analysis it appears England simply don't have the talent and decision making abilities to make an impact on the European let alone World stage. Maybe that is what we all need to start accepting as we have no god given right to be good at the game.
Posted 10:45 23rd February 2012
Brian Thomas says...
Very good analysis and on paper I can't dissagree BUT England will always frustrate in defence and will be very hard to break down. Will create very little but as in both their opening games a bit of luck and hey presto they could be in the lead with 10 minutes to go and then we will see how good the Welsh really are; can't wait...6 nations gets better every year.
Posted 21:50 22nd February 2012
Martin D says...
Good analysis - any chance you can help england coaches? Its a well balanced welsh team, but to me Wales have not fulfilled the expecations that the quality of players they have. This could be in the process of changing. Everything seems right including settled coaching staff. chance to see the bulk of the Lions for 2015.... England - too few positives and esp the experienced players (ashton, palmer, youngs) seem to have problems. I think the tactic will be not to lose by a cricket score and hope lancaster gets the permanent job.... still like my rugby and watch the welsh language games (woops they are bbc) so look forward to saturday regardless
Posted 21:34 22nd February 2012
Danny Hartshorne says...
Do not underestimate England at Twikenham - If England get in front and the noise rise's Wales will be rattled. In terms of the physicallity question these are all big stong men and I do not see England struggling in any area...wait and see Saturday...England by 12 points!!!
Posted 16:42 22nd February 2012
Simon Cope says...
Agree with Phil H, your points are very valid. Alot has been made of the lack of form shown by Croft since the Lions tour. The style of rugby that the Lions played is far different from that of Leicester and of England and the pitches aren't suited to his speedy game... I hope he proves our excuses right is RSA this summer... I'd love to see Saull get a look in as a conventional seven, and when Wood is back to full fitness, play him at 6 as the form he showed last year with Northampton and England was brilliant... In hindsight, he was unlucky not to play a bigger role in the world cup, he was our outstanding player against the Welsh last season on his debut. Finding a balance in the back row is arguably Lancaster's big challenge... Saull and Wood deserve a look in, I personally think Wood offers more than Robshaw on the pitch (although this is a bias Saints opinion...) I am excited for the future of this England team. We have exciting players coming through the ranks, the likes of Joseph at Irish, the likes of May and Sharples at Gloucester and we need to embrace what Wales have done and throw them into the EPS to mature them into international players. Gloucester are producing some outstanding players, I wonder how big an influence Mr Ryan had on them? All I can say to conclude is Dean, please get back into Coaching. Please recognise that you're a wasted talent commentating, and we need good English coaches to inspire the next generation. What you achieved at Gloucester and what you can achieve as a coach is bigger and better than what you can achieve in the studio.
Posted 16:18 22nd February 2012
Jon Jones says...
Even with Shaney gone, Wales still score a lot of their points off first phase or turnover ball. England to need to lock up those areas tight. Even though our scramble defence and discipline round defending the ruck has been good so far, we've seen too many tight five forwards clogging up attacking and defensive channels which should be populated by backs and back rows. We really need to tidy up this aspect of defence for Wales. Otherwise, and as we saw against Italy, you don't have to defend when he hit rucks hard and get the ball away quickly to quick guys playing in more space. England's tactics are based so much round not conceding points, but our strategy is missing the point at the moment that you don't concede points when you're scoring them. More ambition in attack, more dog, more biff and just play some rugby thanks. As it happens, I was more worried about Shaney's Wales - they could come back and stick 10 points on you in the last 5 minutes. This lot are effective but manageable.
Posted 15:45 22nd February 2012
Rhys Williams says...
On paper it looks like Wales all the way, unfortunately (for this game) the game isn't played on paper. If England play containment rugby they'll be close at the end, but not close enough. If they open-up then fortress Twickenham's walls will fall, here's hoping!!!
Posted 13:54 22nd February 2012
Phil H says...
Great summary, and agree that England are going to struggle. I don't think bringing Tuilagi in is the answer - defensively he can go wandering. Charlie at 10 is not my cup of tea. He seems to have two options in attack - long mispass or up and under. He doesn't trouble back rows in the way Flood does, or put players in space IMO. A horrible feeling to acknowledge that Wales are the favourites. Has it really come to this?
Posted 13:08 22nd February 2012
Edward Walton says...
Respect the analysis of Dean Ryan over any other pundit, we have to bear in mind the "Twickenham Factor", also the poor record Wales have at this ground. England will be up for this one as they know they are underdogs, we must not slate them off if they fail. Remember we are looking at the long term as this team is evolving for the future, we might just have to bite the bullet for now!
Posted 12:15 22nd February 2012