Sometimes you wonder if the Premier League should just pack up and leave Joey Barton to get on with entertaining us all by himself.
The Newcastle man doesn't just have a colourful past to call upon, he appears keen to keep the present a kaleidoscope of unpredictability too.
The build-up to Newcastle's opening fixture of the season was largely played out on Twitter, where Barton kept us informed of just exactly what he thought of his employers.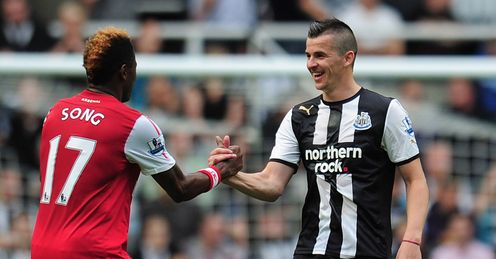 Then when it came to actually playing the first game he appeared with a haircut that, as far as my memory serves, has not been seen on a football pitch in this country before - and this at a club that gave a debut to Chris Waddle's mullet in the eighties.
To top all that he provided the game's one memorable moment, tangling with Arsenal's new signing Gervinho. Inevitably controversy lingered long over his reaction to the Ivorian's slap. So, to round off his headline-grabbing week, Barton headed back to Twitter to give us his latest version of events.
Bucking the trend is becoming harder and harder and maybe the real stories will lie in the players themselves. This could be the season when individuals rather than teams catch the eye.
Johnny Phillips
Quotes of the week
But not just any version, this one involved quoting German philosopher Nietzsche. "There are no facts only interpretations."
Sadly my bookmaker believes in facts. So I have taken to a more inclusive form of football betting. Every weekend a group of the Soccer Saturday cameramen and riggers who are responsible for producing the pictures of the reporters stood on camera gantries around the country take part in a competition they call, imaginatively, the Soccer Saturday Picks; choose eight teams playing that weekend and get three points for that team winning and one for a draw.
Expectation
Totals are added up over a season and the winner takes the pot paid into at the start. As the only reporter allowed into this Jedi Council of cameramen and technicians I feel the weight of expectation to perform. It's a burden I haven't carried well.
On the opening weekend of Football League fixtures I didn't record a single win and this weekend I got a mere four out of eight. But the beauty of playing against each other and not the bookie is that eventually one of us will win. Guaranteed.
As most of the entrants are about as accurate as myself this competition usually goes to the final day of the campaign and that is exactly what the Premier League chiefs want at the start of each season too; competition right down to the final kick.
The weekend's matches didn't give us too much indication that this would be the case but there were signs that the favourites won't have it all their own way. Sunderland's second half at Liverpool was particularly impressive and Stoke were on hand to remind the Premier League's newest manager that there is strength in depth in this country.
But bucking the trend is becoming harder and harder and maybe the real stories will lie in the players themselves. This could be the season when individuals rather than teams catch the eye.
Sergio Aguero couldn't have wished for a better introduction at Manchester City and much will now be expected of the summer's most expensive recruit. Luis Suarez appears to have picked up where he left off last season and Ashley Young did enough to suggest he may flourish at Old Trafford.
Entertainment
But while managers trot out the tried and tested line of the team being more important, as spectators we love to see individuals shine within that team. In the days when fewer and fewer clubs can have any hope of winning the league, fans outside that exclusive band of title-chasers need something more.
A good friend of mine supports Sheffield Wednesday. Now in his forties, he maintains the greatest fun he's had as a Wednesday fan was when Paolo di Canio played for the club between 1997-99. They didn't win a thing during that period and the Italian was not averse to picking up the odd suspension or falling out with his manager.
If anything, the likes of di Canio and other expensive foreigners such as Benito Carbone contributed to the club's malaise as they were relegated in 2000 with an unsustainable wage bill. But, insists this particular Owls fan, watching Di Canio pout, play and posture was a joy like no other.
Trophies may not have been forthcoming but entertainment certainly was. Truly unpredictable entertainment. For that he was grateful. And no doubt Joey Barton would have appreciated it too...