There was a time when England had three captains - all in one game.
In the group stages of the 1986 World Cup finals, the national team were labouring to a 0-0 draw against Morocco when Bryan Robson suffered a dislocated shoulder.
Ray Wilkins then took over captaincy duties only to be dismissed for throwing the ball at the referee. This left Peter Shilton in charge for the remainder of a dreadful match that had the tabloids up in arms about England's performance.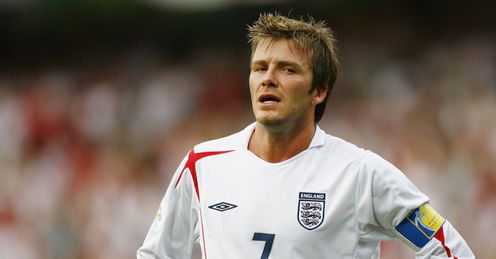 The papers have been busy again this last week with plenty of column inches devoted to the John Terry situation.
After debating whether or not he should remain as captain, focus then shifted to who should replace him, but has now moved on to Fabio Capello's reaction to the decision to relieve Terry of the position for the second time in his career.
No bearing
Here's a thought. It doesn't matter who captains England. It has no bearing whatsoever on results. England's most illustrious captains were Billy Wright - who led his country on a record 90 occasions - and Bobby Moore, who lifted the World Cup in 1966. Moore's feat became greater as the years went by, not just because he was a good role model, but also because England never hit those heights again.
Had anyone asked Beckham what captaining England on the pitch actually involved once the coin toss was over then he would have struggled for an answer. Because it doesn't involve anything.
Johnny Phillips
Quotes of the week
The captaincy was never a great issue throughout the 1970s as England failed to qualify for successive World Cups and when Ron Greenwood chose Mick Mills for the job in the 1982 World Cup he couldn't have picked a safer pair of hands. Mills never courted or attracted publicity.
By the time of England's best performance in a World Cup abroad, the captaincy was being chucked about in the same manner as it had been in 1986. Robson, or Captain Marvel as he was now known, had anything but a marvellous injury record and his World Cup at Italia '90 lasted little more than one game.
Terry Butcher was second choice, but as he was dropped for the group match with Egypt, the job went to Shilton before being handed back to a recalled Butcher for the knockout phase.
By the time England took the field to face West Germany in the semi-final nobody gave two hoots who was wearing the armband. Butcher was a natural leader, but there was also Stuart Pearce in defence with those qualities.
Shilton was by now the most-capped Englishman of all time and upfront Gary Lineker was arguably the voice of the team and certainly the 'go to' man when Bobby Robson needed one of his players to field awkward press questions.
Profile
The inflated importance given to the role of the captaincy in this era can be traced back to one match. When Peter Taylor took charge of England for a friendly against Italy in the Stadio Delle Alpi on November 15 2000, much weight was given to his decision to give David Beckham the armband.
Beckham, more than any other player before or since, knew how to manage his profile and as the years went by the job took on a stately significance as he was paraded in front of dignitaries on playing trips abroad as the leader of England.
The fact that he didn't have any leading to do was an irrelevance. He was nice to look at, gave manageable sound-bites to the media, led a clean-living lifestyle and was loved by most of the nation. But had anyone asked him what captaining England on the pitch actually involved once the coin toss was over then he would have struggled for an answer. Because it doesn't involve anything.
He put in some inspirational performances, such as in the 2-2 draw with Greece in November 2001 that sealed England's passage to the following summer's World Cup finals. But that had nothing to do with wearing an armband. Inspirational performances aren't spurred on by captaincy. Just ask Paul Gascoigne who in 1990 and at the Euros in 1996 was the talisman for England's relative success but had no official role as captain.
Proactive
On the cricket field, the captain has key decisions to make about bowling changes and field placings. He must be proactive as well as reactive. Games can change on his decision making. In rugby union the captain is the only one allowed to talk to the referee and is held responsible for the disciplinary behaviour of his team.
Football? Nothing. Toss the coin and pick an end. That is it. Any other duties occur off the field and have no bearing at all on performances and results. Sure, the captain can offer inspirational words or be tasked with lifting his players when their heads are dropping. But you don't need an armband to do that. Any of the 11 on the pitch can shoulder that sort of responsibility and often do.
Why not choose the captain on a game to game basis picking the most suitable candidate at that particular time? After all, in the unlikely event that England do ever win anything, the only real question the FA has to ask itself is this: will we be embarrassed in years to come by the picture of the bloke who lifts the trophy?
That is what the captaincy of England essentially boils down to.
Comments (2)
David Smith says...
Spot on, and just before I read this article I was having a debate that the England captaincy should chosen on a game by game basis. Not given to a designated player for a particular part of his career.
Posted 02:27 8th February 2012
Jay Tee says...
A cynical view maybe,but certainly not wrong.If it was wrong then John Terry would still be England captain.How can John Terry not be captain yet still be in the squad?It is just about the image of England Captain.Its ok to have an accused racist around the squad but not leading it?how does that work?it can simpy explained as a double standard,like many decisons made by the FA Panel eg Reviewing referee decisions.
Posted 17:51 7th February 2012