We've just qualified our British team for the Olympics at the test event in London, it was amazing, but I'm also pretty relieved as well that we all managed to do our jobs as a team and we've been successful.
The atmosphere was amazing, walking out the tunnel everyone was cheering, flags were waving and it was unbelievable - it was really warming.
I was expecting it to be good but not that good, the North Greenwich Arena was remarkable, how it's been transformed with all the kit, all the organisation, it's just awesome really, there were obviously nerves amongst everyone but it was such a fun competition.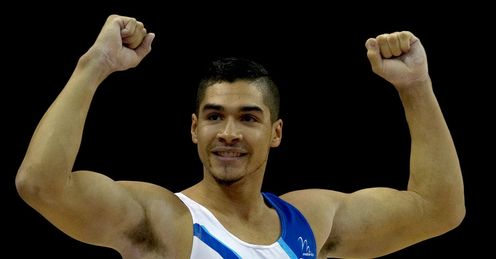 The nerves were expected due to the importance of the competition. Although I had the support of the crowd I also had 12 thousand times more expectation to deal with so it's quite tough but I really enjoyed the competition and I'm happy I'm all done now.
That's one of the good things that we can relax just a little bit knowing we've qualified the team, but we can't get complacent as next we've got to qualify for those individual spots.
Qualifying
We have a training camp in Cancun coming up then we have the European Championships in May, then the British Championships in June, then they'll decide who gets the five slots to go to the Olympics.
They'll take all the competitions this year into consideration, then there'll be three official trials.
But at least we have places to fight for, which was a massive result - there was a lot of pressure on all of us but the guys did really well and now they've had a little taste of what it might be like in six months' time in the Olympic Games.
I'm sure if the guys stay focused and learn to deal with the expectation they should do really well.
Overall the competition was fun, it was quite nerve-wracking to start with and we had to try and keep cool. I think I did a good job of keeping the guys relaxed and making a few jokes while we went around the competition, just keeping them down to earth because it's quite easy to get carried away.
Captain Fantastic
I was honoured to be team captain for the event, it was really good fun, there is a bit of extra pressure and extra responsibility on me, but I was really just trying to keep the guys relaxed because that's when they perform to their best.
That's what I'm like in the gym because if I changed and was more serious that might have a bad effect on the guys, so I was keen to keep it relaxed and chilled.
I did my easier routine for the team and the individual finals and it worked out alright, I did my easier routine and scored 15.7 to win so it just goes to show I don't always have to do my hardest routine - it's about being smart.
I'll have the harder one ready. Who knows which one I'll have to use, it all depends on what other people do, I'll train it and keep it ready over the summer and then we'll see what happens when we get to the Olympics.
I'll try and compete with it a few times this year, get it under my belt a few times but it's good to have two routines ready for when I need them.
The crowd in London will certainly be our biggest weapon though, it was really enjoyable last week as the crowd were getting behind us and every routine we smashed the crowd would stand up and cheer and I think it really did help a lot.
It'd be nice if it helped for the Olympics but there really is no competition like the Olympic Games and the team now understand a little bit more about what it'll be like and that can only help come the big one.