Hello my name is Jody Cundy. I made my international sporting debut in swimming in 1994 at the World Championships and I kind of surprised myself as I did a four-second PB and came away as world champion, all in the one race!
That was the start of my international career. From there I went on to win three Paralympic golds in swimming as well as two bronze medals, mainly in the 100m butterfly. That was my main individual event but I also had success in the freestyle relays and the medley relays.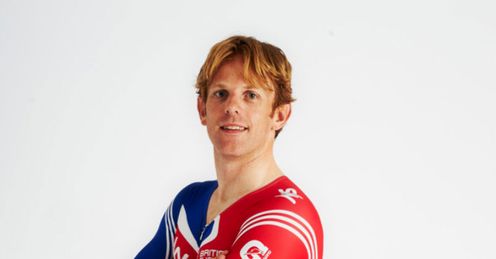 In 2005 I had moved down to Swansea to be at the swimming high performance centre and got word that there was an open day at the Newport Velodrome on the track, it was a disability get-together. I'd always wanted to have a go on a velodrome but opportunities had been few and far between, especially when I was going through my swimming career.
So I headed down there and was just going round the track when I got spotted by one of the coaches who was taking the session. They thought I was quite talented on a bike. It was good fun but I didn't think too much of it and went back to my swimming. But then we had a training camp up in Manchester and at the end of that I went on a taster session at the velodrome. I then found out that you could enter the National Championships as long as you had a bike and a racing licence. So I got myself a bike from a friend, entered and that was that. I did the first race which was the flying 200 and came across the line and broke the British record!
For a while after that I trained six days a week in the swimming pool and then on the Sunday I headed to Newport Velodrome and learnt the ropes on the track with all the other junior riders who were there on those days. The coach that was taking us started sending my times off to British Cycling without me knowing and one day they replied to the e-mails and said I was going quicker than some of the people they had in the squad after which they offered me a trial.
I won that trial and two days later I was representing Great Britain at the Paralympic World Cup in Manchester. And on that debut we won the gold in the team sprint and broke the world record too - it was a proper baptism of fire. I then got selected for the World Championships later that year where I went on to win the individual kilometre and a world record.
Change of focus
I kind of knew I was coming towards the end of my swimming career and probably had one more major championship in me, if I was lucky I would maybe get to go to Beijing.
It was getting harder and harder to get the improvements I needed to stay at the top flight and it was then the cycling really came along. The instantaneous gratification of going on the track and doing a PB every session, that whole sort of attitude you have when you are a junior athlete is very exciting. You are improving quickly all the time. You take off big chunks of time. That reignited my motivation and got me to the point I am now.
So fast forwarding to the present - next up for me are the worlds on the road in Denmark which is the last big international gathering in terms of road racing and para-cycling before London in 2012.
As I'm specifically a track rider I don't really do that much road but as I've focussed on the pursuit on the track recently (in addition to the kilo and the team sprint), road racing and time trialling has been a real benefit in terms of building up my endurance engine while at the same time I've been able to pick up qualifying points which are essential for selecting riders for London.
In terms of my schedule September is a very busy month and then it goes quiet until February next year.
After the road worlds we come straight back from Denmark and have a test on the London Velodrome to see what it's all like and then go straight into the National Track Championships. That's quite a big focus to get a benchmark of where we are on the track at the moment. We've got a good idea but each of these points are important stepping stones towards that. We can make the focus to London 2012 even more specific that way.
Build-up
As far as training goes, during a typical week for me I'm on the track three times. I'll be in the gym at the end of the week and interspersed with that, I'll be on the road doing two to three hour road rides, maybe a time trial like a local club 10 on a Wednesday.
On the track we'll do plenty of start-specific stuff, flying efforts and also pursuit efforts just to get the pacing right for when it comes to race time.
Chris Furber is my personal coach but he's also the Paralympic head coach. We're usually on track with the Olympic sprinters. The likes of Chris Hoy and Vicky Pendleton all riding round with us and doing the sessions with us so it's quite an inspirational session to be part of. I can't think of many places where you get so many Olympic and Paralympic champions all in the same place at the same time. It's a unique thing to be part of. Chasing the academy sprinters, who are roughly just a little bit quicker than me, really helps further my career. It's always my goal to race against them and try and beat them in training.
The other two lads I train with who are also looked after by Chris are Jon-Allan Butterworth and Terry Byrne. They are new to the squad. Both of them lost limbs in Afghanistan and Iraq. Myself and Terry are both C4's while Jon-Allan is C5. However if we all make it to London we'll be racing head to head in the kilo as it is a combined event. We also have the tandems who train with us at the same time so they're busy sessions and careful negotiation of timing of efforts is required but it seems to all work out in the end!
Downtime and influences
Away from the bike I like watching films and head to the cinema quite a bit. I'm also a big motorsport fan - especially MotoGP - and when I do get the chance I like to work on my golf swing down the driving range which I find it quite therapeutic.
I used to play a bit of basketball at school and Michael Jordan was my childhood sporting hero. I watched pretty much any video about him. He could take over a game and completely dominate and I found that pretty inspiring, especially the fact that while he was right at the top of his game he would work so hard on his weaker aspects - he was the complete package.
Chris Boardman was my track hero and kick-started my interest in that with his Lotus bike in Barcelona and the hour record. I loved to follow the hour record until it got destroyed by the rules.
Michael Phelps is another hero. Everybody always says he won so many medals because there are so many events but having come from a swimming background and knowing what he's had to do, it's just beyond belief. To be good at one of these events takes a lot of dedication and hard work. To be a master of a whole bunch and beat people who specifically train for that one event is amazing. He is inspiring in a multitude of different events.
Back to the present and I'll take in the road worlds and have a look at the London Velodrome before reporting back on here towards the end of September when I'll also look ahead to the National Track Championships.