It's been a busy few weeks for Jody Cundy since we last caught up with him, with the Para-Cycling Road Worlds in Denmark swiftly followed by a first look at the London Velodrome which will host the track cycling at the 2012 Olympics and Paralympics. Jody is back on the track in Manchester building up to the National Track Championships which take place there at the end of September:
My goal at the Para-Cycling Worlds was to try and get in the top 10; that was where all the UCI points were for the team for qualification for London. Judged on the World Cup time trial performances I'd done it was going to be tough but it was all about putting in the best performance I could.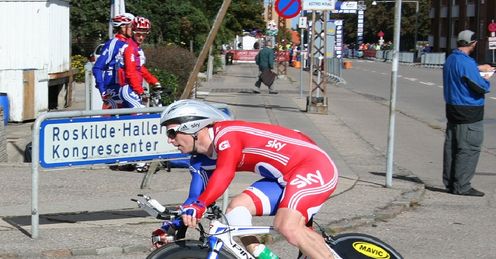 The preparation when we got there was tricky at times - the weather wasn't great and the roads weren't fully closed until the competition proper started. In fact it wasn't until I rode in the race itself that I could actually go full bore round the corners.
The time trial was quite a testing event for me too - it was the longest one I'd ever done so that was always going to be a challenge, as was the nature of the course. The first half of it was quite a drag, constantly uphill, and into a headwind. It was two laps and I tried to save as much as I could for the second circuit, aiming to keep the speed up as high as possible but with minimal amount of effort.
Just at the end of my first lap my minute man (the rider who had started after me) caught me - we sort of knew that might happen as he was one of the favourites - and it was then about trying to keep him in sight and do a good time.
Performance
I crossed the line in 45:13 which was a reasonably good performance for me and I managed to get pretty much everything out but it was only good enough for 12th place. The winner was amazing - Carol Novak did a time of 40:29 and put over a minute into all the people who had been winning all the World Cups during the year which was a big surprise.
In terms of the road race in Denmark it was actually one of the easier races I'd done all year as breaks were never able to get away on that course and after five laps it came down to a sprint finish.
That was what I'd been hoping for but in the end I didn't actually contest the sprint; I was feeling pretty good but as we spread across the road there was a big touch of wheels just to my left which I dived out to the side to avoid and then within seconds there was another touch of wheels.
The year I've got ahead of me - and with road racing being such a small focus - I just thought I had to take the long-term view and swerve all the trouble and be able to start the track season in one piece. Sure enough there was a crash soon after so I felt good in the fact that I'd made the decision to avoid that, but part of me felt a little bit gutted that I didn't get involved in the sprint as I know I've got the speed compared to those guys.
I think the fact I've got limited experience in road racing meant I erred on the side of caution but at least crossing the line on two wheels I knew that a couple of days later I'd be able to go and try the London Velodrome without having to worry about broken bones, cuts and grazes and all of that.
Injuries
Looking back on the Worlds for us as a team there were surprisingly few golds compared to normal but injuries to a couple of our biggest hopes just three weeks before played a part in that. But we did win medals in events we hadn't been expected to which indicates there are plenty of talented riders coming through and it was a good learning process.
Moving onto London, there were plenty of security briefings and the like to take in but we then had the whole track at our disposal for three days. We did our normal three hour training session; so a couple of starts, flying efforts and pursuit-type work just to cover all bases and get a feel for it. Most of the Para-Cycling squad were there, across a decent mix of disciplines.
Each track has its own characteristics, even though they are all 250 metres. The way that the corners bend, how tightly they bend, how long the bend is, and how long the straights are affects how you ride the track. Beijing for example had really high banked corners which you could chuck your bike into.
London on the other hand has long, sweeping bends which seem to go on forever! It doesn't give you that sensation of speed - in terms of high top-end speed - but it's supposed to have a high average speed.
We didn't really have the conditions to test that as the temperatures didn't get up much beyond 20 degrees (you'd want something like 24-28 ideally and the higher the better) and there were also one or two little niggles with the ventilation but that was part of the reason we were there; to help the centre staff iron out any gremlins. I'm sure it will all get sorted in time for the World Cup early next year.
Velodrome
The actual velodrome itself is amazing. We had a wander round and I don't think there's a bad seat in the house. You don't realise how big the place is until you start climbing up the stands. And it's very, very impressive to see the amount of natural light it's got too.
We've got a good experience of it now and know what it takes to ride it. It makes that visualisation of what you are going to be doing so much easier. I now know what the track feels like, what it looks like and what it reacts like. I don't need to imagine it anymore in all the preparations that I'll go through over the next year or so. It gave me a really good indication of what I need to be doing in my head and on race day.
That's for next year though and in the more immediate future the National Track Championships kick off the new season next week. It's a good first hit out of the new campaign and they seem to have come round really quickly. It's the start of the season for most, though it feels like it's an extension of mine having done all the work on the road.
I'm in good shape and looking forward to racing now and converting all that road work - and all the endurance I've built up - onto the track. It will help with pursuit efforts and energy as well as the last couple of laps of my kilo. I've got to take all those miles that I've done and really make them count.
After that it will be full-on training for the World Championships on the track in LA in February - and building strength, speed and endurance for London - but I'll go into much more detail on that in my next blog...