The first race for me was the open kilo which came on day two of the competition. I'd watched my Para-T team-mates have a great first day, with Jon-Allan Butterworth winning the Para-Cycling kilo time trial in a world record time so I was pretty inspired to say the least.
The one reason why I did the open kilo was that it came the day before the Para-Cycling pursuit which is exactly the same as the Paralympics schedule in London next year. So while the Para-Cycling kilo would have worked well in a performance sense, I needed to have a simulation for London and this was ideal for that. In the open kilo I was hoping to get close to the top runners and if I had a good ride I reckoned I could maybe make the top five; that was the target.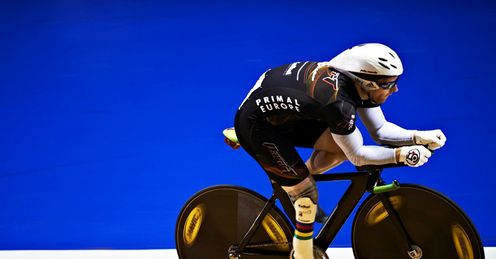 I went flat out from the gate and although my legs had been feeling pretty rubbish in the previous week-and-a-half in training, they were actually feeling good in the race. I came round the first couple of laps and felt like I was really flying. Unfortunately that didn't last very long and as we got halfway round lap three I was thinking 'actually this is quite painful now'!
Then on the last lap it was all about holding on and trying to maintain as smooth a pedalling action as possible. It felt like everything was going in slow motion but when I crossed the line the time I'd done - 1:05.8 - was good enough for fifth overall which is my highest placing at the National Championships in the open category and not a million miles away from the podium and top three. It's one of the fastest times I've done so that was a good start to the week.
And while that last lap was a bit of a struggle I kind of knew that would be the case as I'd done big blocks of training in first London and then Manchester straight after the Para-Cycling Road Worlds.
I could have done with the nationals being about a week later as rather than firing on all cylinders I was at the bottom of a valley of pain! Considering all of which I was pretty pleased with the 1.05.8.
Next challenge
The next challenge was the pursuit the following day. As I said earlier in terms of London next year I was really keen to find out how my body responds and how much the kilo takes out of my legs when I have to do a 16-lap race the following day. It was all about the learning experience.
I got off to a good pace and was on target for the first six or so laps but at that point where I needed to dig in and cross that pain barrier and access the speed I knew was there, that's where my legs kind of gave in. So instead of pushing through and continuing on at that pace, I actually slowed down as the race went on.
It was an okay pursuit in the end - I did 4:53 which was nine seconds off the best time I've ever done. But if I look back 12 months it was 10 seconds quicker than I did at the Nationals last year so I can't really be disheartened but I had hoped to go a bit faster, especially with the block of training we'd done going into it and all the endurance work we've done this year.
I know myself where I'm at in the pursuit but just haven't had the performance yet to really indicate that. But hopefully I can get back into training and be well on the way to being on target to go faster, first at the Para-Cycling Track Worlds in Los Angeles in February and then hopefully London after that.
It was an early start the next day as we started racing at 9am so I was down warming up at the velodrome at 7.30am ahead of qualifying for the open sprint. The top 12 qualifiers went through to the national competition and then numbers 13-24 go into the 'B sprint' which is a back-up competition to give everyone the chance to race and also fill the gaps so the senior sprinters have a little bit of rest time in between races.
I pulled a time of 10.805 seconds out which was a new world record for the flying 200 which was definitely a good way to wake up and get the ball rolling!
Tough draw
The only problem with that was that it meant I qualified in 11th place which put me up against the second fastest man in the main competition which was David Daniell. I had a race plan to try and slow him down and then attempt to beat him on out-and-out acceleration.
However that didn't go to plan as I didn't actually get in front of him to slow him down! He started moving pretty quickly early on and all I could do was sit in his wheel and hope that he would fade but he just kept getting faster and faster. And before I knew it we were doing 70k an hour going into the last bend. And any chance of overtaking him had long gone. I made an attempt to go round the outside but just didn't have the horsepower needed to get past him.
He actually went on to get into the final against Sir Chris Hoy so it was nice to know I got knocked out by one of the finalists.
So I then went into the Repecharge against Philip Hindes and Miles Stovold but Phil's acceleration saw him jump through a gap and take the win as I went out of the competition. I'd have liked to have raced a little bit more but it was good experience. I'd rather qualify in the 'A sprint' and come up against some better competition and test myself so I can't really complain.
The final day was team sprint which was a bit of an unknown to us - myself, Terry Byrne and Jon-Allan Butterworth were riding for Para-T. We had a goal to beat the fastest time that's ever been ridden by a Para-Cycling team, 49.323, the winning time from Beijing. We managed to do that, flying around the track in 48.711 a time that took us to the top of the scoreboard. Hugh Porter was getting excited in the commentary booth saying there was a new world record even though it would never count as in the UCI Para-cycling rules it would be an illegal team.
Fast time
But nonetheless 48.711 was a great time and the fastest ridden by a Para-Cycling trio, we received a standing ovation as we rode round afterwards. The crowd's reaction was the very reason I set up the Para-T Para-Cycling team - I wanted this team to demonstrate to the general public how good Paralympic cyclists are. And to qualify fastest at that point with a respectable time and race against teams where, on average, we are three limbs down on the rest of them, it was pretty special.
So we went into the semi-finals against North West Region C which was effectively the third GB squad and we sort of knew we were going out as they'd qualified in 46 something but we just tried to go as fast as possible again. It was pretty evident that the four days of racing had taken it out of all our legs a bit; Terry went a little bit quicker on man one but myself and Jon were a little bit slower on man two and three - we still clocked 48.8 so were within a tenth of a second of our morning run.
Looking back at the week I was pretty pleased overall. And to know that my top-end speed hasn't disappeared with all the road work is very reassuring and gives me great confidence going into this final year of competition as we build up to London. To pull out a 10.8 in the flying 200 and really increase my speed is a great sign for the future and now we can work on the bits in between which will help me go even faster.
We only really have the World Championships in LA between now and London; there are not a lot of places we can experiment, other than doing it behind closed doors in training. It's now train, train, train and try and make the most of all the expertise we've got.
Before signing off I'd like to mention how proud I was with the performances of my team (Para-T) at the national championships. There were three titles up for grabs in the Para-Cycling events, and riders from my team took all three titles, taking the top two spots in both the kilo and flying 200. Including myself we also set four world record times.