Having been involved in the Paralympic movement since 1996, seeing the interest in me prior to Paralympics then and seeing it 200-odd days outside the Paralympic games or however many it is now is phenomenal.
Everybody's almost talking about London on a day-to-day basis; talking about prospects, the ticket are all selling out and lots and lots of things like that. For Paralympics sport 15-20 years ago you wouldn't have thought of that yet now it's selling out big venues and everybody wants a piece of the action - it's great to be part of that while I'm at my prime of my career.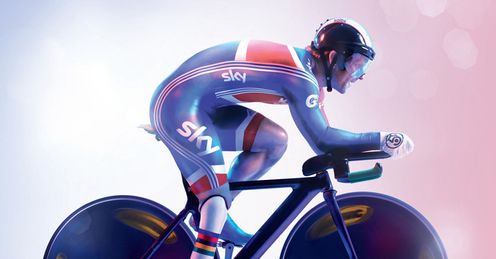 I'd like to say we have all our tickets sorted, but unfortunately the ballot wasn't kind to us, we've got lots of tickets to the pursuit qualifiers but that's about it. We knew how many tickets we needed, we basically all went for a big allocation of the tickets - we got, I think, 22 tickets for the pursuit qualifiers and then nothing else for all the other events.
Firstly of course I have to qualify, but if I can hopefully achieve that then it'll be down to deciding what to do with all the tickets! We're guaranteed for two, but that's two from a group of ten who normally travel everywhere with me so that will be a bit tricky!
I'm getting a lot more PR and sponsorship requests than ever before - at the end of the day though these sponsor opportunities come about because you win gold medals. But if you end up getting carried away and doing every piece of PR you could end up losing the plot and appearing on every poster and then not actually winning at the end of it, which doesn't help your career anyway.
Balancing act
So it's a fine balancing act but we have people at British Cycling helping us with that and managing it, we have our agents who look after it and are going through the process with other athletes so as long as you keep on top of it and keep it in check - the most important thing is training and rest and recovery - then it's pretty straightforward to fit things around.
You get more and more extreme things you're asked to do on a day-to-day basis so it's just managing which ones you're going to get the most out of from a personal point of view and not taking out too much time from your actual job, which is to go out and get some gold medals
For me, though, I've always done this because I love my sport, if I did it for the money I wouldn't do Paralympic sport, I'd go and be a golfer or something, but it's always been for the love of the sport. But now London's come around it's almost as if the hard work I've put in for years and years could result in a pay check, but you still have to keep it in check because firstly I want to win those medals - it's medals first and everything else second.
High profile
As much as we're getting in the public eye at the moment, it's not on the levels you see in the likes of football, tennis or golf, but you can understand how it could get under your skin after a while - you can understand how some people absorb it all and eventually lose the plot completely.
The Carlos Tevez affair shows the difference. If we'd have said we're not going to bother racing or training that'd be it, we'd be off the squad, we wouldn't have any money and that would be it.
I don't understand how it all works, you either want to do it or you don't want to do it, if you genuinely don't want to do it, then walk away. You should be allowed to walk away but you shouldn't still get paid for it - so it's a very strange situation he's in.
I know if we did that on the British Cycling squad that'd be it, we'd be gone after about a week - they run a tight ship and rightly so - it's a gold medal programme and there are always people aiming for those limited number of spots, so you always have to be on the top of your game and staying ahead of the pack.
Warm weather
More importantly is the fact I'm testing out a brand new leg right now! The leg I had for Beijing is still going strong but we need a back-up and it'd be nice to refine the finer points of it - so it's project London's leg!
It could make an interesting piece for my first video blog next month, so stay tuned for that! I'm not sure I'll be able to film that much as I'm testing it in one of the training parts of our program, it might be part of the top secret parts we do so I can't give anything away! But stay tuned and I'll see what I can get!
I've then got a training camp in Majorca next month, which is 12 days, hopefully in the sun, up and down some mountains which will be the foundation endurance block for next year. You get your ride in the morning but after that it's pretty relaxed, after you've spent five hours in the mountains the last thing you want is to run around, so we just relax and recover.
But it's nice to get all the work in without having to worry about anything else, not having to go do the shopping, taking the bins out and stuff like that - it's just literally 12 days solid training and not having to worry about any of the stresses of being at home.
It's got to the point where temperatures are single figures and getting colder so every day I'm adding another layer of clothing - I can deal with the cold but when it gets wet and windy then it's a bit miserable and not the best place to be.
I'd love to fit in some golf but I don't think I'll have my clubs with me and I don't think my legs would want to walk around 18 holes after five hours riding in the morning! My girlfriend's also going with me so I don't know whether she'll want to be my caddie for the day - that could be an interesting discussion...
But there's a nice spa at the place we're going to so I imagine there'll be many hours spent in there!