I'm almost ready for Christmas, getting there! I've got all the present but I've just got to wrap them now, I might ask my mum, maybe not to wrap hers but the rest of them!
I've injured myself a little bit so I'm taking a bit of time off. I did something to my hamstring in the last competition so I'm just taking a bit of time off to make sure they're strong before I start training really hard for next year.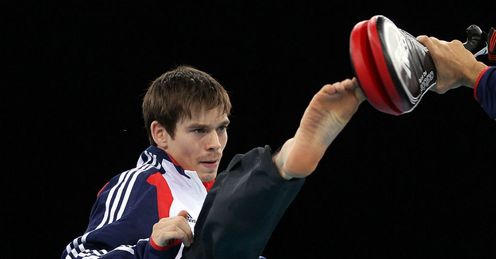 It's not too bad timing for an injury near Christmas I suppose.
I'm just having a good week or so off to let it settle down. It's nothing big, that's the main thing, and we know what we can do to make it stronger so that's the most important thing for me.
I picked up a little injury in the test event, I hurt my foot a little bit and I had some pretty serious bruising on it, but I then had to fight the week after in France and it was there that I picked up an injury to my hamstring.
Hamstring horrors
But it's not too serious, not compared to others I've had - I ripped both my hamstrings last year! So as soon as I felt something in France I was a bit worried, but it was OK.
I'm at Bisham Abbey at the moment at the BOA's rehab place, I've been here the last couple of days and I've got two more days training to get my hamstring stronger and I'm getting physio and massage to take care of it and make sure its fine.
I'm heading back home then. Not doing much over Christmas just relaxing with the family and I'll enjoy the time off because the competitions will soon be coming thick and fast. There's not much time between them and a lot of training camps going on so it'll be a lot of stress with the Olympics coming up.
It's just the family for Christmas Day, luckily enough I can eat what I want, I make my weight easily so I don't have to diet, I have to watch a little bit because I'm not training full out but I can eat my Christmas dinner and not worry about it.
I feel for those who have to diet, I couldn't imagine not having my turkey dinner, it just wouldn't be Christmas.
Vegas baby!
We're hoping to go to the US for a bit of training in February and then do the US Open at the end of the month which is in Las Vegas, so I'm looking forward to that, and I'm 21 as well!
I think we'll be training in Washington for two weeks then head to Vegas for the competition.
Then there's a couple of European competitions after that, I think the week after that is the Dutch Open and two weeks after that is the German and they're selection competitions for the Olympic squads so I have to make sure I'm in good shape for those.
There's a lot to do and it's trying to find the balance of what to do with training, which takes the priority and doing the competitions along with the media and sponsor stuff. I'm lucky enough to have some fantastic sponsors and although to do days for them and to find the time is quite hard it's all part of it and it can be good fun.
I can't believe how close it is to 2012, this is the year, this is the year I've been waiting for!
Hopefully my dreams are going to come true, I've been training and dreaming for this Olympic competition ever since it was announced so to actually be in the year that's it's in is going to be very specials and I'm just looking forward to August the 10th and doing the business for Britain.
See you in 2012!