Florida is fantastic at this time of year and the Loughborough gang is all in good form.
Obviously we are swimming as much as we can; we crammed 11 sessions in last week and were very thankful when we finally got a day off - on Thanksgiving too!
The sessions have been tough but the wonderful sunshine has made it a bit easier.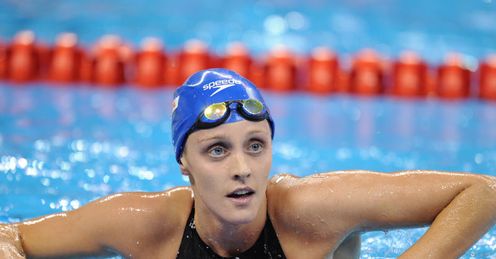 We are training in a fantastic outdoor, long-course pool at Pinecrest High School, just two steps away from a short-course, closed pool. The facilities are amazing!
If I was still a teenager this would definitely be my dream high school!
We get into the pool at around 7am and then head back in at around 1.15pm for a hard session, after which we either do Pilates or circuits.
Regime
The next morning we return to the pool before putting in a hard session in the gym - typically either weights or an aerobic session. That pattern is repeated until we finally get a day off!
At the moment we are pushing really hard in the afternoon session.
By the time we return to Britain on December 19 it will pretty much be Christmas; we'll each take a couple of days off but not too many because quality training is crucial at this time of year.
I had a good chat about training and preparation with Sky Sports News presenter Charlie Webster about it before I left for Florida.
Charlie and I went to a Gym in Canary Wharf, where I passed on some of the techniques I use.
These include swimming with closed fists to strengthen the forearm, and different ways to improve breathing during front crawl. She's a quick learner so we're well-matched!
We also talked a lot about nutrition. Over here my diet is pretty strict although we do have some treats on special occasions.
Pancakes
I was allowed a delicious Thanksgiving breakfast with plenty of pancakes and in the afternoon we had a barbecue, which was fantastic.
We need to get a good mix of carbohydrates and protein in our diet and while I am swimming I chug down a few gels; I have found a few that I really like: strawberry and lime goes down a real treat after the hard sessions.
As usual we have some great banter and have a bit of a party bus going on the way to the pool.
At the moment we are going through all the 90's tunes. DJ Simmonds is really rocking the bus on the way to training!
At the moment the song that is getting me going is T Pain's Church - it is really not something that I usually listen too, but I am getting down with it!
Right, I'm off to see if I can find anymore Thanksgiving pancakes.
I'll blog again soon,
Fran