Hi I'm Harry Aikines-Aryeetey otherwise known as Harry A-A, I'm a GB sprinter and this is my first Skysports.com blog.
To kick off I guess I should give you a bit of background of where I've come from and what got me into sprinting.
I was raised in Sutton, south west London and I got into athletics at the age of 10 when I joined Sutton & District AC, giving up football to concentrate on sprinting.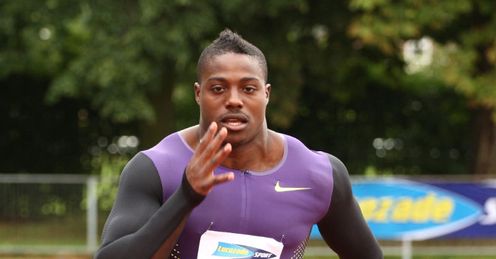 My friends and family encouraged me to take up the sport after I was chased by a dog, I was so scared that I sprinted off up the road, after seeing how nippy I was they told me I should head to the track and the rest, as they say, is history!
I'm now 22, soon to be 23 on August 29 - all cards welcome! I live with my Weimaraner Poppy (yes I'm now a dog owner!) in Loughborough where I train and study part time at the University.
Journey
I'm writing this blog just before I head to Daegu, South Korea for the World Championships. I've finally finished packing and the decision has been made to leave my PlayStation 3 at home! It was a tough one as I'm going to miss playing FIFA which I think I may be addicted too - if you think you've got what it takes and fancy playing against me then get online to the PS3 network, my username is 'Aikines' and I'll give you a game when I get back.
Not only am I leaving the games console behind but I can't take Poppy with me either so unfortunately she's off to the kennels, it's sad but I know she'll be well looked after.
The World Champs hold such importance as they bring us another step closer on our journey towards next year. For me personally, I'm so happy and excited to be back in the GB squad. I was slightly disappointed with my performance at the Aviva London Grand Prix at Crystal Palace earlier this month as I wanted to put on a good showing to our home fans.
However, it was pleasing to make the final and I think on reflection, I was probably tired from the trials the week before, but what's important now is that I move on and focus on the next job in hand which is to have a couple of weeks quality training at our holding camp in preparing for Daegu.
The last few weeks have been busy as far as competing is concerned but I did have time to fit in filming for the latest Nike advert. I had cameras following me around in various locations throughout the country so I'm looking forward to seeing the finished article later this month.
Focused
My plan for Daegu is to stay really focused, I'm doing the 100m as well as the relay, which is the last event so I can't afford to take my foot off the gas in training and must keep the intensity up for the duration. Because competing is so energy sapping, the need to do as little as possible during our down times is crucial so on non-race days, I'll be chilling to the max!
Training wise, there are a few things I need to work on which were identified at Crystal Palace, one being I need to correct my block position because at the moment my ankle is too high, so the next week or so I will be working to keep it lower - it's the really small things that can make a big difference.
Whilst I'm out there I'll be keeping in touch with my friends and family and of course the fans via twitter so follow me @aikines. I'm also going to be loading some exclusive videos from the camp on Lucozade's Facebook page so check out facebook.com/lucozade to get all the inside gossip.
I can't quite believe how quickly the season's gone - seems like only yesterday I was preparing for the indoors and now I'm packed and ready to fly out for the World Champs.
I'm delighted to have been selected and determined to use this opportunity to my advantage - I want to keep my head down and take in the whole experience and achieve results I can then build on. At the same time, I'm looking forward to meeting up with my fellow team mates and adding a bit of Harry A-A magic to the proceedings!
That's all for now - see you soon
Harry A-A
Harry is fuelled by Lucozade - Supporting British Performance.