It's October, the mornings are darker, the evenings are getting shorter and the temperature is dropping - brrrrr. I have to admit that I'm not a fan of the winter, I don't know many athletes that are.
I just hate the cold, however I do have one saving grace and that is warm weather training - oh yes and so from January I head down to South Africa where I will hone my speed work in temperatures of around 26 degrees - lovely!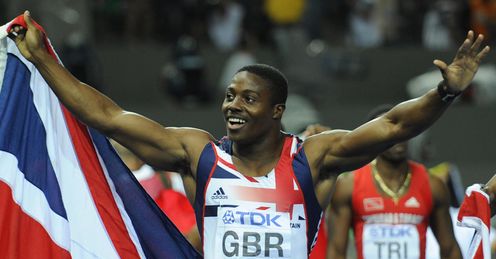 Although that's not for quite a few months yet so back to reality for me and back to training in Loughborough High Performance Centre, where I'm also in my second year of studying for a Sports Science and Management degree.
I'm lucky because my studies are part time so I can fit them around my training. I'm mainly based in Loughborough but flit back and forth to London to see my family in Sutton.
It's been a chilled few weeks for me just settling back into things here. I had a race in Brussels last month and competed in Gateshead at the Bupa Great North City Games - it was a really good concept actually.
It takes place just before the Great North Run and you run through the city on a track board, it was USA vs Great Britain, Christian Malcolm was there with me who I get on well with. I beat him which was good for bragging rights!
At the moment I'm sitting in my living room in Loughborough with my Weimaraner dog Poppy sleeping beside me, she makes me laugh. I'm spending a lot of time playing on my computer, yes you guessed it, Fifa, and catching up with friends, just enjoying the down time really before the hard training starts again.
Come this time next week I'll be back to business and well into winter training - that reminds me I must order some Lucozade products - loving the new Lite Cherry at the moment and they will keep me hydrated and energised during my training.
We will do a lot of fitness work before Christmas in order to get ourselves in the best possible shape before heading to South Africa for the speed work.
You can keep up to date with everything that's going on with my training and competition via twitter just follow me @aikines.
That's it for now - see you soon."
Harry A-A
Harry is fuelled by Lucozade - Supporting British Performance. Find out more at lucozade.com