Hi, I'm Laura Innes, and I'm goalkeeper for Great Britain's women's handball team, I'll be blogging for skysports.com right through to what will hopefully be a successful London 2012 Olympics.
First a bit about me, and I got into handball in quite a strange way really - as I was one of the sporting giants people who responded to an advert on the internet for would-be players to apply for GB sports.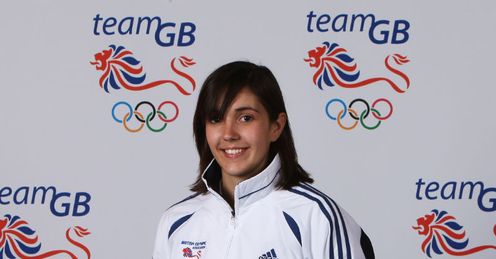 There was a form on the internet that you could fill in if you were over five foot for a girl (I'm six-foot tall) then you could apply for volleyball, handball and rowing, so you had to write in your whole sporting history and stuff like that. I sent it off and three months later I heard from handball who asked if I wanted a trial and I said of course Ii would - I'd never seen it before though!
Especially being in London you can't get on a tube or a bus without seeing all the signs for the Olympics. So everywhere you go you're constantly reminded of it, not that we could forget anyway, but it's cool to see the hype is from everybody around and not just from us.
Laura Innes
Quotes of the week
For those of you that also don't know much about it, handball is a seven-a-side game with a keeper and six players, you have seven on the bench and it's roll-on roll-off subs. You throw the ball into the net, it's a fast game that's full contact so short of dumping people on the floor pretty much anything else is allowed.
I'm a keeper and we have a six-metre area that no players are allowed inside, they can jump into it as long as they release the ball before they land. We only wear knee pads so that's to protect yourself when you're sliding on the floor but we have no other padding or masks or anything like that.
Drills
In a week we'll have maybe eight court sessions containing drills and actual game play, then we have the goalkeeper side which is quite different as we do footwork exercises, it's good fun because everybody says you have to be a little bit crazy to stand in the goal anyway - everybody always says why would you want to do that!
The rough and tumble is fine by me though, ,I love rugby, and I've always been into adventure sports though, I loved outdoor pursuits and adventure sports, all that type of stuff - canoeing and climbing and so on, love all that kind of stuff and I also love travelling.
I've had some travel experience with handball but it's not been an easy ride as I've had to keep hold of jobs as well to support myself, we train twice a day so I'm full-time now, but I've had lots of different jobs and still have one now.
When I was in Denmark I was a cleaner, when I was in Switzerland I worked in the office for an oil company and now here I work in the leisure centre as a kids activity instructor.
The last year has been a real struggle for me with my back injury, which got worse whilst I was out in Europe.
Injury
It's been a bit of a bumpy round with my injury - it was unfortunately just after I'd signed a contract with a Swiss club. I played the first couple of games but I'd been having a bit of trouble with my back before then.
I had two slipped disks and we tried the rehab route which would have been better as that would have avoided surgery but unfortunately that wasn't possible so I had to have an operation in November.
Since then things have been up and down but the latest set of injections have made a massive difference, so last week I ran again for the first time in a year and this week I've been back on the court again doing bits and pieces. So it's a gradual return to action but it's so nice to be back.
I don't want to say when I'll be back for definite, but I hope it's in the near future!
The Olympics is spurring me on to get back as quickly as possible, the build -up is already getting mad!
Especially being in London you can't get on a tube or a bus without seeing all the signs for the Olympics. So everywhere you go you're constantly reminded of it, not that we could forget anyway, but it's cool to see the hype is from everybody around and not just from us.
Motivation
That's a massive motivation in itself, but training in the new arena, getting all these bits of experience so that the arena will be like a home venue, is vital. Because it's a new facility we need to go and get comfortable there so we have home court advantage for the Olympics. It's good to be able to train there every now and again just to get a feel for the place.
The fact we've got the whole of the national team together in Crystal Palace is perfect as we'll essentially be able to play with our eyes closed as we'll know exactly where everyone else will be and what they'll do.
It will step up in intensity and in the skills we're working on and we've got a heavy match-based program up until the Olympics to make sure we get the competition we need to shape up for the Games.
In November we have our test event in the Olympic arena, it's an invite event so we're inviting five other national teams. We've had a couple of training sessions there and it's really nice.
I can't wait it's just going to be awesome. To get the home crowd support will be immense because we haven't had massive crowds at many of our games so far, we had about 1,200 come to Liverpool for some qualifiers and that was pretty awesome, so the thought of having this 6,000 arena with nearly the whole crowd being home fans will be awesome.
Right, I'm just cooking dinner so I'm off, look out for my next blog coming soon!
Laura
Follow Laura on Twitter @laurainnes1989
Comments (1)
Joe Innes says...
Looking forward to reading all of your future blog entries!
Posted 20:28 31st August 2011