GB went into lock down last week to prepare for our European Qualifiers against Montenegro away and Russia at home.
We had a good start to camp with a busy Monday and then the players selected for the Montenegro game flew out on Thursday and the rest stayed in Crystal Palace continuing with training to be ready for later in the week.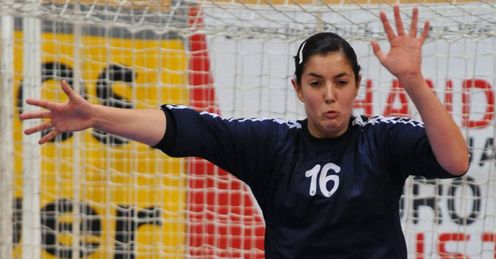 The girls who went to Montenegro put up a good fight, but we lost 34-18.
Montenegro are a strong nation who finished fifth in the last European Championships and have some of the best individual players in the world right now.
After a poor 10 minute spell in the first half we played some great handball and learnt a lot from the game. We only lost the second half by one goal which shows that we can compete with some of the best nations, as long as we improve our consistency.
It was also great to see our captain, Lynn McCafferty, returning from injury to lead the side again.
Return
We were glad to see the girls return and Crystal Palace had been transformed in preparation for the game against Russia. We had new goals, specialised flooring and the arena seats all pulled out - so the atmosphere was building for the match.
Russia are the current World Champions, and for want of a better word, MASSIVE! We set our targets for the match and by Saturday afternoon the place was buzzing with friends, family and supporters.
GB played a fantastic game and I couldn't have been prouder of my team mates!!! We lost by only 8 goals - it was great!
Although it is still a defeat, and we all want to win, it was a big stepping stone in our preparation for the Games. We fought so hard in defence - with our middle defenders bearing the brunt of the mighty Russians (tackling players who are on average about 15kg heavier and 20 cm taller is a pretty tough task!).
Our goal keeper, Sarah Hargreaves, also had a cracking game. The final result of 24-16 was a real achievement for the squad and goes to show what we can be capable of in a year's time.
It was then a really nice (much needed) relaxed weekend as many players had family and friends staying for the few days after the game. It was a rare chance to spend quality time with the people who have supported us all the way through our journey so far.
Well Done GB!!