We walked into the Olympic Arena on Tuesday night for our first training session with it all set up like it will be in Games time!
The lights, the sponsor signs, the official floor - we were buzzing. It was a fantastic lift and we were all very excited about our first match the next day.
A tactical meeting was all that was left, and we were ready to face Angola! A team that we know very little about- only that we had to be very wary of their unusual style as they are African champions and have a lot of individual skill.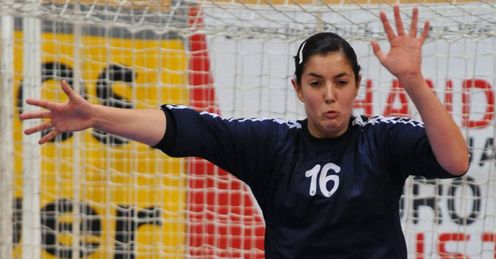 Morning of the game and everyone was psyched. The last few details finished off (including a touch of mascara and some hairspray!) and we were on the bus. Spirits high, a healthy dose of nerves and we stepped into the arena.
GB were ready to take on the African Champions with the new fantastic arena full of school children ready to cheer us on.
The anthems were sung and the whistle blew- GB were up 3-0 after 4 mins.
We fought hard and it was always a close game but after an awesome defence, great goal keeper performance and some really good attacking moments meant that we won!! So at this stage we are undefeated in the Olympic Arena- what a feeling!!
I had to watch from the stands due to injury but will be fit to join the squad later on in the tournament. My throat is sore from celebrating and I couldn't have been prouder of my team.
We can now take everything we have learnt from this game and our ability to adapt to produce a good result against Austria, a team we have faced a few times before but are yet to beat.
Wish us luck and thanks for the support!!!