WoW!!!
What an awesome few days!
Less than 150 days left until the Olympic Opening Ceremony is momentous enough, but I had a great time celebrating the 5 year anniversary of Sporting Giants.
This was the talent programme that I was found through and completely changed my life! I would never have believed that I would be where I am today and the journey has been great.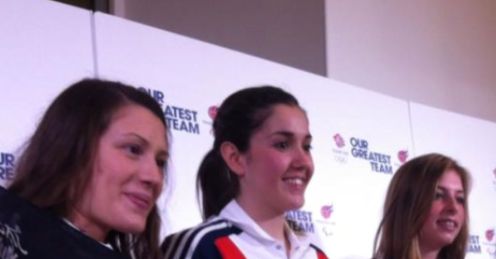 Firstly, I was asked by UK sport to appear on the radio to speak a little as an athlete who is still involved in my sport since the beginning of the programme.
I was definitely up for that and so went very early to the BBC studio in London and appeared on Radio 4 in their breakfast show.
They then asked if I would be willing to do a TV interview too! It was pretty exciting, and after a quick check to see that I had my TV face on I was ready to go.
I got to say a little on the BBC breakfast programme too so managed to spread the word about handball to a fair few people!
In the evening we headed to the event where the GB "item" for the Games was to be unveiled to the press. Presented by Claudia Winkelman and with sports greats such as Sharon Davies and Lee Pearson in attendance, it was always going to be a success.
The highlight of the evening for me though, came when I managed to get my photo taken with Sir Steven Redgrave! The front man of the Sporting Giants campaign and I met him on the 5th anniversary. The scarves looked fab and are going to look great in the crowds in the summer!
A very long day, but definitely a memorable one!!
My housemate and I have started a challenge on twitter to see if we can find a different way to wear the scarf every day, from now until the Olympics- it is going to get pretty creative as we will need 150 solutions!! Follow me on @laurainnes1989 to see how it unfolds!! (excuse the pun!)