I honestly can't believe that there are less than 100 days to go till the opening ceremony of the Olympic Games!
We are in for a fantastic summer of sport and to think that I may be one of the ones competing is still mind blowing.
We celebrated the landmark day in true style...training!
It is very exciting that the chance of achieving our dream is so close, yet there is still a lot of work to do to ensure we are in peak condition. It was a good session and was nice for me personally to see some of the improvements on court from physical training.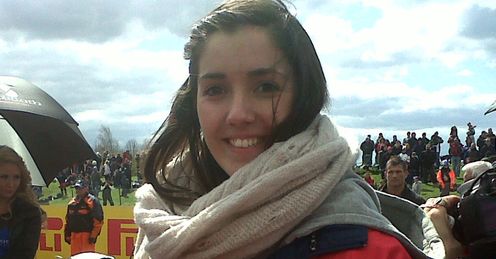 We all started chatting afterwards about where we had come from, how we had got involved in the programme and how strange it will be when September comes and new goals have to be set!
In small groups we have lived together over the past five years and for the last year we have all lived together in Crystal Palace and seen each other twice a day.
All the time we have been focusing on just two weeks - every decision to leave home, leave school, move country, move club, has been made to give us the best chance of reaching the Games and performing at our best. Now we only have one hundred days left!
Although the actually day of 100 days to go was pretty normal, we did have a great chance at the weekend to try something new.
We were invited by LEGEND Derek Redmond to watch his team race at the British Super Bikes. It was so cool (even though it was freezing! I wore three jumpers!!)
We got to go on the start grid and see all the bikes. I had no idea how technical it all was - the bikes were plugged into laptops!! Thanks so much for a top day out and a good chance for us to chill out and have some fun off court!