I've just returned from the European Championships, which was excellent, and although we came back with the silver there were a lot of huge positives for us going forward.
We did a lot of training in the build-up to the event which was really focused on fitness because our game-plan going forward is to play very fast and keep everything moving and not give the opposition time to think. Our sport is a real game of chess as there's a lot of set plays - much like in American Football - so we focus on working as fast as we can.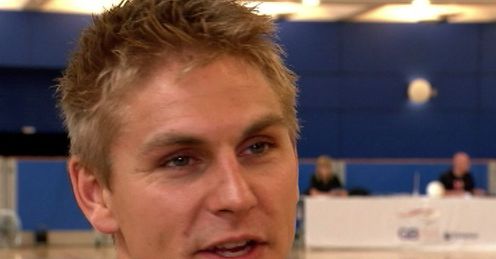 We trained on knowing what our set plays were and knowing how to execute them in certain circumstances as well and ultimately it paid dividends.
Our first game was against France, who have become a quick grower in the game and they took us by surprise a little bit and we lost to them, nothing more than they caught us on the back foot and took advantage - it was a bit of a surprise but it was a fair cop!
But later on in the competition one of their players was disqualified - as I've said before you have a points allocation per team where each player is classified and carries points and the more points you have indicates you are a more dominant and functional player.
One of their players was a 3.5 player which is the top end of the scale, he was strong, very fast and had a lot of mobility and ultimately after our game he got outpointed. So he played in our game but couldn't play in the rest of the tournament. It's not an excuse but it was just one of those things.
We then beat Switzerland, Germany and Poland and then our strength and our new players really stepped up to the mark to beat Belgium in the semis, it was great to see these new players playing at this level for the first time and doing well.
Because we have host nation qualification we already had our spot in London 2012 so it was us and the top three in the Euros that would qualify, so we went there to win but the others had qualification on their minds and a very different pressure.
Knockout
We beat Poland and Germany and knew we had put them out in a bit of a dream crasher, but we wanted to win and there's no way we'd let anybody else win, we wanted to prove a point that we were the best in Europe.
So along with us, France, Belgium and Sweden qualified for the Paralympics. We beat Belgium by one goal in the semis in a real hard-fought battle but in the final we played Sweden and they were just better on the day, they out-performed us.
I can hold my head up high and say as a team we did very well but on the day Sweden out-performed us. We went there for gold, that was our aim, and of course in that sense there was disappointment to have got so close - a few of us were close to tears as we'd got so far, but on reflection there's so much new blood and so many new ideas we'd been trying and testing that it shows we're moving in the right direction.
We've got so many new players that over the next year training towards 2012 there's an awful lot of room for improvement. So it's silver at the Europeans but we've got an awful long way to go before we're at our top strength, so we're disappointed but it's not like that was the best we're ever going to get, we've got so much more potential and the new players will only make us a lot stronger.
Of course we'll come up against the world's best teams next year - America are the defending champions and are known as the top team in the world, you've then got Australia who are second in the world rankings and they are also very good. They've got one player in particular, Ryley Batt, who's their most dominant player and point-for-point possibly the best player in the world - he's their lynchpin and if you can find a way of controlling him then you can hopefully stop their team.
After that, Japan, Canada and now Sweden and us, but that third spot can be anybody's, but even with American and Australia, they can be beaten - anyone in sport is only as good as their last game so we're confident we can turn things around at the Paralympics.
Tickets
Speaking of the Paralympics, it's exciting now with the tickets released, but it's been a bit of a mad one with them! I've been doing everything I can to concentrate on training so I've left my dad in charge.
I've told my friends and family: 'Look, I'm very happy for you to come and watch but I don't want to be hit with sorting out tickets', the first thing I said was right, dad you're in charge of tickets, if anybody came asking me for tickets I sent them straight to my dad!
I've got to make sure I'm ready for 2012, so making sure my friends and family are there is something I was hoping they could take care of themselves!
It's the first time that any Paralympic sports have sold out like they have and it's an honour to say wheelchair rugby was the first to sell out and be balloted, so for the sport that I'm captaining for to be the first of all sports to sell out makes you realise what an exciting time it is.
There's so much coverage now, so much interest in watching wheelchair rugby, firstly because it is so exciting but secondly to see Team GB do so well - it's just overwhelming.
The coverage and media hype around the Paralympics is higher than it's ever been before and that just gets the ball rolling with understanding and interest in the Paralympics, and I think all of those factors together means everybody's got a little bit of an idea about the Paralympics far more than they would have had three or four years ago.
I just hope now that we live up to expectations, not just in wheelchair rugby but as Team GB. We've done very well in previous Paralympics, coming second in the medal table in Beijing when people didn't know quite as much and now we've set ourselves targets where I'm sitting here saying nothing less than a medal will be good enough.
Team GB coming second in Beijing at the last Paralympics means we've set the standard there and now we need to handle that pressure and step up and perform to do ourselves justice.