The wild weekends just keep on coming in the NFL as Sunday saw the teams with a zero next to their name experience mixed fortunes.
The Green Bay Packers lost for the first time in a year, the Indianapolis Colts won for the first time this season and New England's Tom Brady reminded Denver's Tim Tebow that he remains the top quarterback in the AFC as the Patriots romped to a big road win.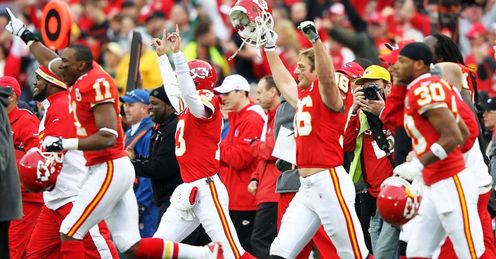 This is what caught my eye in a fascinating week of NFL action...
Packers lose!
Even though they were big winners against Oakland last weekend, I thought the Green Bay Packers looked a little off and they had even more struggles on Sunday night as they fell to a 19-14 defeat at the hands of the lowly Kansas City Chiefs.
I must admit that I didn't see this one coming - I felt that Detroit in Week 17 might be the biggest danger to Green Bay's quest for perfection, especially if the Packers suffered a sub-conscious emotional letdown with their playoff positioning already locked up.
But the Chiefs came out fired up and playing hard for interim head coach Romeo Crennel. The truth is that if Kansas City had been more ruthless in the red zone (Ryan Succup kicked field goals of 19, 32, 46 and 20 yards), this game would not even have been close. KC's defense was awesome and Aaron Rodgers was given a rough ride throughout the contest.
The loss shouldn't worry the Packers too much as they are still on course for a repeat as Super Bowl champions. More worrying should be the fact that starting offensive linemen Bryan Bulaga (knee) and Derek Sherrod (broken leg) joined wide receiver Greg Jennings on the injured list. As in any sport, the very best of teams can find championship-chasing seasons being derailed due to a mounting injury list.
Colts win!
The Indianapolis Colts have been the centre of much talk concerning the hottest college football quarterback to enter the NFL in many a year in Stanford's Andrew Luck. But the Colts better be careful - they might just end up playing their way out of the race for the budding superstar.
The Colts got their first win of the year on Sunday as they outlasted a disappointing Tennessee Titans team to the tune of a 27-13 scoreline. The Colts play Houston on Thursday night and that will be a tough one for them to win, but I can see them beating the poor Jacksonville Jaguars in Week 17.
That would put the Colts on two wins, alongside the Minnesota Vikings and St. Louis Rams. It is going to be fascinating to see what happens with Luck. All three teams leading the race for him have incumbent quarterbacks on the roster already.
The Colts have injured four-time NFL MVP Peyton Manning, the Rams have the first overall pick in the 2010 Draft in Sam Bradford and the Vikings invested a first round selection in Christian Ponder earlier this year. If another team is willing to offer the farm and trade up to grab Luck, there is still a slight chance they will find a partner happy to make a deal.
Saints have a Super look
We covered the season-opening game between the New Orleans Saints and Green Bay Packers on Sky Sports in September and I said at that time we were witnessing a dress rehearsal for the NFC Championship Game.
I still maintain that is the case and it will be an absolute cracker if two of the very best teams in the NFL can go head to head at Lambeau Field on Sunday January 22. The Packers are currently the number one seed in the NFC and the Saints are the number three, but there are not many teams as hot as New Orleans right now.
The Saints have won six in a row and have an impressive 11-3 record. Drew Brees remains on course to smash, shatter and blast Dan Marino's single season passing yardage record (5,084 yards set in 1984) to smithereens.
He was outstanding during Sunday's 42-20 thrashing of the Minnesota Vikings, throwing for 412 yards and five touchdowns while hitting nine different receivers. With quarterback being the most important position in the NFL, the Saints have to be considered genuine Super Bowl contenders with Brees at the helm.
Tom's still the boss!
There was considerable media hype surrounding Sunday's meeting between the New England Patriots and Denver Broncos - and rightly so! For once in his storied NFL career, Tom Brady was not capturing the majority of the headlines heading into the Week 15 contest.
Instead, it was Denver's Tim Tebow who was the talk of the town. And he sent America into a wave of hysteria by leading the Broncos to three scores on their opening three possessions for a 16-7 lead. But turnovers were Denver's downfall and Tebow was guilty of trying too hard and forcing the issue at times.
Brady, on the other hand, could not have looked more in control. He hit on 23 of 34 passes for 320 yards and two touchdowns. I get the sense people are dying to be in a position to write the Patriots off and find a story about them being in decline (poor defense etc) but they keep on rolling and have a genuine Super Bowl shot with Brady on top form.
Eagles still alive
It would have been hard to imagine the Philadelphia Eagles being anywhere close to the playoffs when they fell to a 4-8 record with an embarrassing Thursday night defeat at the hands of the Seattle Seahawks in Week 13.
But the Eagles have since bounced back to beat the Miami Dolphins and pound the New York Jets 45-19 on Sunday. Amazingly, there is still a scenario in which the Eagles can reach the NFC playoffs, albeit one that features a lot of 'ifs, buts and maybes.'
Philadelphia needs to beat Dallas and Washington to finish at 8-8. If Dallas loses to Philadelphia on Christmas Eve and the New York Giants on New Year's Day, they will finish with an 8-8 mark. If New York loses to the Jets on Saturday but beats Dallas on January 1, all three teams would finish the year at 8-8.
And the winner via the NFL's tiebreaker system? That would be the Philadelphia Eagles!
Teams in a tailspin
The Buffalo Bills and Tampa Bay Buccaneers were feeling pretty good about life in the NFL earlier this season. By October 16, both teams were 4-2 and on top of their divisions. The Bills went to 5-2 before losing seven in a row. The Bucs have gone one better and have now lost eight in a row.
Tampa are the more disappointing of the two clubs, in my mind. Josh Freeman has clearly regressed at quarterback, there are very few weapons in the passing game and there are holes all over the defence.
But more worrying is the clear lack of passion being displayed by the Bucs. If they are supposed to be fighting to save head coach Raheem Morris' job, it is becoming increasingly clear that those players don't like him very much.
I've met and interviewed Morris several times and have found him friendly and engaging. But it looks more and more likely that he is too inexperienced to be an effective NFL head coach and he most certainly appears to have lost the ability to motivate his players.
I fear a coaching change is coming in Tampa this off-season, if not sooner.
Comments (3)
Johnny H says...
There is way too much hype and media coverage of Tim Tebow, ok he was an outstanding 'College Football player' but he isn't all that in the NFL. The Pats just proved that. He played a very weak Bears offense which he would of lost if Cutler would of been playing, beat a poor Vikings team and put up very few points against a disappointing Chargers team. Three lucky wins. Don't get me wrong I like the guy but he is far from and I sadly can't be seen as an elite QB. The Broncos need to look elsewhere. And I cannot see the Broncos winning a playoff game.
Posted 20:53 19th December 2011
Sam Mallia says...
Firstly i agree with Jenny Being a Cards fan, the whole NFC West division has been over looked majorly this season, i havent seen a Arizona game all season, being on a great run as they are at the moment along with the 49ers and the seahawks being in the hunt. It seems it gets looked over not just in live games but coverage on here. You guys are more obsessed with the colts losing streak!
Posted 17:36 19th December 2011
Jenny Hodgson says...
I would like to know why as a 49'ers fan, we have hardly seen a game of theirs. Bearing in mind the great season they are having, I think the coverage is absolutely diabolical. There seems to be some bias here, otherwise why are they not showing the 49'ers.
Posted 13:04 19th December 2011