Ed Robinson is Sky boxing's roving and ringside reporter, one of the most respected faces in the domestic game.
Every week Ed heads out and about to talk to the men making the news in and out of the ring and now he will be bringing us a behind-the-scenes blog here on skysports.com.
From world champions to amateur wannabes looking at London 2012, he will be bringing you regular updates from the world of boxing...
Wednesday, September 28th
So, I was up this morning at 4am to get to Wednesday's press conference in time as Martin Murray came face to face with Felix Sturm for the first time.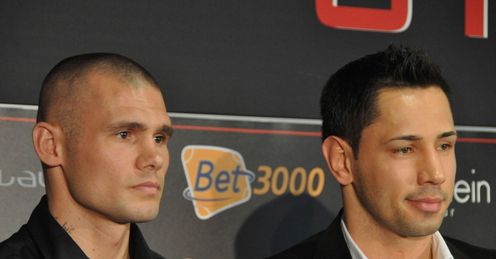 The presser was at the December 2nd fight venue, the SAP Arena in Mannheim, Germany and the nearest airport I could get to was Frankfurt, a fair old drive away.
It's an impressive stadium, usually hosting ice hockey games and gigs - James Blunt will take centre stage a couple of months before Murray.
Ricky Hatton had an even earlier start than me, woken up at 2am by Millie, his new baby daughter. I can't believe that it's 13 years since as an exciting prospect the young 'Hitman' boxed in Oberhausen, over here in Germany, stopping Pascal Montulet in two.
There was a massive media turn out for Sturm - there's no doubting his popularity in the area. The boxers were very respectful towards each other but although he tried to hide it, Murray's body language revealed just how fired up he is by this chance.
It is often refreshing to be in Germany because the audience have a different perception of the fighters and different expectations of their behaviour.
They love a thinking boxer and Sturm is certainly that, his English is impeccable and so are his manners. Being a gentleman doesn't mean he lacks for any heart or steel though - as he showed in that contentious but thrilling fight with Matthew Macklin.
Felix Sturm shares a trainer with Vitali Klitschko, the respected Fritz Sdunek. I couldn't help but ask him if David Haye is next for his heavyweight champion. Sdunek is in his 60's but his eyes twinkled like those of a mischievous kid as he answered: "I really hope so".
Well done Gary Buckland for winning the British title against Gary Sykes - he waited 10 long months to get Sykes back in the ring after halting him in Prizefighter. I must admit that I leant towards Sykes winning on points beforehand. Fair play to him for going on Facebook straight afterwards to say 'no excuses and well done to Team Buckland.'
Welsh boxing is most certainly on the up with Lee Selby beating Stephen Smith and Nathan Cleverly leading the way as he takes on Tony Bellew. Now it's the turn of Gavin Rees on Saturday taking on the resurgent Derry Mathews. Wales v Liverpool is the new Mexico v Puerto Rico for boxing rivalries!