Ed Robinson is Sky boxing's roving and ringside reporter, one of the most respected faces in the domestic game.
Every week Ed heads out and about to talk to the men making the news in and out of the ring and now he will be bringing us a behind-the-scenes blog here on skysports.com.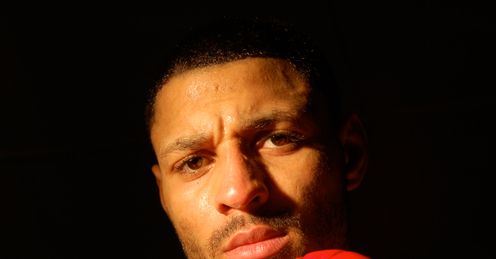 From world champions to amateur wannabes looking at London 2012, he will be bringing you regular updates from the world of boxing...
Thursday, October 6th
Each year the Boxing Writers Club vote to choose their Young Boxer of the Year.
The prestigious accolade is no guarantee of future success but previous winners include Ken Buchanan, John H Stracey, Barry McGuigan, Nigel Benn, Naseem Hamed, Joe Calzaghe and Amir Khan - all went on to win World titles.
Kell has undeniably looked pretty special so far. There is a real buzz about him at the moment and it'll be interesting to see how he performs on Saturday in the Steel City.
Ed Robinson
Quotes of the week
This year's winner is unbeaten George Groves who faces Paul Smith later in the year. Two previous winners of the award were in action this weekend and neither won.
On Friday night, the 2008 choice Paul Appleby gave his all but was stopped by Liam Walsh in a thriller. The following night 2007 selection Derry Mathews had his nose broken by an accidental clash of heads during his European lightweight title challenge against Gavin Rees in Wales.
The fight was called off, the result a technical draw. Both Appleby and Mathews might yet still fulfil their potential but suddenly it looks a bit of an uphill struggle from here. Not everyone can make it.
This weekend 2009 winner Kell Brook is in action - the Sheffield hope is known as 'Special K' - although Kellogg's have been in touch with Matchroom to complain about the nickname.
Nevertheless Kell has undeniably looked pretty special so far. There is a real buzz about him at the moment and it'll be interesting to see how he performs on Saturday in the Steel City.
Kell's record of 24 straight victories is the longest unbeaten run in the domestic game. That's assuming that you discount Ajose Olusegun of course. The Nigerian-born light-welterweight boxed in Britain 25 times but has now relinquished his license to box Stateside.
Olusegun registered a big win over there at the weekend and is now being guided by Lou DiBella but despite being the number one contender for the veteran champion Erik Morales - I still think Ajose will still struggle to land a really significant, named opponent. Olusegun showed exactly why he has been so avoided in his exciting battle with Ali Cheebah
Extraordinary
Ajose's former manager 'Big Bad' James Oyebola would have been very proud of him on Friday. Gentle giant Oyebola was of course, tragically shot and killed back in 2007. As a fighter he was a towering British heavyweight champion who had a couple of good wins in America himself, including a fifth-round stoppage of Scott Welch in Atlantic City.
In 2004 Amir Khan, fresh from his extraordinary Olympic success in Athens, became the first amateur to ever be presented with the same Young Boxer of the Year award.
On December 10th he faces Lamont Peterson in Washington DC. Peterson is a good fighter with a fascinating back story - and it says it all about how far Khan has come that he starts such a heavy favourite against the American.
When he was flattened by Breidis Prescott the same journalists who voted for him in 2004 were quick to condemn his future prospects. Now Amir's talking up a huge confrontation with Floyd Mayweather for next year and he's got to be taken seriously.
I thought that Darren Barker gave it a real go on Saturday in Atlantic City in challenging middleweight number one Sergio Martinez. His left hook counter worked well early, then his straight right found the mark and he was very effective at countering the counters of Martinez.
Sadly it wasn't enough and I had him behind at the finish - but you wouldn't discount him against any of the other world champions.