Ed Robinson is Sky boxing's roving and ringside reporter, one of the most respected faces in the domestic game.
Every week Ed heads out and about to talk to the men making the news in and out of the ring and now he will be bringing us a behind-the-scenes blog here on skysports.com.
From world champions to amateur wannabes looking at London 2012, he will be bringing you regular updates from the world of boxing...
Monday, October 17th
So I'm 40 in a few day's time and with the date looming far too fast, I've obviously been thinking about the whole ageing process.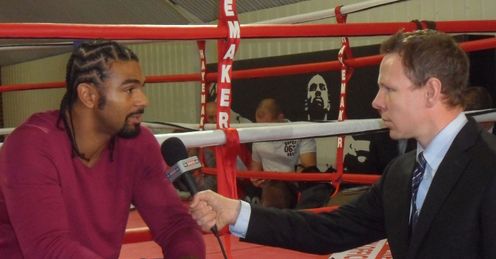 This week's schedule hasn't really helped me get the subject off my mind. On Thursday David Haye retired as he promised he would, on his 31st birthday. As with his entire career he did it on his own terms, with an informal press meeting at his South London gym.
He arrived early and went straight into the little office to get his hair done. An hour later a member of the team distributed a statement and then David casually joined everyone and did a series of one-on-one interviews. He seemed content and relaxed if not entirely convincing - many still suspect that he'll be lured back if Vitali Klitschko makes him a decent offer.
It's not easy to accept that you are too old to do what has defined you, particularly if you still have something to prove and particularly if you have the pride and ego of a champion fighter. If defeat - and some would say a humiliating one - is eating away at David he was hiding it well this week.
Ed Robinson
Quotes of the week
It's not easy to accept that you are too old to do what has defined you, particularly if you still have something to prove and particularly if you have the pride and ego of a champion fighter. If defeat - and some would say a humiliating one - is eating away at David he was hiding it well this week. But to my mind if you have millions in the bank you crave what money can't buy - and that's the respect and adulation he had before that wet night in Hamburg when he failed to back up his brash words.
When I'd finished at the Hayemaker base I popped down to the Fitzroy Lodge amateur boxing club where Haye first started boxing. The two gym's are probably less than a mile apart and both housed under Vauxhall railway arches.
Haye actually fought in that old building - for club shows the Lodge would remove all the punch bags and cram the place with passionate fans. It must have been very intimidating for visiting amateurs, so noisy and atmospheric.
David was very much part of a team back then, a squad who took pride in wearing the black and white striped vest of the Lodge, learning from the venerable Mick Carney MBE.
Everyone wanted the acknowledgment and time of the trainer who has been a fixture at the club for more than half a century. You'd get out of the ring after sparring and look for a nod of approval from Mick, only for him to say something like 'it's not too late to take up golf.'
I remember walking into that gym and watching David sparring with Chris Okoh, then a seasoned pro and unbeaten Commonwealth Cruiserweight champion. David was still really just a kid, athletic but quite slight in build and yet his natural ability was just startling.
I never thought he'd be a heavyweight though, even now he doesn't look like a guy who you look at and think 'Yeah, he's a big lump'. Still it did make me feel old recalling his career through from a gangly teenager to now!
Battled
I spent the following day with Nottingham's Jason Booth, who is fighting for his future this Saturday when he takes on unbeaten Scott Quigg, a gilt-edged prospect from Ricky Hatton's stable. Booth has had about as many 12-round championship fights as Quigg's had contests but he is also more than a decade the senior of his ambitious rival.
The veteran's not had an easy life; 15 years as a pro boxer is hard enough but Jason has also battled alcoholism. He looks fit and sharp but his face tells the story of a long hard career.
In April he was stopped by Kiko Martinez challenging for European Super-Bantamweight title in Spain. Talking to the team it sounds like they had everything against them out there, not least the fight being put back until the early hours of the morning when the now tee-total Booth is normally fast asleep. Reasons for defeat are still excuses unless they are simply not being good enough. What matters now is getting past Quigg, it's a fascinating British title fight.
Back in London on Friday night I headed to the York Hall in Bethnal Green to support an old friend. He was boxing in a white collar event at the famous venue. The shows aren't really amateur or professional boxing, the competitors wear vests, head guards and big gloves, they are matched over three rounds and everyone sells tickets. The action can be a bit raw but everyone gives it their all.
The friend has always loved boxing but has had other priorities; now in his late 30's and with a successful business, he was making up for lost time. Perhaps he regretted it as he suffered nerves beforehand, in the dungeon-like dressing rooms under the stage that are usually reserved for the right hand side of the bill. Then came the call to arms, a tense ring walk, an exciting, well-matched fight, the referee announcing a draw and then plenty of pats on the back for both men.
Then Saturday night the attention of the boxing world was centred on Bernard Hopkins taking on Chad Dawson at light-heavyweight. At 46 Hopkins became the oldest ever winner of a world title when he beat Jean Pascal and that night he was sprightly enough to do some press-ups in the ring between the rounds. This time Dawson won, somewhat controversially, when Hopkins was unable to continue with a shoulder injury after falling in the second. It could spell the end for the self-styled 'Executioner'.
On the undercard in Los Angeles the inspirational Dewey Bozella won his pro debut after spending 26 years in jail for a murder he did not commit. Bozella is 21 years older than Haye. I guess you really are only as old as you feel, although I have to admit I watched the Hopkins fight Sunday morning. Staying up all night at my age ruins me for the week.