Ed Robinson is Sky boxing's roving and ringside reporter, one of the most respected faces in the domestic game.
Every week Ed heads out and about to talk to the men making the news in and out of the ring and now he will be bringing us a behind-the-scenes blog here on skysports.com.
From world champions to amateur wannabes looking at London 2012, he will be bringing you regular updates from the world of boxing...
Friday, November 4th
The amateur side of the sport rarely gets the publicity it deserves and by rarely you can take that to mean once every four years!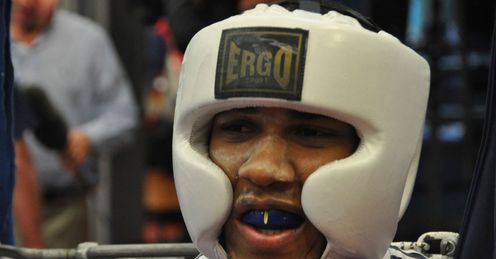 The Olympics are the focal point, the pinnacle of amateur boxing and next year obviously has added significance domestically because the Games are in the capital.
This week I visited the Great Britain team at their training headquarters in Sheffield for a media day organised by BABA press officer Lee Murgatroyd.
It was good to catch up with performance director Robert McCracken who I've known since his fighting days. Robert was a really impressive amateur who was maybe held back too long as a pro.
Boxing in London is enjoying something of a renaissance. There's a big bill at Wembley this weekend, young promoter Spencer Fearon's going great guns with his small hall shows, the magnificent Royal Albert Hall is back in business, the Olympics are fast approaching and the York Hall seems to be packed out almost every weekend with televised and off-TV events.
Ed Robinson
Quotes of the week
He was a talented, hard man and should have probably won a world title. When he finished boxing he had an operation on his flattened nose because he was struggling with his breathing, so he doesn't look so much like a fighter any more.
Now he's a trainer and he's proven himself in that role by guiding Carl Froch and now the elite amateurs. His former stablemate and Seoul Olympian, Richie Woodhall, is also on hand to help with the coaching.
There was a decent turnout - of both press and boxers with most of the attention directed at super-heavyweight Anthony Joshua, who could be the poster boy for London 2012.
I've been hearing good things about Joshua for quite a while now and he didn't disappoint. He's friendly, articulate, athletic and a giant of a man. Having qualified at the first attempt, capturing Silver in the World's, Joshua can now concentrate on his preparation for the Games.
Thomas Stalker, Luke Campbell and Fred Evans will join Joshua next year and team GB have one more guaranteed entrant. Khalid Yafai is the only surviving team member from the last Olympics but will have to face new sensation Andrew Selby in a best of three box-off for the place.
There can only be one entrant in each weight category and both reached the qualifying stages of the World's. I've heard it said that Selby should have automatically got the berth because he progressed further in Baku but I tend to think that if he's good enough he'll beat Yafai, if he isn't then he won't. They have sparred hundreds of rounds together in the past but for now they stay well out of each other's way in the gym.
Selby's a wonderfully instinctive fighter, a real box of tricks, Yafai's much more orthodox but very strong and has beaten Seby twice before. I really hope I get the chance to watch their pivotal meetings - the first of which is scheduled for the York Hall, Bethnal Green on Friday 11th November, the second the following day.
That leaves five more possible entries in the men's side of the Olympic competition. There's one more chance to qualify - in Istanbul next year and the entrants could be in part decided by the two day GB Championships that feature the first two box-off's between Selby and Yafai.
In 2012 women's boxing will also be a part of the tournament for the first time, there'll only be three weight divisions but it's still a landmark occasion for the female competitors in the sport. And the good news is that there is the same strength in depth as there is in the men's side of the game.
In nine months Lee and Robert will have to fight off the baying press desperate to get a line with their team. For now it's still a hard sell getting news editors interested in the vest and head-guard brigade.
Tickets for that GB championship start, incredibly, at just £1 each, in a venue where every seat is effectively ringside. I'd urge every boxing fan I know to get down there and be in at the beginning.
Wednesday, November 2nd
Boxing in the capital is making a welcome comeback.
Manchester's still a hotbed and there are exciting times in Liverpool but the sport in London is enjoying something of a renaissance.
There's a big bill at Wembley this weekend, young promoter Spencer Fearon's going great guns with his small hall shows, the magnificent Royal Albert Hall is back in business, the Olympics are fast approaching and the York Hall seems to be packed out almost every weekend with televised and off-TV events.
Next Wednesday the fast-improving Lee 'Lights Out' Purdy defends his British welterweight title against Colin Lynes in Bethnal Green. This week I was warmly welcomed by both camps.
On a Hainault Industrial estate respected trainer Tony Sims plies his trade out of the basement home of Gator ABC. Sim's most high-profile charge, Darren Barker is enjoying a rest after his world title challenge against Sergio Martinez but there were plenty of other talented hopefuls at work.
As I walked in I immediately spotted Lenny Daws who had just finished a session with Robert McCracken. The promising southpaw John Ryder was having a great spar with Erick Ochieng, their respective trainers Colin Lake and Brian Lawrence looking on intently.
Both Ryder and Ochieng box on the undercard in the East End, they'll be joined by Ryan Taylor and Tyler Goodjohn who had just finished their sparring. Eddie Hearn was also on hand to check Purdy's progress.
There's always something new to glean on a gym visit. I learned that Ryder has a great engine; that Ochieng could win a skipping competition; that Ryan Taylor was once trained in New York by former world champion Arron 'Superman' Davis; that Colin Dunne's doing well in retirement; that Tony Sims makes a great cup of tea and, most importantly, that Purdy's well up for next week.
Lee can definitely punch and is learning on the job after a limited amateur career. He's solid, strong and getting close to securing a rematch with Commonwealth Denton Vassell, the only man to beat him at welterweight.
Down in Canning Town the TKO Trad gym is surrounded by scrap metal yards. The area has a long tradition of boxing and the famous Peacock gym is only up the road. The TKO has three rings, an office and a great feel to the place but I'm usually there during the day and it has a different atmosphere and there are different faces in the evening, when Lynes does his gym work.
Jimmy and his son Mark Tibbs were still on hand but the main man Johnny Eames had finished for the day. Nathan Weise was moving around with undefeated local hope Freddie Taylor in the central ring and Barrie Smith was coaching a couple of keep fitters.
There was a lot of talk about Frankie Gavin's unexplained withdrawal from his fight last week but no real answers to the questions. Everyone was raving about Billy Joe Saunders, who looks better and better every time I see him.
No-one has ever really raved about Lynes and he's not the type to over sell himself but he can definitely fight. Colin's a softly-spoken gentleman who never disrespects an opponent.
A pro since the late 90's he's seen it all before and won British and European titles down at light-welterweight. At 33, this could be his last chance at a major title shot but he's quietly confident and looks in great shape.
The crowd will be divided and local bragging rights are up for grabs - it should make for a good old-fashioned scrap.