I visited the American Embassy to apply for a new i-visa the other day. I'm very smug to say that I'm off to work on the Khan and Froch fights Stateside.
Inevitably there was an error with my application and I had to pop round the corner to a passport photo shop with internet access on Oxford Street. As I walked up the stairs I spotted a picture on the wall of London boxer Martin Power before catching sight of a familiar fight face - Ringside snapper Philip Sharkey.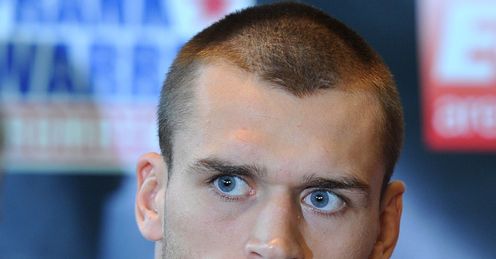 It's Philip's day job and one wall is completely covered in passport photos of the celebrities that have graced his 'office'. But boxing is his passion and the flyer for his shop features former fighter and ref Bob Williams and former pro Colin Dunne in charming family poses. Apparently John Murray and trainer Joe Gallagher had been in the week previous before they set off to NYC for their world title challenge against Brandon Rios.
Having said that - for me the timing is all wrong for John - progressing in boxing is like swimming upstream and if you stop going forward you can't help but go back.
Ed Robinson
Quotes of the week
LIVE ON SKY SPORTS
WBA MIDDLEWEIGHT TITLE
Felix Sturm v Matthew Murray
9.45pm, Fri, Sky Sports HD1

I'd love Murray to get the upset but I just can't see it. The hope for the team is that Rios is looking past him - there's already talk of a clash new year with Cuban hotshot Yuriorkis Gamboa and the British lightweight was apparently not even told about a media training session early this week.

Murray knows how vulnerable looking past an opponent can make you - having lost a thriller and his unbeaten record against the unfancied Kevin Mitchell earlier in the year.

Having said that - for me the timing is all wrong for John - progressing in boxing is like swimming upstream and if you stop going forward you can't help but go back. Rios is the one with the momentum, John's stagnated a bit in the last few years staying at domestic level. I really hope I'm proved wrong.
Pressure
Good luck Martin Murray - the pressure's on him challenging Felix Sturm for a version of the World middleweight title in Germany and it's undeniably a massive jump from comparative novice Nick Blackwell to the accomplished champion.
It's mission improbable but not mission impossible; Murray's a hard man, still unbeaten and certainly up for it. Former sparring partner Jamie Moore's out there with him and the shaven-headed Salford battler is continually being mistaken for Murray by the media out there.
It's a big weekend for British fighters overseas with the enigmatic, eccentric Dereck Chisora challenging Robert Helenius, the self-styled Nordic Nightmare for the vacant European heavyweight title in Finland.
If Chisora's in the mood he can make it lively but he seems to be taking over the mantle of Danny Williams as Britain's most unpredictable fighter. I think he'll be in better shape than when he sabotaged his own chances coming in so heavy against Tyson Fury but will Helenius has got to be the favourite to pick him off with the jab.
Duel
Chisora's fight is on the undercard of Alexander Povetkin's heavyweight duel with Cedric Boswell, an American who was once based over here with Frank Maloney and Panos Eliades.
Maloney recalls Boswell walking down the stairs of the old Board of Control office at London Bridge, full of confidence and bluster before facing his anonymous Eastern European opponent - only the agent Phillippe Fondu had unwittingly unearthed the man to be christened 'The Beast from the East' Nicolai Valuev - all 7'2" of him.
Boswell took one look at Valuev and promptly said no thanks. Instead opponents were switched and Valuev mauled Neil Kirkwood while Boswell beat up on the much less intimidating Alexander Vasiliev. All that said, Boswell's in with a chance against Povetkin who has disappointed a bit in his last couple of performances.
Call me a hypocrite but even though I'm looking forward to the Miguel Cotto / Antonio Margarito rematch I personally feel that the Mexican should have been banned for life after he was caught with illegal hand wraps before the Shane Mosley fight. The Puerto Rican's will be out in force to support Cotto - I hope he gets his revenge.
Get well soon Tim Hobbs, master of all things Sky Sports boxing website related.