Boxing is one of the most technical and tactical of sports and so much more than just the test of brawn it can often appear.
Yes, strength, power, ferocity and will to win are all important but equally as crucial are technique, tactics and physical fitness. The real battle in boxing is often in the gym, as young athletes train for years to perfect their trade and get fully fighting fit.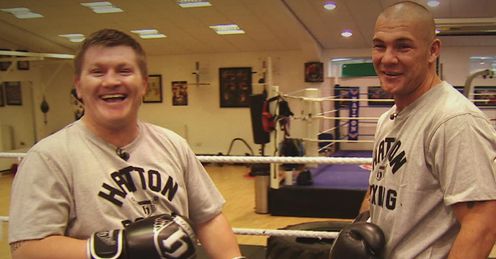 On Thursday I'll be presenting a Ringside Special on Sky Sports that breaks down many of the skills that champions employ. Aspiring young pro's Martin J Ward and Ryan Taylor join me in the studio as we hear from more than 30 of the top experts in the sport. Each one explains how to master one particular move, punch or discipline - cutting the ring off, slipping shots, countering, the uppercut, etc.
RINGSIDE - HOW TO BOX5.30pm, Thurs, Sky Sports 2 HD
REPEATED
11.00pm, Thurs, Sky Sports 2 HD
9.30am, Fri, Sky Sports2 HD
9.30pm, Sun, Sky Sports 2 HD
Obviously in a one hour show it isn't exhaustive but hopefully it will help to entertain and maybe educate. I think that those with little knowledge of the sport might gain a new appreciation of the Noble Art and hardcore fans should enjoy hearing the more in-depth analysis.
All boxers master the same fundamentals but they've also each got their own style and flair. For example, lightweight contender Anthony Crolla tells us why he favours a high, tight guard to block shots, while unbeaten super-bantamweight hope Kid Galahad prefers to keep his hands low - so that his vision isn't obscured and that his own punches are more unpredictable.
In many instances there isn't really a right or wrong way to do things, it's whatever works for the individual. Every fighter has his own particular strengths - qualities or signature moves that they are known for. In this show we've tried to target the best of the best to teach you!
Punching
Of course the big names are involved, from British great Lennox Lewis - who dissects the jab, to current heavyweight champion Wladimir Klitschko - who discusses stance. Carl Froch demonstrates feinting, Emanuel Steward taping hands, David Haye talks about his conditioning, Joe Calzaghe sparring and of course, for body punching few are more qualified than 'The Hitman', Ricky Hatton.
Elsewhere Peter Buckley, the 'King of the Journeymen', dusts off his gloves and shows us the survival skills that saw him through an incredible 300 pro fights. Ian 'Dapa' Napa, one of the most gifted technicians of his generation gives us defensive tips and Kerry Kayes, who has helped so many boxers make weight safely, reveals his own secrets.
From David Price to Tim Witherspoon, from Paul McCloskey to Kell Brook, from Matthew Macklin to London Olympic golden star Anthony Joshua, they all have their say. The show has been an extra-curricular labour of love for me over the past few months, I really hope you all like it.