On 29th August 2012 I will hopefully be watching the opening ceremony of the Games from the apartment I hope to occupy in the Paralympic Village should I be successful in being selected for my sixth Paralympic Games.
I began cycling in 2005 when ear infections kept me out of the water for a long period of time. I used the bike to stay fit, but by the time my ears were given the all clear I was racing and winning the Europeans and well on the way to announcing myself within the cycling world. I was left with a hard decision to make, whether to go back to the pool or continue cycling, but I had spent 13 years in the Great Britain swimming team and thought this was a good opportunity to branch out.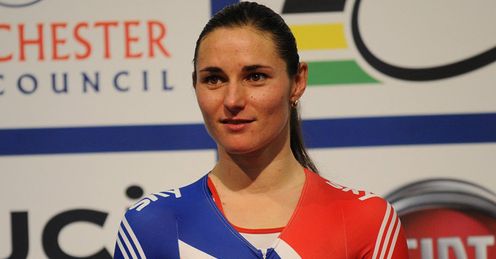 My disability doesn't really affect me, or my training [I was born without a left hand]. My bike has a few adaptations to keep me safe. I always took part in able-bodied sport at school and I learned to throw and catch a ball like any other child did. I was on the county netball team at school, so there's never been issues with my dexterity. I've never been treated differently and that's played a major part in my life, I've just got on with it.
It is such an honour and a privilege to be an athlete. A lot of people love sport and competing. After work they'll go and train or race with a full-time job. This is my full-time job. There's nothing more motivating than having such an amazing opportunity in a job that you love.
I've won 23 gold medals, 16 world titles and seven in the Paralympics. I remember every one of them, how they felt. Every time I'm on top of the rostrum with the GB suit on and the anthem is playing it is special.
You work all the time to be the best, and when you end up being the best in the world, it's just amazing. Every time is just like the first. It's such a relief but fills you with such pride and gratefulness.
Selection
Being a part of arguably the world's most difficult team to get selected for is part of the motivation for many, and for me it certainly drives me on through days when there's howling wind, heavy rain and temperatures that struggle to get into double figures. There have been a few of those recently in this British summer of ours and I've been doing familiar training rides whilst pondering the excitement that comes our way over the next 12 months.
Nothing is a certainty and with months of qualification still to do with Para-Cycling, Great Britain's cycling team has no guarantee of qualifying all the places they need to take everyone who could win a medal. It's not an unusual situation to be in as a cycling team and the Olympic squad face a similar selection dilemma with the "one athlete" rule in the individual events.
As athletes, once we get inside the athlete bubble of village, food hall and Games transport, we could quite literally be anywhere in the world. However in London 2012, everything will be a lot more familiar, the venue will be one we have almost all visited and the crowds will most certainly be letting us know that we are in the UK and at a home Games.
The questions after passing the "year to go" marker have centred around whether or not we are ready for the Games, whether or not it feels closer and whether or not we feel confident of selection or medals.
My training won't change much from any other year. Every year consists of a summer season of road racing, building up to September's Para-Cycling World Road Championships which we've just had in Denmark. Then it is into the track season with the track nationals, building up to the worlds in February. Then there's a period of working for both the track and road alongside each other.
Cycling training is an ongoing thing, it's a constant series of training and racing. It's always full on, the sense of urgency is there all the time. Cycling is quite easy to peak for, I don't find it much of an issue to peak and I'm quite consistent with my form.
I'm training hard for the competitions between now and selection. I've got to get the balance right for racing from the 500m to road races, which is an advantage in terms of training variety, but means I've got a jam-packed schedule.
World champion
This past week I was defending by road and time trial titles again at the Para-Cycling Worlds and had the prospect of being able to do that elusive, double treble.
Standing on the podium wearing my road race world champion stripes for the third successive time was so surreal. I almost can't believe that I have done it, it's the treble that alluded me in swimming. It's a double treble and I'm not sure when it will sink in to be honest!
Listening to the national anthem and thinking about the race made me feel immensely proud, there has been a lot of travelling and hard work gone into trying to maximise my chances in the road race and without that support we couldn't have done so much.
Although it's me riding the races, I know I couldn't be in there without that support behind me and I am very lucky to have that in abundance and of course from the GB staff when I come back to the fold too.
This was the last major road event prior to London 2012 and with Paralympic tickets now on sale and a little over 11 months until we start racing, it will be quite likely I won't road race with most of the girls in our peloton until we get on the start line at the Games.
It's hard to believe the 2011 road season is now over, it hardly seems five minutes since I did my first road camp at Club La Santa, after the 2010 winter track season at the end of March, but I suppose that is over five months ago!
It has been a fantastic summer of racing, thanks to everyone who has pushed me all the way, next summer will be a combined season with the track so will need a different kind of balancing.
You can also keep up to date with the latest news from Sarah via her own website.