Post-Road Worlds has been a heady mix of chill-out time, some work with some of the Olympic and Paralympic sponsors as well as that all important first chance to ride the London Velodrome.
After just a day at home to catch up on things, (like washing kit!) I was straight down to London for meetings and appearances.
From the meeting there was time for a gym session before we headed off to the Women in Public Life Awards which were being held in an amazing top floor space by the Thames just near Westminster.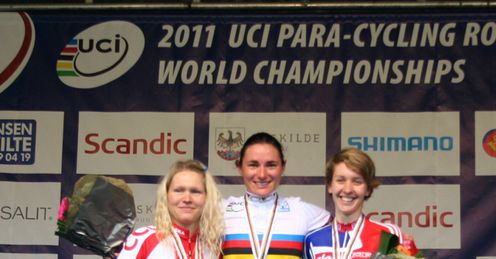 It was a superb evening, honouring the achievements of women in every public service from politics to charities and also provided some heart touching acceptance speeches. The woman who received her award from me has worked tirelessly in the Samaritans and in her speech she acknowledged all the people who supported her in her present role but said her main motivation for working for them was because they had helped her enormously when she really needed them and without that personal help she wouldn't have known what her future was.
Attending charity and business events and working with the Olympic and Paralympic sponsors has been an amazing experience for me. We often sit in our athlete bubble, whilst the business world sit in their business bubble and forget about the work that is going on in other walks of life. The obvious links between sport and business will always be there, but it's the personal interest and the unusual questions from an audience, as well as the banter that comes from the other cyclists in the room that made these events so much fun!
Growing in popularity
One thing I have noticed over the last four years, since starting to become more involved with corporate speaking and doing keynote addresses at conferences, there are cyclists in every room. Some are a very high standard and many are commuters and sportive challengers. I love the fact that our so called "rare breed" are actually in every office in every town and it is great to spend time chatting and being able to have some informal chat with people after the formal part of these events is over.
As athletes I think we are in a privileged position to be able to do sport at the highest level and to have the support behind us that allows us to train and race full time in search of gold. One of the most frequently asked questions at the end of my speech is, "what motivates you to keep working so hard?"
It's an answer that isn't hard to give, because I think apart from the motivation of standing on top of the rostrum and receiving a gold medal, I am also motivated by the fact I still have the gas in my legs to do what I am doing and above all I enjoy the journey of working out whether or not I can get faster. In the last 20 years of being of a Great Britain senior team athlete, I have learnt so much about how my body works, what it responds to, what gets it fit and how to rest and hopefully not over-train, but the exciting part is that I am still learning, there is still that fine balancing act and there is still so much to consider not least because there is a home Games round the corner.
Of course talking about the Home Games brings me nicely on to the subject of training on the London Velodrome!
New home
It was an opportunity the Para-Cycling team jumped at when the option of three days at the London track came up and an early chance to see how the track would ride compared to others we have competed on. The building was quite echoey without anyone in there and the track looked so clean! Since I was on a slightly easier week of training after the Road Worlds I didn't go mad on volume, but did some short fast efforts to get me keyed into the work I would do on the team pursuit line this past week. It certainly went well taking this approach, with me scoring personal best times on all my starts and getting some quick flying laps out of the old road legs!
The Olympic Park itself is rapidly coming together and to the side of the velodrome is the impressive looking village, who knows if we will get a view of the park from an apartment there! The site is due to be handed over to LOCOG in January and it's impressive to see just how much it has changed since we were last there for a visit in April. Parts of the park's landscaping have been completed and those areas really do look pristine. It is an impressive operation and one that I know we all can't wait to see completed!
For now though it has been back on the team pursuit line and a short build up to the Track Nationals this coming week. With just three days on the track with the other girls in our squad the focus was on speed and power on big gears and our first chance to see the benefits of the work we have all done over the summer. Fingers crossed now for some solid results at the Nationals!
You can also keep up to date with the latest news from Sarah via her own website.[www.teamstoreysport.co.uk]