The European champs went great for me and everything went a lot better than I expected it to. Saying that, I still don't like the track in Apeldoorn to be honest. It's just a hard track to ride. The air pressure is so high that it doesn't matter how hard you try the times are always rubbish!
But to win two gold medals out there was great. Winning the omnium was a real confidence boost as well. Last year I really didn't do well in them. But to do that and do some good times (because my times weren't actually too bad for that track) was great for me.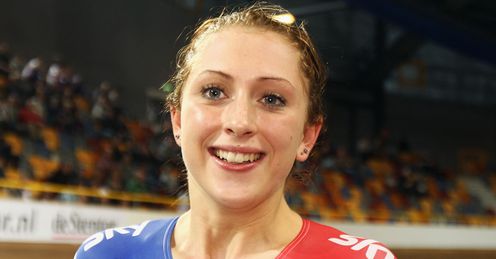 The 500m time trial was probably my favourite event because I did a PB - especially on that track as well. So that was my favourite but also the elimination because I've never won a group race before. It's just chaos. You can't control what's going to happen. You can be in the form of your life and still not win that race. Something stupid can always happen and there's not a lot you can do to prepare either. It's just a case of hit it and hope for the best.
There was pressure going into the final event because I was level on points. But I'm quite confident when it comes to the 500 TT anyway.
The girl I was up against Kirsten Wild isn't that great at them. So I thought I needed to have a false start and then a crash to not win or something like that. So I was quite confident going into it and it turned out well.
Progress
I'm competing against more experienced riders but it doesn't really worry me I just take it as it comes. At the end of the day I've made it there to ride and so have they so just because they have more experience it doesn't bother me much.
I was wearing a special 'potty' helmet during some of the omnium events. British Cycling think it's more aerodynamic than any other helmet so it's just to get tenths where you can really. It's a plastic coating which goes over the top but underneath it's just a normal helmet.
The team pursuit was a really good ride for us as I've never raced with Joanna Rowsell before. Obviously I've raced with Dani (King) but it was a new team going out there but we just had all the confidence in the world. We'd been training a lot together and we knew what we each other would do and what we could give to the team.
Obviously when you are on the front some people do longer turns and some people do shorter turns. But we trusted each other to get out if we knew we couldn't carry on and do any more on the front rather than slow it down.
Next up
I had a break of five days off the bike after the Euros. I actually got ill. Chris Hoy had a chest infection and I actually ended up catching that which was really annoying.
So I had a few days off and then I just got riding again. That was all at home down in London then I came back to Manchester and now we're training for the Cali World Cup in Colombia.
It's a small squad there's only three of us so if one of us gets ill we've just got to ride. It's okay because we're not really targeting it. I was going for the omnium anyway but with Wendy (Houvenaghel) and Sarah (Storey) on the plane we're just going to go for it in the team pursuit.
I think the Kiwis are going to hit it quite hard to be honest. I've just seen that they've done a three minute 19 seconds out at their Oceania Champs.
I think they could probably be our biggest rivals at the Olympics. If you look at the Manchester World Cup last season they would have been closer to the GB team had they not messed up. They hit a pad which caused their team to break apart so I think they probably will be our biggest rivals. But we can't control what other people do anyway so it really doesn't matter.
It's three hours to Madrid and then seven hours out to Cali on the flight! You can find out how I get on in my next blog.