Hi my name is Matt Crampton and I will be blogging for Sky Sports about life as a track cyclist in the build up to the London 2012 Games.
My season is just getting under way but to begin with let me introduce myself and how I first got into cycling.
It all began with me riding on a BMX doing tricks and playing around from around 11 or 12 years old. I used to work at a little bike shop and go in on Saturdays and help out and from there I got introduced to the track.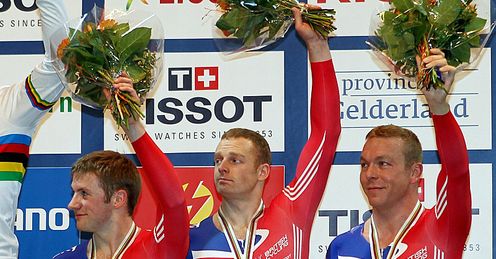 My dad was fit and one of the first things we did were tandem rides and also the Manchester Century which is a 100-mile event. After doing that and after having a few crashes on the BMX and realising I wasn't that good at it the track was just a nice progression. I took to it really well and it was nice and well organised with some like-minded people there. So it just took off when I was about 14.
As a youth I did the local track league. There was a Monday night league and there was a Friday night league when I was a little bit older. That was a range of events but mostly endurance. Scratch races, points races, handicaps, the devil - pretty much like the omnium now - those kind of events. I rode the national championships when I was 14 and then the juniors when I was 16.
When I got to the under-16 category they were all separate events - sprint, time trial, pursuit and points races. I seemed to do a bit better in the sprint from about 16 and I won the national title. I enjoyed it and I liked the training and the riding - it just seemed the most natural. I did a lot of road riding as well and I did a couple of road races but I struggled with them.
Olympic focus
So now in 2011 my events leading into an Olympic year are the sprint, the keirin and the team sprint. The keirin is such a popular event and I think that is down to the fact that it's very explosive and exciting. We follow the derny bike around and I think that gives it a bit of tension and atmosphere. There's a few laps jostling around for position and it gets faster, then it catapults you off and all hell breaks loose! It's a short race and we only sprint for a couple of laps so I think it's easy to follow and definitely an exciting event.
It's great to train alongside the likes of Sir Chris Hoy. You can see the format and what it takes to be the best. It can be challenging at times because the level is that high. But then to be the best you have to become the best and to win everything. So it's really good to see Chris and Vicky Pendleton as it grounds you every time. You don't get too excited if you are going fast and doing a good time, you don't get over-confident or anything like that. You can see exactly what it takes so we are privileged to have such great athletes.
There are not many places for the Olympics and there are a lot of selection dilemmas and things like that. You just don't know. You don't know whether a young athlete is going to come through, suddenly they find out what works well for them and they start going really well. It's just how it slots together really but it is a tough environment. Obviously you want to be there yourself and you've got to keep checking yourself to make sure you're doing everything right and making the most of your opportunities.
When it comes to the team sprint I'm looking to be man three so I do the last leg. That's usually where I go and should be where I fit in. You've got your man one who is the fastest starter; he gets it going and brings it up to speed, then number two is the fastest one who brings it up to that peak speed. Then it's the third man's job to hold onto it. You don't find the third man adds any speed just because the rate is already so high. But it's just all about holding it together.
Nationals
The first race back on the track for me was the National Track Championships in Manchester at the beginning of October. They went okay but I'm a bit disappointed as well. I don't think I did too well in the sprint to take fifth. Then the keirin is a lottery. I picked my moment and went a little too early and I can see my flaws in that.
The team sprint was good but I only got to ride the first round. I've been on the podium for that event every year since I joined the senior ranks and pretty much the same with the sprint as well so to be outside of it is a little bit disappointing. But that just puts a bit of fire in you to come back and do better.
Also I know everyone says it a lot, but I'm still working through a little bit at the nationals to get stronger for the season where as some of the younger lads were coming at it a bit fresher. It gives it an interesting dynamic really and it's good to see it getting mixed around. It's good to have a shuffle up as it gives everybody a chance.
The season is under way now and I'm riding the European Championships in Holland in a couple of weeks' time. I'm just doing the team sprint there and possibly the keirin, then hopefully the same at the first World Cup in Kazakhstan.
It's an important winter and I will let you know how I get on in my next blog.