Winning gold in the keirin at the Euros was a really good result and I was very happy with my ride. It shows a good bit of progress and it was a nice little reward for the last few years. I felt quite good going into the final lap. I knew when I wanted to go so I jumped and went as hard as I could. Nobody came and blocked me really so I just had a clear run. But it was a long, long ride and I could feel everyone breathing down on me. I was thinking 'they're coming, they're coming' but I just had enough to hang on. It was a bit weird as I didn't want to be on the front for that length of time and I didn't think I'd win like that. But it was a great feeling.
It's really important to show you can deal with it all and get up there and perform. I've been doing it for a while and it's my first individual medal at a senior level so it's great.
The team sprint didn't go to plan as there was something wrong with the gate and we didn't qualify for a medal. Man one really hadn't been set in the gate properly so when he came out he lost his balance and spun the wheel. So that was it really. We've had a really good run at the team sprint and we've always been in the top four no problem. But in the Olympics with just the top five nations going in Europe the places are becoming really precious. The Russians, the Polish and the Dutch have really stepped up. So one mistake like that and that's it, your race is finished - so it was frustrating.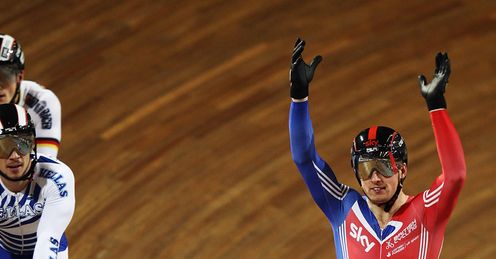 And in Kazakhstan in Astana I was watching the guys as it was Jason Queally who did the ride in my place. We didn't qualify there either. That was quite a clean ride but again the other nations have really stepped up. It was tough to sit there and watch and then after so many years, to come away with nothing from those two races.
Sprint rivalry
I think the French are the favourites for the team sprint really you have to say. The Germans have come through too. I think we're in a good place there's just a couple of things and little niggles we need to get right. Hopefully we'll be in the right place and we'll all be going that bit better too. We always talk about the process and training through things.
We don't come in under prepared but we're always looking at the World Championships as being the end where you are absolutely at your best. We're all still doing lots of strength training. It's not an excuse for the Euros as everyone is stepping up and we can't leave anything to chance or leave anything on the table. We have to give everything to win and even to just place and get a result.
The sprint guys are always at the track. All the coaches and everybody are there and we have all the monitoring equipment, SRM data loggers and the bikes and every aspect is timed. We don't really need to have a boot camp like the endurance guys are in at the moment as we are always under scrutiny. But we do have various training camps.
Chris (Hoy), Jason (Kenny) and Ross (Edgar) have gone out to Perth. I've been to Perth every year since I've been on the programme but I felt like I wanted to stay here this year. I've changed a few things in my strength training and it's suited me more to stay here. We've got the dietician in Manchester and I see him every three/four weeks. We have two coaches in the gym and we see them three times a week doing strength work. So we're really stepping up and there's a lot going on.
Out in Kazakhstan it was chilly but the weather wasn't really a problem. The hotel was quite nice but I think we were probably out there a bit too long. You have a window when you get somewhere; you can't really train a lot when you get to a new place as you use that to rest up and be fresh.
Luggage
We were there a long time as they were worried about the luggage. There were only three flights coming in a week so if our luggage didn't turn up it wouldn't arrive until the Wednesday with racing starting on the Friday. So it was a logistics thing but luckily everything turned up safe and sound unlike Colombia last year.
The food was the worst thing. All but four or five nations were in our hotel so it was very busy with riders. They couldn't really keep that volume of food warm for long enough and things like that knock you a bit after four or five days. On top of that you're getting a bit tired and you start to get the butterflies in your stomach nearer the racing so it can throw you off a bit. But the support there and the track itself was really nice.
The team sprint was difficult as I didn't get the ride there. I would have really liked to see what I could have done against my competitors like the German man three and the Australians. Just to compare and see where you're at and make sure you are on the right track.
Then I rode the sprint and I got beaten by Chris in the quarter-finals. So that was disappointing but to get beaten by Chris wasn't the worst thing. He's certainly one of the toughest guys. Especially as team-mates you know your strengths and weaknesses. He rode it better than me so it's back to the drawing board.
Now I'm working towards the World Cup in February in London so there's a lot of training now. I'll also be riding the Revolution racing series. So there's a couple in January which I'll probably do and just lots of training. I've gone back to doing a lot of strength work, top speed and keirin drills so lots of hard yards until Christmas!