This really is a case of welcome to the Champions League for Manchester City.
Their debut two weeks ago against Napoli was something of a baptism in itself, but a trip to the Allianz Arena to take on one of the powerhouses of European football is something else altogether.
Bayern are buzzing right now as well. They are top of the Bundesliga, they have won nine in a row and not conceded a goal in and scored 26 in the process, so they are an attacking force to be reckoned with.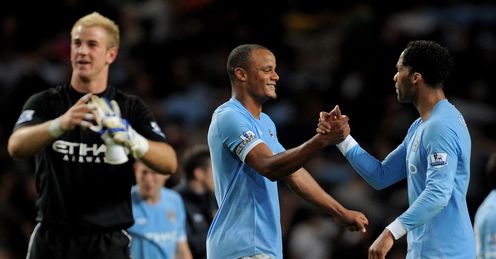 And I do have one slight concern about City this season, it is that they can be vulnerable defensively. They were 2-0 up and cruising against Fulham yet let in two to draw the game and away from home certainly, they will have to be very careful in the Champions League.
It is all new to them as well. The Napoli game was a tough opener because that will have been the first time they had come across a team playing three at the back and if I'm honest, they didn't exactly cover themselves in glory. They got a bit of stick, but to be fair, that goes with the territory.
When you go to play the big European sides like Bayern, there are going to be periods of the game when you need to defend and defend stoically. Mancini might have let the shackles off a bit in the Premier League this season but I think his first plan on Tuesday night is to make sure they give nothing away, especially early on.
Ray Wilkins
Quotes of the week
When you have the ability to go out and buy the top players, people are going to expect them to win every game they play in. It is something Roberto Mancini is used to now, I'm sure, but it doesn't make life any easier for them.
I actually think we might see more of the Manchester City of last season on Tuesday night, too. The first thing they will need to be is rock-solid in defence. They will have Arjen Robben flying at them down the right-hand side, Franck Ribery coming at them from deep, Thomas Muller to contend with and, although he is not everyone's cup of tea, the lad up front Mario Gomez does know where the goals are.
When you go to play the big European sides like Bayern, there are going to be periods of the game when you need to defend and defend stoically.
Mancini might have let the shackles off a bit in the Premier League this season but I think his first plan on Tuesday night is to make sure they give nothing away, especially early on. Yes, they do have some wonderful attacking players in their side, but I would imagine they will approach this with some caution.
It will be interesting to see if Nigel de Jong is fit and if he comes straight in. I think he is one of the outstanding holding midfielders in Europe right now and he is a huge player for them and certainly one you would like in your side away at Bayern Munich. It would be a gamble but Roberto knows that Yaya Toure or Gareth Barry can do a fine job in there.
The one player who has to start for Manchester City is David Silva. The lad has been simply magnificent this season, his pass for James Milner's goal on Saturday was simply exquisite. He is the one must in their line-up, then ahead of him it's what Mancini decides is best.
He went with Sergio Aguero and Edin Dzeko against Napoli and to be honest, I wouldn't look too far past those two again. Dzeko might find himself as a lone striker from time to time because Aguero can play off the front man and does have the ability to drop back and make it five across the midfield. But as I say, I don't think that will be Roberto's biggest concern; he will set them out to be solid and anything they can get going forward will be a bonus.
Whoever is in that midfield, they will need to retain possession and retain it well. We always talk about silencing the crowd away from home in Europe and that is what City will have to do on Tuesday. The Allianz Arena is one heck of a stadium, one big bowl of noise and they will be right up for this.
Bayern are in fine form, too. They dismantled Bayer Leverkusen 3-0 at the weekend and don't forget that for long periods of the game, Leverkusen dominated Chelsea at Stamford Bridge, so that shows you just what they are up against. City cannot afford to let them get on the front foot because then, with that crowd jumping, it will make what is already a tough task, even harder. If they can keep the ball and quieten them down, it will be a fantastic platform to build on.
RAY SAYS: It is really is an intriguing game and the one I am looking forward to the most this week. I do think City are more than capable of getting a draw too. I am sure Roberto would be thrilled with a point away to Bayern Munich, but he will know after this, they really need to start picking up some wins. They are in a tough group, along with Napoli and Villarreal, the toughest group in the competition if you ask me and the minimum they are going to need to get through is 10 points. One would be nice here.
Manchester United v FC Basel
This really should take care of itself for Manchester United.
Sir Alex Ferguson will be a tad disappointed they couldn't quite pull off the win against Benfica in Portugal, but they are still flying this season and look like a side full of confidence.
They are seasoned campaigners in the Champions League as well and are more than used to dealing with the likes of Basel, who might well come to Old Trafford to make life difficult for the opposition.
But even without Wayne Rooney and Javier Hernandez, United have so many options going forward. All those young men that done so well this season have impressed me, but the one who has really caught my eye is Ashley Young.
It's never easy when you move to a club of the sheer size of Manchester United, where the expectations are always high, but he has raised his game and his level of performance immediately. His consistency has been marvellous and he seems to me to have just the right psyche needed to play for a big club.
He will be loving the Champions League as well and this is the sort of game where those young players will get a taste of just what it's like to play for Manchester United.
Whether David de Gea is one of those young men, remains to be seen. In Benfica Sir Alex went with Anders Lindegaard in goal, but de Gea made a couple of outstanding saves against Stoke and looks to be settling in game by game.
But you never know with Sir Alex. He might well decide that de Gea is his Premier League goalkeeper and let Lindegaard loose in the Champions League. He certainly looked the part in Benfica and made a couple of vital saves himself.
RAY SAYS:Whoever gets the nod in goal, I can't see them having too much work to do. Basel might make it difficult for the first hour or so, but you have to expect Manchester United's class and confidence to break them down in the end.