When the whole Carlos Tevez affair unfolded in Munich I was a little bit worried for Roberto Mancini.
When situations like that involve a high-profile - and highly-paid - player, you do worry which stance the club are going to take. Suddenly it becomes a Me v Him scenario and in this day and age, you are never sure who is going to come out on top.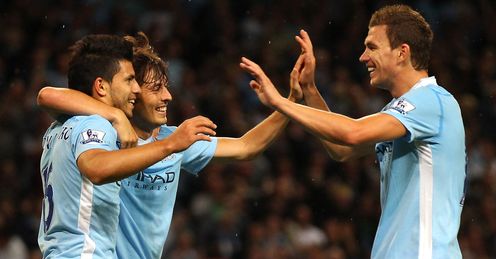 I am delighted to say though, that Manchester City have backed Mancini to the hilt. And were 100 per cent right to do so. I have never known anything like it in all my years in football and have certainly never seen anything like it as a player or coach.
It wasn't the best thing for football and it certainly wasn't the best thing for footballers. And it wasn't ideal for a Manchester City who, if I'm being honest, are yet to quite get to grips with the Champions League.
LIVE ON SKY SPORTS
Man City v Villarreal
7.00pm, Tues, Sky Sports HD2
Also available in 3D
FC Galati v Man Utd
7.30pm, Tues, Sky Sports HD4
Watch on the
Events Centre
Watch on the move with
Sky Go
How to
remote record
They have a remarkably tough group it must be said, especially when Villarreal are the weakest side. They may not be the same Villarreal team we have seen do so well down the years, but they will be no pushovers and although they are at the wrong end of La Liga, they picked up a decent result away at Getafe at the weekend.
But we all have such high expectations form City in this tournament, that they should be getting out of this group. It is not expecting too much either; City have, to a certain degree, brought it on themselves being able to buy pretty much who they want and pay them what they want. And the players they have got should be more than comfortable in the Champions League.
Yes, as a club they are new to this, but we are talking about 22 full internationals here who play at the highest level. They have all got bundles of experience individually and with the quality they have got at their disposal, a point from their first two games isn't good enough.
They need to be looking at back-to-back wins against Villarreal if they are to make it out of the group. I think Bayern and Napoli will do just that, so if they are to have any hope, City need to get six points from these next two games. They also need to silence their doubters, set themselves a standard going forward in this competition.
Because of that, I would expect Roberto to go back to what appears to be his Champions League preference up front of Sergio Aguero and Edin Dzeko. Young Mario Balotelli has come in since the Tevez affair and done marvellously and as a result, City have put it behind them and just rattled off the results to make sure we've all had something else to talk about.
Of course, they play Manchester United in a massive game on Sunday, so Roberto will want this won and won early. I would expect City to make a fast start and I have a feeling we will see Dzeko up top with Aguero and David Silva flitting around him as they do so well.
Villarreal will know all about those two, but stopping them will be a different story. Marcos Senna would've been the man to sit in there and take care of Silva but although he played on Saturday, he picked up an injury that will keep him out of this. Take him away and you are looking at Giuseppe Rossi as the main man for Villarreal, but it is hard to see him having any joy against Vincent Kompany and co.
He might though, spend a lot of time spectating if City get this right. They need to win first and foremost and the sooner the better. I do think it will turn out to be quite a comfortable win in the end but if they can get a decent lead early on, Roberto can start thinking about resting players for the derby on Sunday. And I am sure this time the players he brings on, will be right up for it.
FC Galati v Manchester United
I think everybody was shocked what happened to Manchester United against Basel last time out.
The 3-3 draw was a real coupon-buster, especially as they were 2-0 up. We all thought they would run away with it and Basel actually could've got even more out of the game. But that typical Manchester United never-say-die attitude came to the fore again and they got away with a point from what they will see as a poor performance.
I notice Sir Alex Ferguson has called it a 'wake-up call' and that can only spell bad news for Galati. I can't see United being that sloppy again and as if playing one of the strongest sides in Europe was not enough of a test for the Romanians, they will be up against a team determined to get back to winning ways.
I would expect them to have to contend with Wayne Rooney as well. I think he will come straight back into the starting side, especially as this is away from home. I have to admit I was a touch surprised to see him on the bench at Anfield, but Sir Alex obviously felt he wasn't right.
When he did come on though, we saw drop straight into that role, picking things up in midfield and trying to set attacks going. It turned out his biggest contribution was clearing a header off the line, but I would expect Wayne, now last week is behind him, to be raring to go again.
I also think Javier Hernandez has to be in contention for a start. He is proving himself to be a goalscorer extraordinaire, a magnet for the ball in the box. His mobility and movement is enough to worry Premier League defences so, with all due respect, it's hard to see Galati coping with him. In fact the sort of quality United have is something they just won't be used to facing every week in their league football.
I'll be honest, I don't know too much about them or their ground but I would imagine the biggest danger for United might be the playing surface. And if it is a problem for them, it will be an enormous worry for Galati.
Even leaving Rio Ferdinand at home won't make a difference. United's back-four has chopped and changed constantly this season but as long as one of Rio or Nemanja Vidic is there, it's not a problem.
And you have to say the young men that have filled in - be it Phil Jones, Chris Smalling or Johnny Evans - have done tremendously well.
Comments (5)
Mike Smith (Manchester United fan) says...
i think both manchester clubs will go thru to the next round and it will be a draw between them the weekend. man city have done fantastic the last couple of seasons but it will take decades to match the trophy cabinet of united. i would love the champions league final to be man utd v man city,time to bring that cup back to england,loving this season :)
Posted 16:25 18th October 2011
Glen Berry (Manchester City fan) says...
Just a note to Mr Cuddy, in my opinion that's rich coming from a Utd fan, Chelsea buying success, who were the one's who broke the British transfer records, with the likes of, Stam, Van Nistleroy, Ferdinand, and Rooney. I don't begrudge united's success. But they've done a lot of spending themselves. Fair enough not as quickly as us, but things may have been different if they was bought out by a multi-billionaire.
Posted 14:08 18th October 2011
Brendan Cosgrave (Aston Villa fan) says...
As a long life Villa fan I think its time to split the league in two. Its seems pointless paying for a season ticket for the minor team when there's no chance of winning even goal of the season. Once Man utd and City have browsed through Villa Park withe their shopping baskets again hand picking players they don't even need were left with a team that looks like the aftermath of serious shark attack. Its fanastic for their fans but very soon they will have no serious competions to play against. Even on Saturday I felt the Man city fans were bored,thats why we need the split. Arsenal,Spurs,Man.City,Man Utd, Liverpool, Chelsea and the teams that finish 7th and 8th, Hopefully not Villa
Posted 08:01 18th October 2011
Mathias Chingwalu (Ipswich Town fan) says...
I like to wish Manchester United all the best during today"s game,my advice to sir Alex Ferguson is that he and our mighty players should concentrate on this game by fielding the best Man U squad currently at his disposal,yes try the very best ! Don't think about the forthcoming game against Manchester city,tomorrow will surely take care of itself. My prediction is 2-0 to man u.
Posted 07:42 18th October 2011
Wes Cuddy (Manchester United fan) says...
United 2 City 1 Look at Chelsea they couldn't buy the champions league, take note City fans, you can always buy success, just ask Chelsea
Posted 18:11 17th October 2011