Wednesday night's visit of Genk looks like a formality for Chelsea - and the perfect game to give Fernando Torres a run-out.
Let's be honest - you would expect the Blues to beat the Belgian side every day of the week. They seem to be struggling in their domestic league and lost 3-1 to Lokeren at the weekend, so maybe the Champions League is already taking its toll on their squad.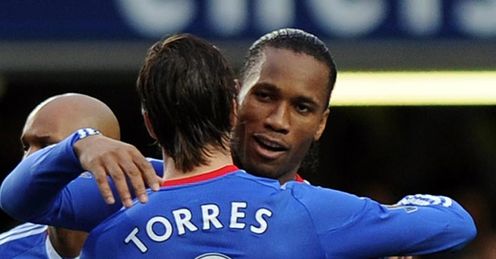 Torres is of course serving a three-match ban domestically and with the international break in the middle of that, that means a long time without club football.
I wouldn't be at all surprised if Andre Villas-Boas started with him on Wednesday, just because he needs to stay sharp. He was just starting to show his true form and let's be honest, any side with Fernando in, is going to be better.
It wouldn't surprise me to see both Drogba and Torres face Genk because it seems that under Andre Villas-Boas, Chelsea are a little more attack-minded.
Ray Wilkins
Quotes of the week
What that means to the Chelsea line-up remains to be seen, but there is no reason why Torres and Didier Drogba can't hit it off. I didn't see much of the game against Everton on Saturday, but people have told me Didier might not have been at its best.
Dedicated
Well I can tell you first hand no-one wants Chelsea to succeed in the Champions League more than he does. This guy is not only a lovely human being, but one of the most dedicated professionals I have seen. I thoroughly enjoyed working with him and can tell you all first-hand, he is one of those you have to drag off the training pitch; he was always staying behind, practising his finishing or dead-ball striking.
People say he sulks and gets distracted, but to me that's a load of nonsense. He might get the hump from time to time, but don't we all? And there's nothing wrong with getting upset, providing it's for the right reason.
It wouldn't surprise me to see them both face Genk because it seems that under Villas-Boas, Chelsea are a little more attack-minded. I wouldn't say he has made too many major changes and the personnel is largely the same, but there might just be a little more energy about them this year.
One of the big differences of course is Juan Mata. Much like David Silva at Manchester City, he is a wonderful little player to watch and the pace at which he plays his passes into people is just a joy to behold. It's no surprise he and Torres have linked up well, but I would argue that all Fernando needed was someone to pass the ball to him, because it's not that simple.
You cannot tell me that Frank Lampard, John Obi Mikel and Michael Essien cannot pick a pass; it's just that when Mata drifts in from the left to make the play, he is Chelsea's most advanced midfielder so only has one line of players to pick his way through - the backline.
Contain
Chelsea might need him to unlock a Genk side whose best bet of success in this group is going to be on their own patch. They are likely to come and contain and hope they can pick something up in the return in Belgium in two weeks' time.
But that is going to be a tall order. In fact any team in the Champions League is going to find it a big ask getting anything from Stamford Bridge. It is something Chelsea seem to have locked down in this competition and the way they beat Everton, who have a history of causing them problems, suggests they are bang in form.
I know everyone is talking about the Manchester clubs in the Premier League, but Chelsea will be quite happy going under the radar. With Ramirez now settled well into the midfield, Torres proving last season was just one of those off periods all players have, and Mata pulling the strings, they might just have something special going on at my old club.
I can't see Genk living with them. Chelsea have too many goals in their side, too many attacking options. I think they will win this one fairly comfortably.
Comments (17)
Emmanuel Smarth (Chelsea fan) says...
wilkins, i love your site too. i believe Chelsea are going to get a good run today. let see may be if we give Torres a chance he can perform, but i believe is doing just great, i can wait to watch that match.
Posted 13:18 19th October 2011
Aderoju Kayode (Chelsea fan) says...
AVB should try his best to take CHELSEA to another higher level of football.
Posted 12:12 19th October 2011
Richard Chambers (Chelsea fan) says...
Spot on Ray, Chelsea have definitely become more attacking minded and this is just the sort of game to play Torres alongside Drogba. Whilst this is an important game for Nando to stay sharp, Drogba also needs the goals and looking at tonight's opposition I can't see why we can't play the two in a 4-4-2 formation with Mata and Malouda/Sturridge on the flanks with Meireles and Lampard in the center. I'm so happy we didn't fork out £40million on Modric and instead signed a classy playmaker in Juan Mata who for £23 million represents better value for money and is the player Chelsea have lacked since Arjen Robben.
Posted 09:32 19th October 2011
Morris Muriithi (Chelsea fan) says...
Well said Ray, I concur. Hope Torres still has the momentum he had built before the 3 match ban took effect.
Posted 07:17 19th October 2011
Shola Abdul (Manchester United fan) says...
Am a ManUtd Fan and i say things the way i see them. To me Fernando Torres plays excellently and i wish he plays for ManUtd. Torres as prove is worth, just that he still needs time but am sure sooner or later is going to be a threat to EPL defenders.................... He should start tonight's game
Posted 07:12 19th October 2011
Rupert Knight (Chelsea fan) says...
i think chelsea should starts josh i dnt think heis getting enought game time the kid is a star and i think its time for him to shine tomorrows line up should be joseB-luiz-terry-cole-mikel-josh-lampard-mata-torres-sturridge
Posted 00:32 19th October 2011
Yash Smith (Liverpool fan) says...
i think chelsea need torres to fire on all cylinders if they are to have a chance of winning the league. almost like 2-3 years ago at liverpool, where torres & gerrard pretty much ran the entire show & liverpool got close in the end. i think something similar has to happen between mata and torres this season, with a bit of help from sturridge. if the manager can get all 3 to fire at the same time, chelsea will be extremely extremely dangerous
Posted 22:54 18th October 2011
Just Truth (Chelsea fan) says...
Great article Ray, can tell your still a blue. I agree that torres should be given the go ahead to start, maybe lukaku aswel to try blend him into the squad, because lets be honest whoever we put out we can be confident of atleast getting a point from this game. this would be a good game to get silent and new players to blend in. as far as it goes for AVB and his changes, its fair to say not many changes have been made but you can see the changes he has made and give him a couple more season im positive we will see a whole new free scoring chelsea squad because thats what AVB is about, as he says he likes the players to play with freedom and creativity and he knows the premier league is all about that. i actually believe that in a couple more seasons he will break barcas dynasty and create his own. go blues!!!
Posted 22:41 18th October 2011
Adesola Gbenga (Chelsea fan) says...
Nice one MR, RAY. But my major head ache is Jose Bosingwa i never enjoy his style of play. He should be starting from the bench. I prefer combination of JT & IVANOVIC, ASHLEY on the left as usuasl then LUIZ on the right bcos he combine defence & attack very well. On like JOSE whom will attack and never return to defence on time.
Posted 20:27 18th October 2011
K Patrick (Chelsea fan) says...
This is 100% right. Blues for ever! We hope to ride at the head of this group!
Posted 15:56 18th October 2011
Steve Wright (Chelsea fan) says...
i personally dont see any change under avb,from ancelotti or managers before him,not since 2005 have we had a top notch wing pairing of robben and duff.we are lop sided and have been for years.anelka,sturridge and kalou are and never have been wingers.ive seen all games this season and ive got to say weve played at true potential about 15 minutes of each game on average and are still thrid in the league without getting out of first gear,which proves this is the poorest premier league in years. i thought last year was bad enough and i dont see any changes in an attacking eliment.in my opinion luiz should start in front of the back four,cause defender he aint going forward he's brilliant.sturridge should be in the area with torres or drogba,and we ened a right sided top class winger before im convinced.15 million on a manager who we had for nothing 5 years ago.surely his potential shouldve been noticed then.and we couldve spent the money we'd saved towards ribberys transfer fee.ps i agree with the other posts,ray your still and will always be a chelsea legend.i still remember you and your brother in the 70's,and we'd of won the league if youd of stayed.
Posted 15:43 18th October 2011
Lucas Daniels (Chelsea fan) says...
I believe Nando will get the start vs Genk. He definitely should, he hasn't played for Chelsea since Valencia, and wont play for them again until the end of the month vs Arsenal. This could very well be a comfortable game for him to get back to his very best. I expect Drogba to sit on the bench for this one, along with Sturridge. Both should be rested and guys like Nico and Malouda should see the field more when they can. Sturridge has been in sizzling form and you want to ride that momentum but resting him is a smart move ahead of the derby at QPR this weekend. I also expect Luiz to spell either Ivanovic or Terry and Meireles to take the spot of the injured Ramires. Eitherway, should be a great atmosphere at the bridge. KTBFFH!
Posted 14:43 18th October 2011
Jake Grice (Chelsea fan) says...
Dunno what happened with you and Chelsea, Ray. But it was a sad day when you left our club. Loving your views as a pundit and commentator and also your current inside knowledge into the prem which most pundits don't have from being out of the game for so long. Keep up the good work and do us blues proud son.
Posted 14:38 18th October 2011
Jason Davies (Chelsea fan) says...
All good points Ray - I have no worries about this one. Genk are a terrible team and an example of why no one really cares about the group stage. Fancy Torres to score as he was playing very well before his suspension. Come on the chels!
Posted 14:00 18th October 2011
Theo Greece (Chelsea fan) says...
Well said, Ray, though I can't see Torres and Dogs both on the pitch unless the circumstances demand it. Torres' rejuvenation has a lot to do with Mata, no matter if AVB suggests the opposite. Mata's clinical passing game and seer pace through the left flank and the middle is what sparked the life out of Torres. Lamps, Malouda, Anelka and Mikel never played with the Spaniard the way he wants and we saw the results until Mata's arrival. Sturridge will also try and play that way and I'm sure we'll see the best out of Torres in the next months.
Posted 13:56 18th October 2011
Adefola Eniola (Chelsea fan) says...
I think chelsea has realy improve under AVB,and i hope it contineus like that.UP BLUES
Posted 12:47 18th October 2011
Shiloh Dimkpa (Chelsea fan) says...
Ray love your page, well i believe Chelsea will win the games against Genk too, I would love to watch that young lad we were linked with during the summer.
Posted 12:40 18th October 2011