Adrian Lewis is the best darts player in the world right now and there's no question he can go as far as he wants.
When he said he was the best player in the world he wasn't being big-headed; he was simply stating what he believed. I like to see that because it shows a person has confidence in his own ability - and if you have that belief you will play better.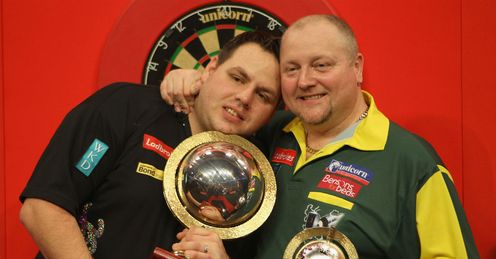 Wayne Mardle said on television that Lewis won't win 10 World Championships, but I believe he can, largely because he's got the obstacle of Phil Taylor out of his head.
I know he didn't have to beat The Power to win either of his world titles, but that doesn't matter. There's an old saying in golf that there's no room for comment on a scorecard and that applies here as well. You have to recognise Lewis as a true and worthy world champion.
You also have to remember the Premier League is not a darts tournament; it's a show. Barry Hearn does not hide the fact that we make a lot of money from it, so we need showmen who are also able to throw darts.
Rod Harrington
Quotes of the week
I spoke to Phil on the day after the World Final and he was quiet and subdued, but he assured me he'll be back - and I know he will. But Lewis deserves all the credit and it doesn't matter that he didn't beat Taylor.
To be fair, Aidy didn't play too well last year and missed the Players Championship. I think that woke him up and I expect him to have a great 2012, so it was fitting that he started off by winning the Worlds.
It was obvious he wasn't at the top of his game, but he did the right things at the right time. I've often said great players do great things at crucial times and that's what Aidy did.
In the first round against Nigel Heydon he looked dead and buried, but he didn't panic. He believed his ability would get him through and he won a game that he might have lost a few years ago.
He now believes: "I'll get on a run in a minute and nobody will be able to touch me" and when you've got that in your head, you can win from anywhere.
His back was against the wall against Robert Thornton, but he dodged the bullets and then there was that amazing comeback against James Wade in the semis. He was 5-1 down and Wade should never have given that game up, but Lewis put his foot on the pedal, upped his scoring and won the game.
Lewis was the man of the tournament, but this World Championship was also the making of runner-up Andy Hamilton.
He'd lost a bit of belief in his ability and has been unlucky in the last couple of years, but he's worked hard and I was so pleased that the PDC have been able to reward him with a place in the Premier League.
His manager Jess Harding came up to me at the PDC Awards dinner and gave me a big hug (and, as a former champion boxer, he's capable of breaking bones in an old guy like me...) because I'd advised him to manage Hamilton.
I'd told him he was a good, solid professional who just needed a bit of luck - and now he's a world finalist and a Premier League player! I'm really pleased for him.
Premier League picks
It was tough to choose the Premier League wildcards because there were eight or nine names in the mix to join Phil Taylor, Adrian Lewis, James Wade and Gary Anderson.
We chose Hamilton following his World Championship performance and we also went for Simon Whitlock for his ability and his presence on stage. The crowd love him and his run to the semi-finals of the World Championship got him in.
We selected Kevin Painter for winning a major, which not many people have done over the last five years with Taylor, Wade and Lewis around. Also, he was seventh in the rankings a few years ago but lost the slot to Mark Dudbridge, who'd come second in the World Matchplay and the World Championship.
A lot of people will say he got in because he and I go back 25 years, but that's absolute rubbish. As I told him, the whole board voted for him and after discussing it for an hour it was a unanimous decision.
Raymond van Barneveld may have had real doubts over getting in because of the way he performed last year, but he has real presence on stage and the crowd love him. He gets the fans motivated and we gave him a slot.
However, like Wayne Mardle and Peter Manley in their last few years in the Premier League, you can't hang your coat on a walk-on. You've got to get on the stage and do it because the crowd will be dulled if you don't perform with the darts.
I hope Raymond takes up my offer of working with him for a couple of days. If not, it doesn't matter, but I want to see him back to form in the Premier League.
Missing out
The only person who could really complain about missing out is Wes Newton and I feel sorry for him because he's a lovely young man.
He's sixth in the world rankings and will feel he should be there, but he's got plenty of years ahead of him and he will be back. If he's in the top eight next year there's a massive chance he'll get in because you don't normally get overlooked twice.
A lot of the decisions went on the performances at the World Championship. Paul Nicholson was in the mix, but if you're going to react to a crowd of 3,000 people at Alexandra Palace, what are you going to do in front of 10,000 in the Premier League? Mervyn King soon found out that crowds can turn against you and ruin your form.
Mark Webster and Terry Jenkins were talked about and Dave Chisnall's name was in the mix after beating Phil Taylor at the World Championship, but he played terrible darts the next day.
Everybody got discussed and the wildcards are always a difficult decision. You put a smile on the face of some players, but others resent you for leaving them out. I get that more than anyone else because I'm on the PDC Board of Directors, but I also work with the players day in, day out.
I know players think we hold grudges, but that's not true. If that had been the case then Terry Jenkins wouldn't have got in last year because I had some big arguments with him over his attitude before the World Championship.
You also have to remember the Premier League is not a darts tournament; it's a show. Barry Hearn does not hide the fact that we make a lot of money from it, so we need showmen who are also able to throw darts.
The PDC has to make commercial decisions to put more money in the prize pot. The prize money for the Tour currently stands at £5million and we want to get that up to £6m very shortly - and we can only do that through commercial means.
In the end we want to get that up to £10m and that's Barry's main aim. People say he's only in it for the money, but that's not true; he's in it because he loves this game and wants to see it grow.
In Tuesday's board meeting he had the casting vote and he decided to put the Premier League prize money up this year - and I know that once we get to £10million he will sit back in his chair with a huge smile on his face.
If it was left to the players we would probably only have £1m in the pot, so to get the money up we have to tread on people's toes. I'll get stick for that, but I'm big enough and ugly enough to take it.
And I'm delighted Hamilton and Painter have been given the chance to make their debuts. They have great presence on stage and I think they'll do really well.
Comments (21)
Ben Mcmahon says...
How can barney be picked ahead of Chisnall on the basis that Chisnall played bad darts at the Ally Pally 3rd round? Chisnall defeated Taylor, granted he did go out 3rd round which isn't that good but Barney went out first round, got whitewashed, and was against an unknown, inexperienced qualifier? If you claim the premier league is a show then why include Andy Hamilton? Unattractive throw, sloppy, just an above average player at the end of the day. I understand he got to the final of the Worlds, but if that's how he got in then why didn't Kirk Shepherd get in the Premier League in 08?!! Ideal line up : Taylor Lewis Anderson Wade Whitlock Newton Painter Van der Voort/Nicholson/Chisnall
Posted 13:21 24th January 2012
Mitchell Woodham says...
I Think this is going to be the best premier league ever but if barney does not perform in this one i can see him slipping down out of the top 32 then out of the top 50 But Barney needs to believe in himself why doesn't he just rent a house in england with his family and then he might win it but good luck to taylor lewis wade anderson whitlock hamilton painter barney
Posted 17:34 18th January 2012
Nige Gooding says...
Agree with Andrew. As much as i like Hamilton I can't see him getting very far, o.k he got to the final this year but so did Kirk Shepherd a few years ago but would anyone have had him in the p.l. Plus i can't see Painter bringing anything to it. Would have like to see Nicholson and webster, webster because i think he can go further than hamilton and painter and nicholson with the crowd and they say the crowd would affect his darts but i recall King getting to one of the finals
Posted 16:21 17th January 2012
Neil Parkin says...
I think this year could be the worst premier league ever due to three of the four wildcard picks,Barneveld is way past his best and Hamilton and Painter have no charisma whatsoever for what is supposed to be a show,I think Newton and Nicholson should have had a place and if you wanted a real show bring on Hankey
Posted 10:00 17th January 2012
Andrew Rhodes says...
Personally i think this years Premier League will be the worst one ever. Barney isnt the same player (but instood why hes still in), Hamilton and Painter are boring players Would have picked Nicholson and Newton Hope i am wrong,and its a great tournament As i love my darts
Posted 16:10 12th January 2012
Jamie Pearce says...
Great article Rod, i have to disagree with a couple things though, ive been to the newcaslte leg of the PL the last 2 years and its a awesome show/atmosphere, and yes barney does get the crowd going, but when the darts are not up to standard like barney has been throwing recently the crowd will soon turn on him (case in point taylor v chisnall world champs the crowd cheered chisnall because he was winning and throwing good darts, taylors reputation and crowd pleasing ability didnt matter) as a north east lad would loved to have seen nicholson in the PL to watch the crowds reaction to him. I dont think the geordies reaction to him would be as bad as people made out. walk out with a newcastle top and the crowd are yours. not sure about hamilton as he has always been a good player not a fantastic player and have to say in my opinion he isnt an entertainer. Would liked to have seen bully in this year as well as he didnt play to bad in the world champs. PL should be characters like mardle and manley not players like hamilton painter who are better players but not showmen and as everyone has said the PL is a show and not a serious competition.
Posted 10:39 12th January 2012
Alex Macedonia says...
Hi, i think the selection is absolutely ok. I wouldn't disagree with the decision pro Van Barneveld and cotra Wez Newton, because Barney still is hugely popular and he has the pedigree. Furthermore you should look at the curret BDO-Championship averages. There are one a hand-full players averaging over 90! Barney went out of the World Championship with a 92 average which is not too bad in my opinion, against a player who was not able to hit tha barn door in the next round (2x145 finishes). Especially if you look at the performance of the top-seed players in the BDO: Adamy, Hankey (still in) , Winstanley and Waites, both out. If the last 2 of them would have performed as they did in last years Grad Slam of Darts, they would have been unstoppable there (around 100 pts. average). This is not too easy nowadays and i really expect Barney to finish around 4th-6th position and it even might be possible to see the World Champion Adrain Lewis going out there. So you never know ... I hope Barney can focus again and you will see, that he is still one of the top 8 Players, without a doubt!
Posted 00:06 12th January 2012
Nick Berry says...
You have got to take your hat off to Barry Hearn and the rest of the PDC Board. If you compare the BDO version which is currently going on with the PDC, then there is absolutely no comparison. You have Ted Hankey and Wolfie Adams, stepping on stage with all their rediculous gold sovereigns and bling, 1980's glasses and comb overs! Honestly, it is like watching twoi blokes in your local social club on a Friday night. I would be embarrassed to be playing at the Lakeside. It looks like a pop video the Bee Gees did in the 1970's.
Posted 13:31 9th January 2012
Graham Goode says...
Good article, I agree with all picks even Barney. You lot knocking him must have a short memory!! Newton had one really good tournament this year, I think some of you forget Barney finished 2nd in the most recent Premier League over 14 weeks and lost to the eventual winner (who he had beat twice in the group). He's only had 1 really poor tournament but had it not been for 2 x 145 checkouts he'd have won that match too (even playing badly)!! He averaged 105 only a month ago in the Player Champ finals, Newton canno't score averages like that.
Posted 09:52 8th January 2012
Chris Howorth says...
Barney shouldn't be there he hardly plays pro tour events which is proof in itself he ain't bothered anymore sends the wrong message to other players
Posted 09:24 7th January 2012
Paul Mullally says...
I totally disagree with Barney being chosen ahead of Nicholson. Barney would appear to be all but finished now and the way the sport is today I think you need somebody like Nicholson on stage getting the crowd going. Hamilton also, in my opinion, should not be there just because he made it to the final. Will not be as godd a Premier League as it could have been.
Posted 14:49 6th January 2012
Mcdaid Pat says...
great article rod agree with all .....wes needs to mature a little his onstage rant at worlds i think reflected the pressure he felt under with the prem picks still to be made. he will be there in a year or 2 unlike barney who i think most know is in his twilight and unlikely to be playing next year. one little request is there any chance of getting a camera behind the scenes at the major events iam sure most viewers would like a little insight into what happens behind the stage and maybe even a fly on the wall documenrty with one of the top pro s over the course of a season cheers looking forward to premier league
Posted 15:43 5th January 2012
Luigi Mallozzi says...
I think leaving Barney out of the Premier League might have been the kick in the backside he needed to sort himself out. I fear that he will just continue his slide now. Shame Ted Hankey hasn't come over to the PDC
Posted 10:50 5th January 2012
Kelly Sherwood says...
Good Article Rod, PDC has to keep growing and not stagnate like Snooker has done(Though I think Barry Hearn will turn that around), however overlooking Wes Newton is a shocking mistake, talent has to be nurterd, though he did not get very far in the World Championship he should be included on merit for his performace through the season, Barney should either retire or become a mentor and coach to the yong Dutch stars like Van Gerwin/Klassen. He should not be in the Premier League.
Posted 10:49 5th January 2012
Andy Wallwork says...
Only pick I don't agree with is Barney. Like has already been said, he's been off the boil for over a year now, and how long can you carry on flogging a dead horse?? Wes Newton must be gutted, but as Rod has said, the PL is a show, and even though Wes is a good darts player, the board must feel he doesn't have the wow factor that they believe the crowd want to see. The board may end up with egg on their faces if Barney turns out to be a "gimmee" every week, which I think could well happen. Time will tell on that I suppose, but a 7 man PL with 1 bunny is no good for the ratings or crowds.
Posted 09:26 5th January 2012
Jack Farley says...
I have to agree with Joe and would have loved to have seen Jenkins in the mix for atleast one more year! I also disagree with the Barney selection, he has a good walk on but everything else in his game has gone. He is playing bad darts and i'm not really too sure why everyone loves him because on stage he is grumpy and never cracks a smile! I think that over the next few years the competition for places in the PL is going to increase and personally I can't see Hamilton hanging around for long.
Posted 09:18 5th January 2012
Michael Ferguson says...
The only one I can't believe got in is barney, his darts have been really bad over the past few years there has to be better, it has to be about the darts and not because the fans like him,they will come if he's in or not.
Posted 17:16 4th January 2012
Richard Jones says...
I think this years Premier League is a very good line-up. Hamilton and Painter will come in to it with their tails up after good recent performances. Only one i have to disagree with is Van Barneveld. He has been playing bad darts for 2 years now and i think he has only been added because of his popularity. Wes Newton 6th in the rankings and has played good darts all year, he deserved a crack at it!
Posted 14:28 4th January 2012
Cameron Murray says...
Excelelnt article Rod - and thanks for the clarity on the PL picks, though I still think Barney is a poor choice personally.
Posted 14:04 4th January 2012
Joe Hayes says...
Excellent article Rod, I really enjoy your punditry and commentary on the darts especially with all your inside information. Although I'm a big Jenkins fan and would've liked him in the PL, the decision to keep barney in the PL was the right decision as like you said, he's the sort of guy who gets the crowd on their feet and definitely plays up to the expectations of the crowds. I'd also like to say the decision to have Painter in the PL was a no-brainer due to him winning a major and if it wasn't for the great John Part I'm sure Painter would've been at least in the QFs. Again, great article Rod, I look forward to the PL
Posted 13:58 4th January 2012