Well, sooner or later, we all get lucky and give off the impression of being able to predict sport.
Last week I said the Raiders had to match the Eagles from the three-point line and shoot in the 70s from the foul line if they were to defend their nine-point lead in the BBL Trophy final.
The box score read Eagles 10-for-25 from behind the arc, Raiders 3-for-23 and Plymouth 9-of-16 from the line for a lowly 56 per cent.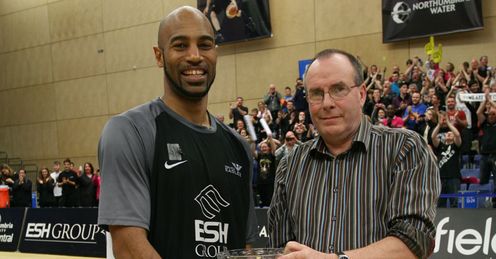 The game would be won and lost from 15 and 22 feet, I boldly predicted, and lo the Eagles won it from 22-feet and the Raiders lost it from 15.
So whilst I bask in the reflective glow of being right for once, let me just 'fess up for a second, I didn't expect that whatsoever!
When I said Plymouth had to shoot well from the line, I meant Paul Williams, Lehmon Colbert, Anthony Rowe, Anthony Martin and Jamal Williams. Michael Ojo, I figured, well, that's just a guarantee.
Pressure
But pressure, and 3,000 baying Geordies, can do funny things to even the best of them from the foul line. With a minute to play and his team down four on aggregate, Ojo went to the stripe for three freebies.
Well done to the Eagles, Fab Flournoy is one of the nicest, yet most fiercely competitive people I've ever come across in British basketball, and his single-mindedness is a factor in their dominance
Daniel Routledge
Quotes of the week
A guy who's missed six in the league all season, who is third in the BBL at the best part of 90%, drew iron on the first two. Who'd have thunk it? Not me that's for sure.
And what about Paul Williams on the break, even under pressure he'll finish for you? Well, if not, an open put-back for James Jones is a given right? Or Ojo, in the corner for three, where surely most of his third in the league 40 per cent three-pointers are made? Err, no, no and no.
That is why we play the game. Because no matter what those of us who've watched this league for 30-something years may think, we don't know what will happen. Plymouth had their chances down the stretch, irrespective of their woes from 15 and 22 feet, but, agonisingly for them, they couldn't take them.
I feel bad for them. I like Plymouth, it's one of my favourite venues in the BBL and they have a squad so skilled this year you feel they should surely win something. I feel especially bad for a guy like Rowe who, if not for his talent, would doubtless have been in the crowd at Sports Central in a green shirt cheering on his hometown team.
It's hard not to root for the kid who became captain of the team he supported as a boy. But alas, it was not meant to be in the cup or the trophy this season.
They still have a chance to end the season on a high, however, and who would bet against them meeting the Eagles again at some stage in the play-offs?
Dominance
Well done to the Eagles, Fab Flournoy is one of the nicest, yet most fiercely competitive people I've ever come across in British basketball, and his single-mindedness is surely a significant factor in their dominance of the game in recent years.
And, unlike some of his players, he rocked that beard too. The Eagles decided to boycott the razor until the trophy was secured, but Fab made the facial hair look good!
This weekend is a pivotal one in the battle to finish runner-up behind the Eagles in the league. Leicester host Worcester on Friday night and then go to Plymouth on Sunday.
If Riders win both then they are in with a shout of second, lose them both and it's likely a two way battle between the Wolves and the Raiders. It will be a real weekend of contrast for Rob Paternostro's team.
To beat the Wolves they'll have to control Worcester's outstanding three-point threat, whereas they'll have to slow the Raiders frontline to claim a win in Plymouth.