For two BBL teams, the play-offs start now. Manchester Giants and London Lions will face each other in what amounts to a play-in game this Friday.
Fortunately the Sky Sports cameras will be there to cover it so I will get to enjoy all the drama as the two sides duke it out for a post-season berth.
Giants' boss Jeff Jones said it was "almost impossible" for his side to make the play-offs just three weeks ago, but two wins in three games coupled with the Lions going on a four-game slide has opened the door for them once again.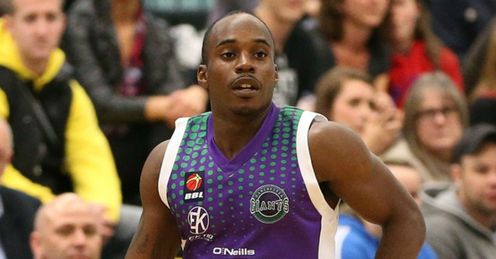 Indeed with home court advantage, some might even say they are favourites to win and overtake the Lions on the last weekend of regular season action.
Validation
Certainly London's away form this season wouldn't give you much encouragement to back them: they've won just twice on their travels, although both have come in the northwest against Cheshire and Mersey.
One thing I am certain of is there will be no quarter given or asked, no lack of pride for the shirt.
Daniel Routledge
Quotes of the week
Jeff joked to me a few weeks ago 'we're all battling hard to see who can get knocked out of the play-offs by Leicester' and whilst the champions will be the prohibitive favourites whoever they face in the quarter-finals, this game is about more than extending your season by a week.
There is a sort of validation that comes with making the post-season, something that says 'we've had a decent year'. Getting into that final play-off berth may well be the fastest route out of the post-season (although Leicester did win the play-offs as an 8th seed in 2001), it will still be a badge of honour for whichever of these teams can claim it.
For Manchester, in their first season in the BBL, it would be an amazing achievement; not many sides get to the post-season at the first time of asking and to do so with a team largely made up of local boys would be satisfying for Coach Jones and the club.
London is not too dissimilar a story, it's their first season in the capital and again the team has plenty of London representation in it. Plus, they would dearly love to head to the Copper Box in the summer having made the play-offs this season.
Pride
The other issue with the Lions is their recent history; they've fallen agonisingly short of the post-season in the last two years and it's a hat-trick they will be desperate to avoid.
One man who has endured that pain and is hoping to add to it, is former Lion turned Giant Stef Gill.
He summed it up beautifully: "The whole season is riding on one game. Yeah, it's an added incentive to be playing against the ex-boss, but it's not about that. They're standing the way of where we want to be - in the play-offs."
I expect him to have a big game and when he plays well the Giants do too, but I wouldn't rule out the Lions claiming the all-important win.
One thing I am certain of is there will be no quarter given or asked, no lack of pride for the shirt. At least half of the players on each side are playing for the city in which they were born, at some point we may well see five Londoners versus Mancunians on court. In modern sport, that would be pretty amazing.
It should be a brilliant game, with all the tension and drama I love, so I can wait.