Well they certainly didn't let me down last week. Manchester Giants and London Lions served up a memorable play-off showdown that was decided with 0.3 seconds remaining.
Having led all game, it would have been harsh on the Lions to lose it at the death, but I couldn't help feeling bad for the Manchester Giants. Their stirring fourth quarter comeback was as impressive as it was exciting and the atmosphere was electric.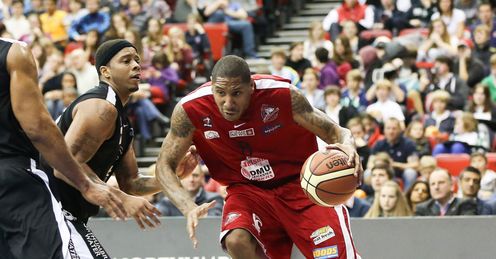 It was jam-packed, even up near our commentary position, as the locals squeezed in to hopefully see their side through to the play-offs - but it wasn't to be.
So now we're at the time of year where eight teams believe they have a shot at the coveted silver-and-gold basketball as they give it their all for play-off glory.
Sullivan is the top whatever-the-team-needs-to-win guy every night. Riders need a basket, they throw it to him; they need a stop, he gets it.
Daniel Routledge
Quotes of the week
It's also the time of year where the BBL coaches vote for their Player of the Season. In almost every discussion about it I've had with people in the game in recent weeks, one name keeps cropping up: Drew Sullivan.
My sense is it will be fairly unanimous and the GB captain would certainly get my vote. It's funny because when I wrote a piece about him signing for Leicester last year, I got a response saying he was overrated.
I'd wager that person was not a Leicester, Newcastle or Mersey fan. I recalled that comment because last week a Riders' fan said to me, 'I didn't really get the hype about Drew until he played for us'.
Maybe there is an element of that, perhaps you need to see him night in, night out to truly appreciate what he does. He doesn't necessarily overpower you with monster numbers, in the way say a Kareem Maddox might. Yes he can be the top scorer, top rebounder, top assist guy on occasions, but he isn't always.
Getting the job done
What he is, however, is the top whatever-the-team-needs-to-win guy every night. Riders need a basket, they throw it to him; they need a stop, he gets it (remember the week of the Cup Final when he basically won two live Sky games with a blocked shot at the end?). Need a ball-handler? He'll play point. Need someone to guard the centre? He can do that too. And those last two can happen at the same time! How many players are that versatile?
Say to a coach in the summer, 'I've got this guy, he'll get you 15 points, seven rebounds, four assists, shoot about 56%, can hit the three, block shots and is a great defender and a wing man but he can play one through five at either end of the court if you need it' and every single one of them will take him. Little wonder he was Rob Paternostro's first signing last summer.
How much easier must it be to build a team when you have the most versatile guy in the league on the roster?
Still don't get it? Well forget the numbers and look at the medals. Do you know how many players have won the league with three different clubs? Four. Alan Cunningham, Colin Irish, Ronnie Baker and Sullivan. Anyone who knows their BBL history knows that is pretty rare air right there.
You know something else? None of his teams had won the league before he got there and that is no coincidence. He's won 11 trophies in seven years (I'm not counting the season he played as a 15-year-old for the Towers because he's not credited with a winners' medal for any of the three trophies they won that season).
If he does win the vote, he will become only the third player to win the league MVP twice and the first British player to have done it. Now that would be some accolade.
Comments (4)
Rob Crow says...
100% agree,best player in the L bar none,chez scores a lot of points,but drew has a far more complete game.true inside/outside player.A true inspiration to any young British basketball player.
Posted 02:18 13th April 2013
Daz Smith says...
Dan... Totally agree,I have watched Alan Cunningham,Colin Irish,Ronnie Baker and obviously Drew play...All worthy of the MVP. Did Terry Crosby ever win an award?... I witnessesd his game high at Leicester! many moons ago...
Posted 08:26 12th April 2013
Kevin Owen says...
Granted, Sullivan is a classy player but for me, and maybe biased, you have to look at Chez Marks. What he has done this season with the Phoenix is nothing short of spectacular. This is both for his attitude on and off the court during times where the future of the club in Cheshire was dodgy to day the least.
Posted 17:09 11th April 2013
Chris Baker says...
It would be well deserved. Drew has been consistent; an absolute rock for the Riders this season and a vital factor in their success.
Posted 14:54 11th April 2013