Since we qualified the full allocation of team places for the Olympics at the Test Event in London back in January, I have been extremely busy with training.
I know that I cannot afford to get complacent as next we've got to qualify for those five individual spots for the Games themselves which is going to be intense.
I had a bit of a scare when I slightly fractured my finger last week in training but it was a relief when it held up in training afterwards, allowing me to carry on with my routines.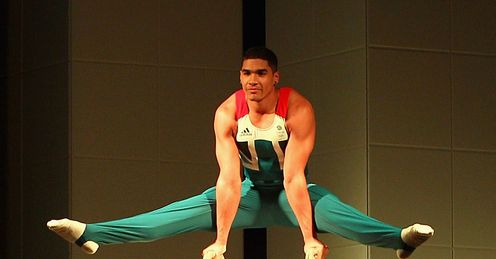 The injury just showed how important the Olympics is to all us athletes who are competing, and it's incredible to think that four years of hard work could all be for nothing if you are unlucky enough to pick up an injury.
It's a home Games in front of your home crowd as well so it's a once in a lifetime opportunity, and for that to be taken away from you by an injury would be unthinkable, but it's really important not to dwell on that, you have to keep training hard.
No fear
So I'm not holding back! I got straight back on the pommel horse and after battling on through I'm off to the World Cup Series event in China which starts this weekend. We then have the European Championships in May and the British Championships in June so it really is all go from now on! It's hectic but I love being busy; it really feels like the schedule is picking up momentum now as we head towards summer.
I also had the official Adidas 2012 kit launch at the Tower of London which was awesome. Wearing the new kit and waiting backstage I almost began to get a feeling of what it will be like marching out at the Olympics, particularly with so many fellow athletes around me. It was a massive, massive buzz!
I'm a big fan of the Team GB kit. There has been a lot of hype around it, with various comments in the media, but I think it is brilliant and I'm looking forward to hopefully wearing it to compete.
Outside of gymnastics when I have had any spare time, I've tried to chill out a bit. It's a busy time and important to stay fresh. I also went to watch Drake live at the O2 - what a performer! And I also went to the JLS concert. They were absolutely awesome - it's not just a performance, it's almost like a West End show. I'm a massive music fan and always like to take the opportunity to go to live music events when I can.
Proud
Speaking of JLS, I was lucky enough to appear in the video for their new Sport Relief single, 'Proud,' which we filmed at Wembley Stadium in January which was amazing. It was filmed not long after the Test Event so that was a nice added extra after we qualified and only contributed to the Olympics buzz I'm feeling at the moment. Filming the video in Wembley was pretty novel; it was a real honour to be involved in it and obviously brilliant to be part of something as worthwhile as Sport Relief.
I like doing things that are a bit different and I'm grateful that gymnastics has taken me to lots of different places, like getting involved with Sport Relief and being in a music video. It's nice that I can do things on the back of being a gymnast and I try to make the most of all the opportunities that come my way. I'm doing a sport I love, and lots of exciting things besides, so I'm incredibly thankful.
My scholarship mentor Hayley McQueen came down to the gym in Huntingdon earlier this year to watch me train, which was really good. The mentor aspect of the Sky Sports Scholarships scheme is fantastic and Hayley is always keen to get down to my competitions whenever she can. I know that for me, having a personal link to Sky Sports News makes Sky's support feel a lot more tangible - and I'm looking forward to challenging Hayley to some gymnastics training in a couple of weeks when I come into Sky!
It has certainly been a busy couple of months but it is all very exciting and I am looking forward to competing and putting my training into practice now. I'll check back in shortly with some updates on my competitions - in the meantime follow me on Twitter to see what I'm up to, at @louissmith1989.